Das Forum Fremdsprachendidaktik lädt ein.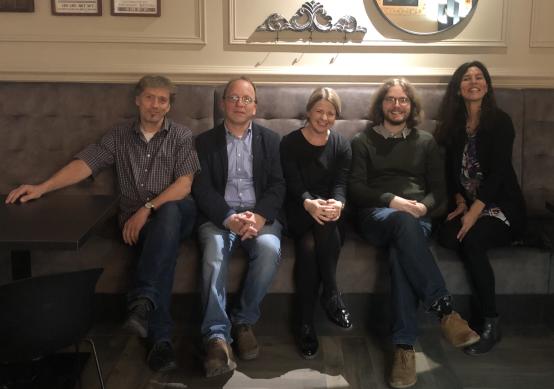 Das TOOLS Projekt hat begonnen.

Im Rahmen dieses praxisnahen, anwendungsbezogenen europäischen Kooperationsprojektes sind Daniel Becker & Frauke Matz (Fachdidaktik Englisch), Corinna Schopphoff & Martin Jungwirth (ZfL) und Ralf Kerstgens (ZfsL Münster) nach Opole gereist.
Mit diesem Kick-off Meeting vom 04.11.-06.11.2019 beginnen wir ein phasenübergreifendes Projekt, das im Zeichen von Inklusion und Digitalisierung steht.
Wir freuen uns sehr auf diese Zusammenarbeit!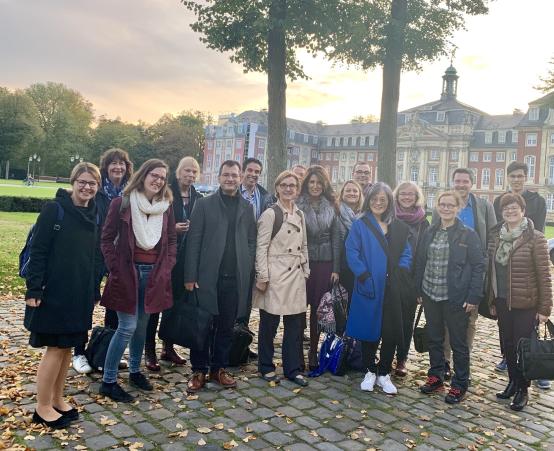 A warm welcome to the ADiBE-Team!
We are delighted to host the 2nd partner meeting of our ADiBE project from Thursday, 24th until Saturday, 26th October 2020.

A very warm welcome to the representatives of the Austrian (Silvia Bauer-Marschalinger, Christiane Dalton-Puffer & Helen Heaney), Finnish (Tarja Nikula-Jäntti & Kristiina Skinnari), Italian (Teresa Ting), Spanish (María Luisa Pérez Canado, Diego Rascón Moreno, Trinidad Jerez Montoy, Antonio Vincente Casas Pedrosa) and UK teams (Do Coyle & Kim Bower) as well as Dominik Rumlich (Germany).

It's a pleasure to have you and to be working with you on this project!

Gastvortrag Bilingualer Sachfachunterricht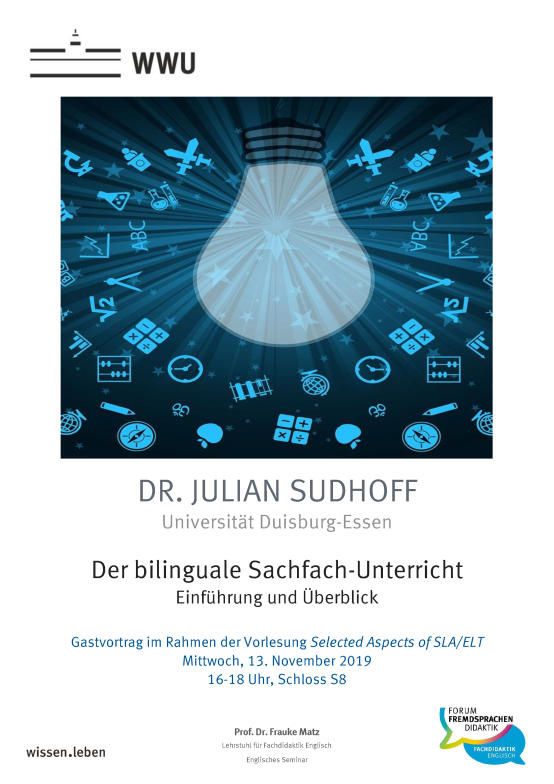 Wir laden alle Interessierten herzlich zu Dr. Julian Sudhoffs Gastvortrag zum Thema "Der bilinguale Sachfach-Unterricht - Einführung und Überblick" am 13. November 2019 von 16-18 Uhr im S8 ein.


Teaching Nigeria - Fortbildung für Lehrkräfte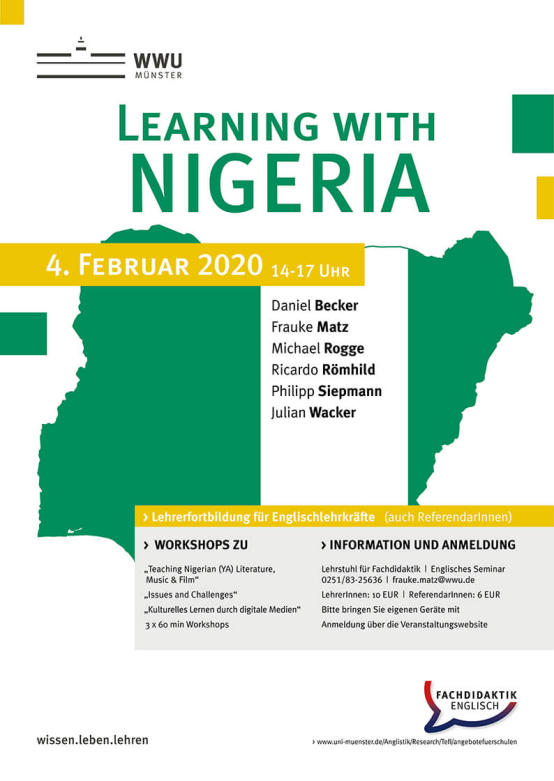 In this school year, the North-Rhine Westphalian Ministry of Education has introduced Nigeria as a country of reference into its school curriculum. It is a challenge, though, for teachers and teacher trainees to find their way into the vastness of this new topic area as part of the Abitur. On 4th February, 2020 we will offer a training event which will serve as a practical introduction to the complex field of learning with and about Nigerian literature, film and music in the secondary EFL classroom and will generate a range of fresh perspectives on Nigeria for teachers.
Please find more information here.
Cooperation Münster - Wuppertal
For the first time, the TEFL team cooperates with the team of Romanistikdidaktik of Wuppertal in form of a tandem seminar.
Anika Marxl and Melanie Arriagada engage in the topic of mediation in the digital context together with their seminar groups. Both groups cooperate with the help of various digital tools. Additionally, both lecturers will visit the other group giving a guest talk.
We are very excited to welcome Melanie Arriagada on the 27th of November in Prof. Matz's "Selected Aspects of SLA/ELT" lecture.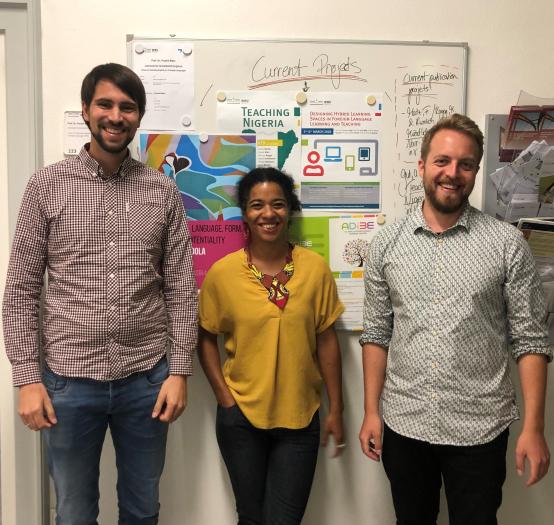 Olumide Popoola's Creative Writer's Talk
In a joint event hosted by the TEFL team and the Chair of English, Postcolonial & Media Studies, author Olumde Popoola delivered an engaging creative writer's talk titled "Undo Me! Language, Form, and Queer Potentiality" as part of this year's "Postcolonial Narrations" graduate forum. Popoola engaged with her novel "When We Speak of Nothing" and explored the idea of how form and Yoruba folklore provide means to express alternative understandings of youth culture and transgender identities. With the TEFL team, Popoola was also in talks about further projects that center on teaching Nigerian texts in German high schools.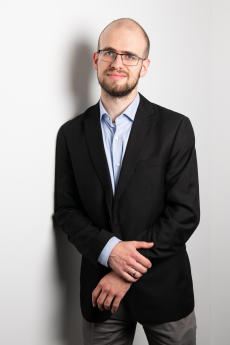 Welcome Marius Ritter!
We are very pleased to announce that Marius Ritter has now joined our team.
He is a PhD student within the QLB Project Videobasierte Lehrmodule als Mittel der Theorie-Praxis-Integration and will support us within this project.
You can find more information here.
New internship opportunity at Trinity College, Dublin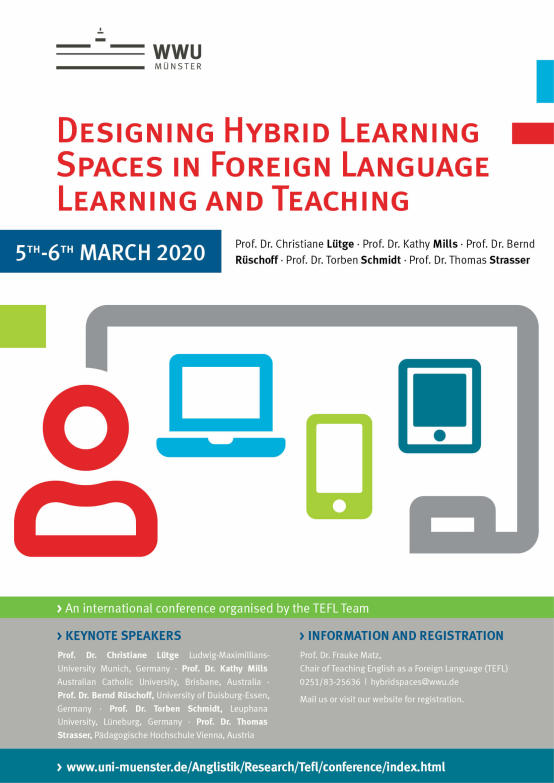 Call for papers - International Conference: Designign Hybrid Learning Spaces 2020
We welcome contributions regarding conceptual, theoretical and empirical findings including, but not limited to the following sub-themes:
Supporting individual learners through the help of Open Educational Resources (OER) and assistive technologies (such as Artificial Intelligences)
The role of augmented and virtual reality for (cultural) learning
Genre learning in foreign language classrooms with (new) digital genres and formats
Teaching diverse foreign language learners through game-based language learning
Digital storytelling and other formats for literary learning
Opportunities and challenges for assessment in hybrid learning spaces
Deadline for submission is Friday, 15th November 2019.
The presentations will be 20 min with 10 min discussion time. Please submit your proposal (300 words) to hybridspaces@wwu.de.
Visit our conference homepage for more information.
Language Assistantships in Harrogate (UK)
We are currently looking for Language Assistants in Harrogate (UK).
Please find more information here.
Contact at the English Department: Dr. Britta Padberg-Schmitt.
Prof. Dr. Frauke Matz zu Gast bei der Fachaufsicht Englisch im Regierungsbezirk Münster
Am 02. Juli 2019 hielt Prof. Dr. Frauke Matz einen Vortrag und Workshop zum Thema Teaching Nigeria - Impulse für einen kompetenzorientierten Unterricht in Grund- und Leistungskurs im Rahmen der Dienstbesprechung der Fachleiter*innen (Gym/Ge) im Regierungsbezirk Münster.
Wir bedanken uns an dieser Stelle noch einmal für diese Einladung von Frau Götte und den sehr wertvollen Austausch mit der Fachaufsicht und Fachleiter*innen, der uns dabei hilft, die beiden Ausbildungsphasen der Lehrkräfte für Englisch weiter aufeinander abzustimmen
Welcome Dr. Philipp Siepmann!
We are very happy to announce that we have a new team member:
Dr. Philipp Siepmann will join us from the winter term onwards as a full-time member of staff.
You can find more information here.