The ADiBE project
The ADiBE project brings together key figures with ample experience in the field of Content and Language Integrated Learning (CLIL) from six countries (Spain, Austria, Finland, Germany, Italy, and the UK). It aims to fill a much-needed niche affecting catering to diversity within CLIL programs across Europe and to work towards an inclusive, innovative, and reflective society by offering research-based evidence and concrete resources to improve language learning and make bilingual education a more inclusive reality for all.
Its objective is three-pronged:
to identify difficulties and best practices in catering to diversity in intercultural and content integrated language learning and teaching;
to produce and implement project -, task-, and ICT-based activities to make CLIL accessible to all types of achievers;
and to design and pilot teacher training modules to empower practitioners to step up to this important challenge.
The ultimate aim is to contribute to the integration of all students, regardless of their socioeconomic status, educational background, or achievement level and to making CLIL accessible to all.
You can find more information on the official homepage.
Also see the Forum Bilingualer Unterricht [de] website for further information.
---
Presentations/Papers/Publications:
Siepmann, P., Rumlich, D., Römhild, R. & Matz, F. (2022): "Towards a more Inclusive Approach to Bilingual Education? - Teachers' and Students' Perspectives on Diversity in German CLIL Classrooms." World CLIL Conference; Den Haag.
Zeinedinne, Naime (2022): CLIL and non-CLIL Learners in Joint English Courses: Taking an Integrated Perspective. Universiteit Leiden, Den Haag, 8.07.2022
(peer-reviewed) Siepmann, Philipp/Rumlich, Dominik/Matz, Frauke & Römhild, Ricardo (2021): "Attention to diversity in German CLIL classrooms: Multi-perspective research on students' and teachers' perceptions", International Journal of Bilingual Education and Bilingualism, Special Issue ADiBE-Attention to Diversity in Bilingual Education, 2021.
(peer-reviewed) Philipp Siepmann, Dominik Rumlich, Frauke Matz & Ricardo Römhild. Presentation in the context of the symposium CLIL for all? Catering to diversity in bilingual education. Attention to diversity in German CLIL classrooms: Muli-perspective research on students' and teachers' perceptions of diversity-sensitive teaching practices. AILA - World Congress of Applied Linguistics, Groningen, Niederlande, online, 16.08.2021.
(peer-reviewed) Helen Heaney, Frauke Matz, Ricardo Römhild & Philipp Siepmann. Presentation in the context of the symposium CLIL for all? Catering to diversity in bilingual education. Gained in Translation: A Reflection on Transnational Comparative Research in Foreign Language Education in the ADiBE Project. AILA - World Congress of Applied Linguistics, Groningen, Niederlande, online, 16.08.2021.
(invited) Frauke Matz, Dominik Rumlich, Philipp Siepmann & Ricardo Römhild in co-operation with Christiane Dalton-Puffer, Ute Smith & Lena Katzinger. ADiBE Video Guides. Presentation in the context of the SIOE 3rd Biannual Conference CLIL 2021: The ADiBE Project. Addressing Diversity in Bilingual Education. Sheffield Hallam University, online, 19.06.2021.
ADiBE Reunion – World CLIL 2023
Thanks to two ADiBE symposia organised by Kim Bowers and Marisa Cañado at World CLIL Conference in The Hague, the team had the chance to reunite. We are very grateful to have been able to present key findings of the German ADiBE sample and listening to the other teams share their findings. We hope to see you all very soon for another ADiBE reunion!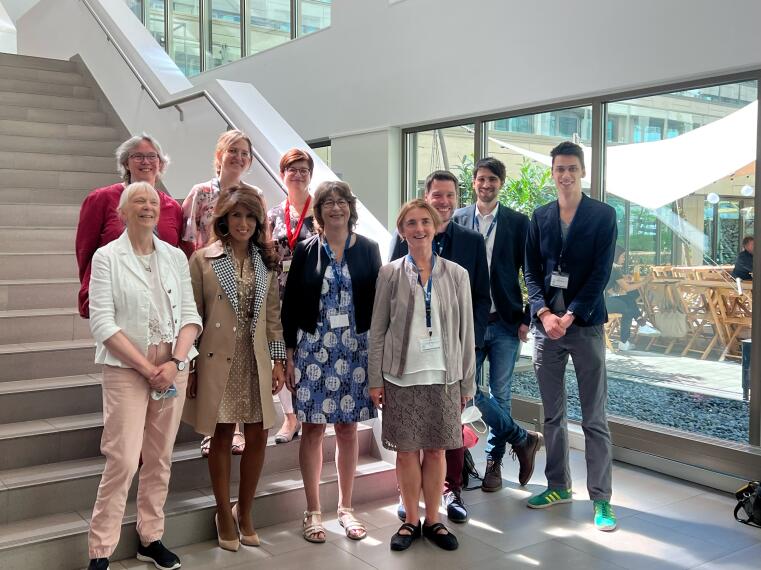 Presentation by Naime Zeineddine at the World CLIL

Naime Zeineddine from the English Language Education Team also presented her research project at the World CLIL conference in The Hague. Her quantitative study focuses on self-perceptions of CLIL and non-CLIL learners in Germany who are reconsolidated in language learning after five years of seperate English classes as a result of institutional procedures. Results from the study display correlative relations between cooperative learning practices and motivation, self-efficacy, self-confidence in language learning. Relevant implications for the foreign language classroom were discussed with researchers and practicing teachers at World CLIL, which enabled interesting insights for both sides.
Presentation of the ADiBE project outputs at the CLIL 2021 Webinar in Sheffield, UK
For a presentation of the four ADiBE outputs that will be published on the project website www.adibeproject.com later in 2021, the whole project family convened for the CLIL 2021 webinar. The event was organized by Kim Bower and her team at Sheffield Hallam University, but had to take place online due to the ongoing pandemic. It was the first time the results of the cross-national research project on diversity and differentiation in bilingual education as well as the three practice-oriented outputs were revealed to a larger audience of CLIL researchers and practitioners. More than 100 participants from around the world logged in to discuss the overarching question of how to cater for learners of diverse backgrounds and abilities in bilingual classrooms. The German team, Prof. Dr. Frauke Matz (WWU Münster), Prof. Dr. Dominik Rumlich (University of Paderborn), Ricardo Römhild and Dr. Philipp Siepmann, together with the Austrian team led by Prof. Dr. Christiane Dalton-Puffer, introduced the video guides that aim to provide brief answers to some of the most pressing questions concerning diversity-sensitive bilingual education. The overwhelmingly positive feedback by the audience once again underscored the great need for more research into, and more practical training on, differentiation in content and language integrated learning.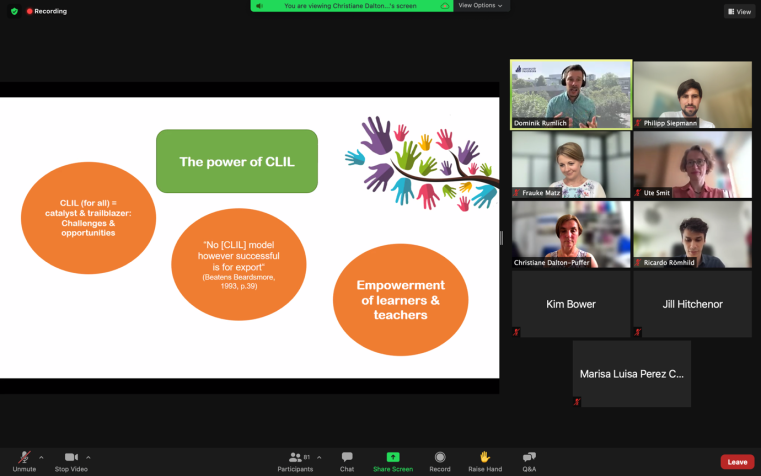 The show goes on - digitally
Hosted by the Finnish team, the 3rd partner meeting took place online on 21st/22nd September 2020. The international expert group discussed how to proceed in times of the pandemic with regards to both project coordination and collaboration with local schools. Although virtual exchange certainly cannot replace face-to-face collaboration in Finnland, the meeting was highly productive and proved to be a highlight in the academic calendar of everybody involved. As a result, the project enters its next stage, promising to provide concrete resources to make bilingual education a more inclusive reality for all.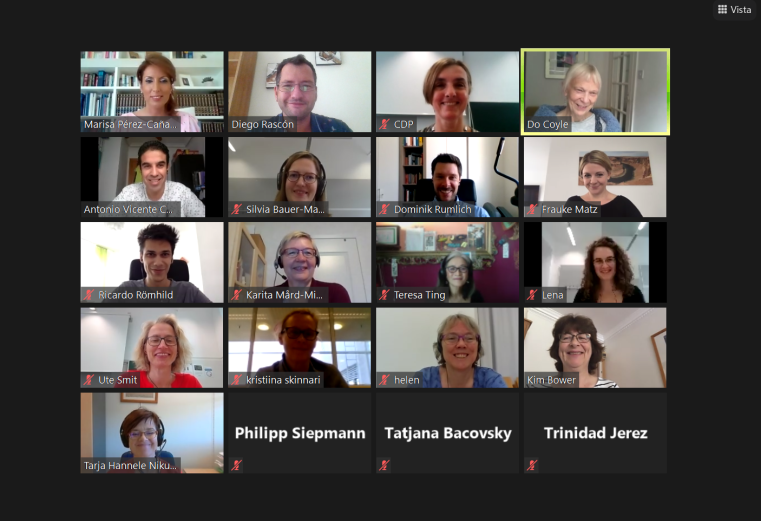 ADiBE: 2nd partner meeting in Münster
We were delighted to host the 2nd partner meeting of our ADiBE project from Thursday, 24th until Saturday, 26th October 2020.
It was a pleasure for the Münster team to welcome the representatives of the Austrian (Silvia Bauer-Marschalinger, Christiane Dalton-Puffer & Helen Heaney), Finnish (Tarja Nikula-Jäntti & Kristiina Skinnari), Italian (Teresa Ting), Spanish (María Luisa Pérez Canado, Diego Rascón Moreno, Trinidad Jerez Montoy, Antonio Vincente Casas Pedrosa) and UK teams (Do Coyle & Kim Bower) as well as Dominik Rumlich (Germany).