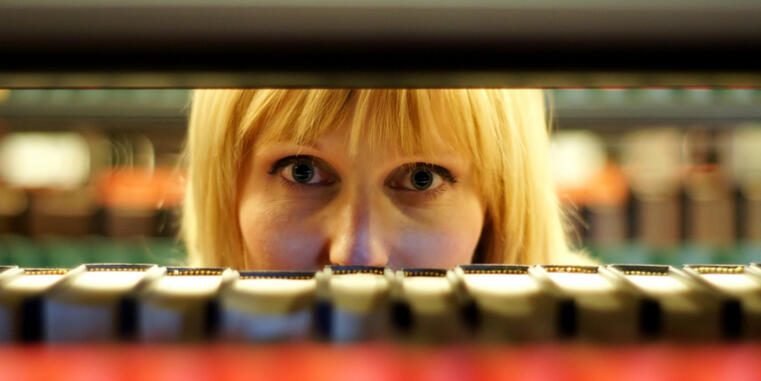 Internship opportunity at Trinity College, Dublin
New vacancies at the English Department (student positions)
Allocation of remaining places (Nachmeldephase) for WS 2019/20

The allocation of remaining places (Nachmeldephase) for all higher levels is finished.
The student advisory service can no longer assign you any courses (exception: cases of hardship - Härtefälle).


For lectures, places can still be allocated via the normal HIS-LSF registration process, even after the deadline. So please use HIS-LSF.
1st semester BA & M.Ed.: Registration on HIS-LSF: 1st October 2019 to 8th October 2019
New Reading Group launched at the English Department!
Native American and First Nations Literatures - Indigenous Women Writers
The first meeting of the reading group takes place in ES 129 on Tuesday, 9 July 2019 from 4 - 6 pm.
A second meeting will be held on the following Tuesday (16 July 2019); same place, same time.
No registration necessary - everyone is welcome!

Organisers: Alisa Preusser  (a_preu05) and Lara Meßbauer (l_mess07)

Registration for Courses Winter Term 2019/20
1. Registration on HIS-LSF for seminars and practical courses for all higher study levels
17th June 2019 to 3rd July 2019

2. Registration on HIS-LSF for seminars and practical courses for all 1st semester Bachelor and Master of Education study levels
1st October 2019 to 8th October 2019

Registration within this period is obligatory. Participating in seminars and practical courses without registration is not possible. Please note: Please register for more than one option – where more than one group, seminar etc. is available – single registrations will be rejected. Please make sure to avoid course overlaps at all times choosing the courses.

Registration on HIS-LSF for lectures is not restricted to the registration period, here single registrations are possible.

The Course Overview is available by 17th June 2019!
http://www.uni-muenster.de/studium/studienangebot/index.html

3. Admission in HIS-LSF will be announced on
5th July 2019 for all students of higher study levels
10th October 2019 for all first semester Bachelor and Master of Education study levels

Please note: There will be no further registration period.

New exhibition in the Department library!
(Re)Covering Rebecca: A Critical Look at the Cover Design History of Daphne Du Maurier's Rebecca
There is a new exhibition in the English Department Library. More information can be retrieved here.

Launch of new collaborative research centre at the English Department
The English Department proudly announces the launch of a new collaborative research centre "Law and Literature".

In the CRC "Law and Literature", researchers in the fields of literature and law will work together more closely than they have previously in Germany. This collaboration is based on the recognition that the disciplines' analysis of the key questions of their respective counterpart has been fragmented. In view of the heated debates surrounding fact and fiction as well as the disappearance of traditional media and the emergence of a legal communication vacuum, it is important that there is research into the content, processes and forms of articulation of normative and aesthetic values. The CRC aims to incorporate the entire cultural region of Europe and the Mediterranean into its research. (University of Münster, Spokesperson: Prof. Dr. Klaus Stierstorfer).

Further details:
Announcement of the Faculty of Philology (German)
Announcement of the DFG

FREE LAST-MINUTE PLACEMENT: College of William & Mary, USA
The English Department is proud to offer a position as German House Tutor at the College of William and Mary in Williamsburg, Virginia.

Further information can be found here.
An information event will take place on 3 April, 12.15 p.m., in room ES 226.
The application deadline is 11 April 2019!

Essay Task for MA NTS Application is now online!
More information can be found here!

The NTS alumNET is now online!
During the 10 year NTS celebrations in July 2018, WWU Rector Johannes Wessels officially launched the NTS AlumNet. As a digital forum, the AlumNet helps NTS alumnae and alumni to (re)connect and it facilitates exchange with current NTS students. The forum allows you to post and browse job as well as internship offers, and it lists relevant conference calls from various academic disciplines. Enabling you to exchange ideas, it brings vital debates into a virtual discursive space. The AlumNet is a further step in strengthening the wide-ranging network of MA NTS graduates which serves as a resource for your professional careers – both while studying in Münster and when you move beyond.

While the platform is managed by the NTS team, it is hosted externally in the vBulletin cloud. This means that vBulletin will store information about NTS AlumNet members on their servers.


You can access and register for the AlumNet here!

2018

S. Stroh and ESSE President Liliane Louvel at the award ceremony. Photograph by Eva Růžičková.© Dept. of English & American Studies, Masaryk University, Brno; reproduced by permission of ESSE*

STAFF MEMBER WINS BOOK AWARD

10 September 2018

We are pleased to announce that our staff member Dr. Silke Stroh has won the ESSE Book Award 2018 (presented by the European Society for the Study of English) in the category "Cultural and Area Studies" for her monograph Gaelic Scotland in the Colonial Imagination: Anglophone Writing from 1600 to 1900 (Evanston IL: Northwestern University Press 2017).

10 YEARS ON: National & Transnational Studies in Münster and Beyond

07 July 2018

Eighty students, alumni, staff members, and guests came together at the Westfälische Wilhelms-Universität Münster to celebrate the tenth anniversary of our interdisciplinary MA programme National and Transnational Studies (MA NTS).

Opening the anniversary celebrations, WWU Rector Prof. Dr. Johannes Wessels highlighted the importance of the MA NTS as one of the University's most interdisciplinary and international study programmes. With its high number of foreign students, averaging at 75%, the MA NTS has been contributing significantly to the international profile and cultural diversity of the WWU ever since its accreditation in 2008.

Before launching the new NTS AlumNetwork, course director Prof. Dr. Mark U Stein pointed to the steadily growing numbers of national and international applications which indicates the unbroken appeal of a transdisciplinary programme that transcends the conceptual boundaries of traditional thought and combines literary and cultural studies as well as book studies and linguistics. He also cautioned that the Land NRW is considering the introduction of tuition fees for international students — at a time when Europe is seen to keep non-Europeans out.

The anniversary programme was supplemented by several guest speakers. In a thought-provoking keynote, renowned photographer, writer, and broadcast journalist Johny Pitts (London) connected key topics of the NTS to his own photographic work and personal experience. Two talks by NTS alumnae Isabel Raabe (Oxford) and Selver Bener (Amsterdam) provided first-hand insights into the successful career paths of NTS graduates who are now spread across the globe – as scholars and lecturers at international universities or working in the media, for agencies, companies, or foundations.

10 YEARS ON also included the workshop "Strategies for the Sustainable Internationalization of an Interdisciplinary Field", organized and chaired by PD Dr. Markus Schmitz. In the workshop, alumnae/i, current students, and faculty discussed how the NTS programme's well-established informal network of internal and external partners can be translated into continuing exchanges, institutionalized partnerships, and stable collaborations between NTS alumnae/i scattered across geographical and disciplinary locations.

The celebrations concluded with a reception that offered plenty of time for students, staff, alumni, and other guests to catch up and network over food and drink. The event was kindly supported by the English Seminar, the International Office of the WWU Münster and the International Centre "Die Brücke".

NEW COOPERATION BETWEEN THE UNIVERSITY OF ABUJA AND THE wwu

13 June 2018

The English Department and the University of Abuja (Nigeria) will work more closely together in the future. The rector of the University of Münster, Prof. Dr. Johannes Wessels, and the Vice-Chancellor of the University of Abuja, Prof. Dr. Michael Adikwu, have signed a "Memorandum of Understanding" initiated by our Head of Department, Prof. Dr. Klaus Stierstorfer. More information can be retrieved here (German).

New Exhibition in the Department Library!

13 December 2017

In celebration of Jonathan Swift's 350th birthday, the Ehrenpreis Centre for Swift Studies has set up "An Exhibition of Gulliver's Travels in exotic languages" on the second floor of the Department Library. Feel free to have a look around!




Interdisciplinary certificate of north american studies

17 November 2017

The Faculties of Philology, Educational Studies, Social Studies and History/Philosophy offer a new certificate for students of the WWU.
Further information is available here (German) and on the correspondent website (German).

Other information (German)

Anmeldung Auslandsmodul LABG 09 BACHELOR G - STUDIENBEGINN WS 14/15
Studierende, die nach der Prüfungsordnung LABG 2009 im Wintersemester 14/15 angefangen haben zu studieren, müssen sich in QISPOS beim Auslandsmodul 16000 (Culture and Communication) oder 17000 (Work Experience) auch für die Abschlussprüfung 16010 oder 17010 anmelden. Diejenigen, die sich ihren Auslandsaufenthalt vor Beginn des Studiums haben anrechnen lassen und die ihr Interkulturelles Dossier bereits geschrieben haben, bitten wir sich nun auch noch für eine der oben genannten Modulabschlussprüfungen anzumelden. Bei Fragen und/oder Problemen wenden Sie sich bitte an  Frau Sander.

Online-Formular des International Office
Die online-Registrierung steht nun auf der Seite des International Office (http://www.uni-muenster.de/international/outgoing/erasmus/index.html) zur Verfügung. Bitte füllen Sie das Formular aus und generieren am Ende ein PDF (Annahmeerklärung), das Frau Sander unterschreiben muss.

Erstauskünfte für Studierende erteilen die Hilfskräfte an der Aufsicht der Bibliothek (1. Etage) während der

 

Öffnungszeiten.

Nun ist es amtlich - es sind Änderungen des Lehrerausbildungsgesetzes (LABG 2009) beschlossen. Informationen hierzu können so unter folgendem Link nachlesen: http://www.uni-muenster.de/Lehrerbildung/lehramtsstudium/novellelabg2009.html.


Anerkennung von Praktika

 

vor Studienbeginn (gültig für BA-Studierende, die ihr Studium vor dem WS 11/12 aufgenommen haben):

Praktika, die bereits vor Studienbeginn erbracht wurden, können für das Praxismodul der Bachelorprogramme des Englischen Seminars unter folgenden Bedingungen anerkannt werden:

1. Das Praktikum ist im Sinne des Gesamtkontextes des Studienganges relevant. Festgestellt wird dies durch die Modulbeauftragte Frau Fehn.
2. Das Praktikum hatte eine Mindestlänge von vier Wochen mit einem Arbeitsaufwand von insgesamt mindestens 80 Arbeitsstunden.
3. Das Praktikum wird durch einen reflektierenden Praktikumsbericht nachbereitet.
4. Das Praktikum wurde frühestens sechs Monate vor Aufnahme des Studiums beendet.
 
Änderungsordnungen Master of Edcuation:
Die bereits in der vorläufigen Version ist nun veröffentlich worden und damit wirksam.

 

Study. Die für Sie wichtigsten Änderungen im Überblick:

- im Modul Classroom Practices kann die Vorlesung durch ein Seminar ersetzt werden. Dabei ist der jeweilige Bereich ("Texts in ELT", "Linguistic Aspects of ELT") zu berücksichtigen

- Studierende, die ihr Studium mit oder nach dem WiSe 07/08 begonnen haben, müssen im Sinne der Äquivalenz zur Ersten Staatsprüfung im Modul Classroom Practices eine vierstündige Klausur als Modulabschlussleistung schreiben
 
Änderungsordnungen Bachelor
Durch die nun veröffentlichten Änderungsordnungen der Bachelorprogramme wurde auch das Zusatzmodul (Vorziehen von Leistungen aus dem Master of Education) offiziell. Siehe unter der Rubrik

 

Study

Für diejenigen, die bereits das Zusatzmodul begonnen haben, bedeutet dies, dass Sie ab sofort mit dem von Frau Manoutchehri ausgestellten Formular beim Prüfungsamt I vorstellig werden und dort den entsprechenden Modulbogen erhalten können.

Master of Education:
Studierende der Studiengänge im MEd finden in der Rubrik "Study" aktuelle Versionen der

 

Änderungsordnungen der Fächerspezifischen Bestimmungen

 

des jeweiligen Studienganges. Wichtig: Die Änderungsordnungen sind noch vorläufig und stellen keine offiziellen Dokumente dar.