Gulsin Ciftci, M.A.
Englisches Seminar
Research Associate
Chair of American Studies
Room ES 318
Johannisstr. 12-20 | 48143 Münster
gulsin.ciftci@uni-muenster.de
Consultation hours:
Thursdays 2-3 PM;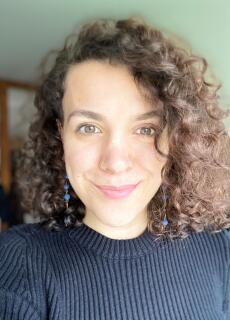 Gulsin Ciftci teaches American Studies at the University of Münster. Her current project, "Reading Reading: Affect and American Literature in Twenty-first Century," is concerned with the relationship between reading, affects, and forms. In her readings and academic research, she is most interested in the reasons that draw the reader/viewer towards and away from specific cultural and literary texts, as well as motivations behind our literary and artistic engagements and their relational formations. In addition, she is interested in the body—affective, entangled, phenomenal, and vulnerable—and how literary critique, aesthetics, and philosophy treat the body in various literary and cultural texts, ranging from fiction to TV series and the arts.
She holds an M.A. from the University of Göttingen, where she has previously taught literary and cultural studies. By bringing together media theory, sociological theories of culture, and theories of the public sphere in her M.A. thesis, "The Unbearable Lightness of #instapoetry: Reading and Writing Poetry in the Twenty-First Century Social Media Environment," she offered a study of #instapoetry as a self-marketing strategy and poetic form.