10 YEARS ON:
National & Transnational Studies in Münster and Beyond
07 July 2018
WWU Münster
---

10 YEARS ON started off with the workshop "Strategies for the Sustainable Internationalization
of an Interdisciplinary Field", organized and chaired by AOR Dr. habil. Markus Schmitz. The workshop focussed on continuing exchanges, institutionalized partnerships, and stable collaborations between NTS alumnae/i scattered across diverse geographical and disciplinary locations and Münster-based individuals who study or teach in our programme. Alumni, current students, and faculty staff discussed how the NTS programme's already established informal network structure can be translated into both informal cooperations on the individual level and formally codified cooperations with partner institutions.
---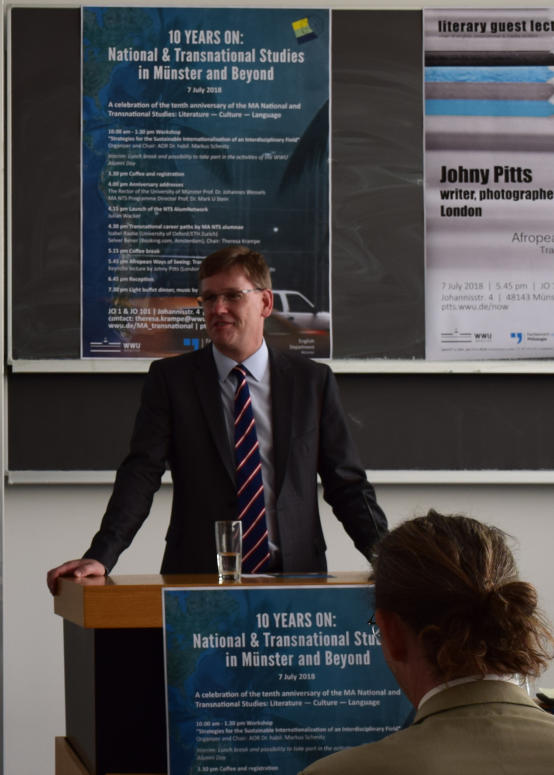 Opening the anniversary celebrations, the Rector of the University of Münster, Prof. Dr. Johannes Wessels, talked about the NTS programme's prominence and its importance as an integral part of the university's overall internationalisation strategy.
---
More than 70 students and teachers, both past and present, attended the event.
---
In his anniversary address, NTS course director Prof. Dr. Mark U Stein talked about the roots of the MA programme and that it attracts students from around the globe who want to make a difference within the University and beyond. He cautions that NRW is considering to charge international students tuition fees — at a time when Europe is seen to keep non-Europeans out. He then announced the official launch of the NTS AlumNetwork.
---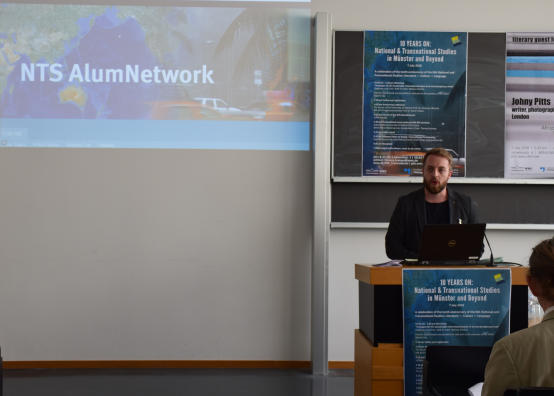 Julian Wacker introduced the NTS AlumNetwork's new online platform, which allows all alumnae/i to share news with each other, post job opportunities, and find a professional and fun way to keep in touch after they graduate from the program.
---
Chaired by Theresa Krampe, two NTS alumnae shared their experiences after the NTS and outlined their impressive career paths in the academic as well as non-academic sectors.
---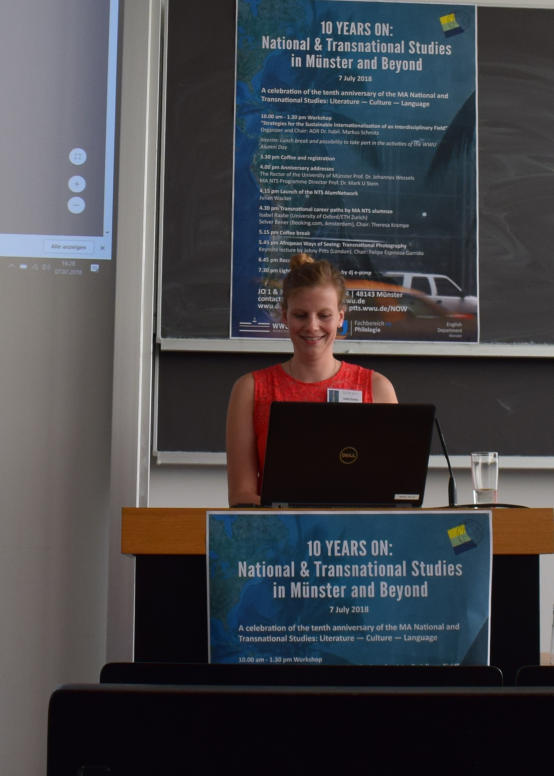 Dr. Isabel J Raabe has been hugely successful in her academic career after graduating from the NTS program a few years ago, obtaining both an MSc as well as a PhD degree in Sociology from the University of Oxford. She is currently pursuing her post doctorate at the University of Zurich. In her talk, she outlined her journey from the NTS to her doctorate.
Demonstrating that career perspectives after the NTS are by no means limited to an academic path, NTS alumna Selver Bener talked about how her time in Munster has helped her to pursue a career in marketing. Having worked for renowned companies such as Nike, she is now a Partner Executive at Booking.com, all the while also pursuing her passion for photography.
---