Frequently Asked Questions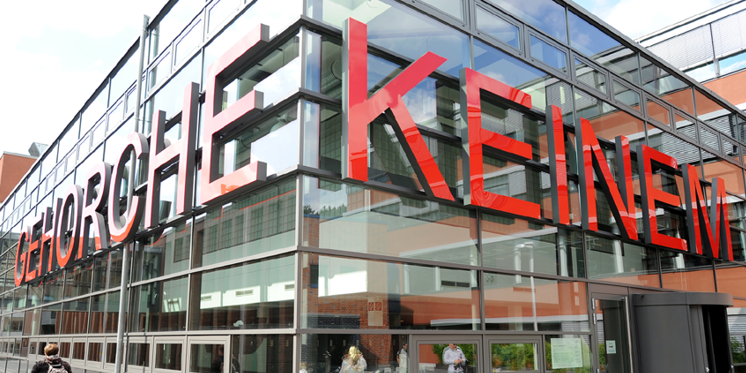 General information on the university and the city
History & accreditation of the M.A. NTS programme
Application phase - dates
Application requirements
Cost and funding
Contact persons
---
"What kind of life and study experience does Muenster offer?"
If you would like to get some introductory insights into campus and city life, you might be interested in watching a few short videos which the university has produced for prospective students.
In addition, you might like to check to following websites:
Muenster University homepage
City of Muenster homepage
---
"How long has this M.A. programme been running?"
The M.A. programme "National and Transnational Studies: Literature, Culture, Language" has been running since 2008.

"Has this M.A. programme already been accredited?"
The programme was accredited in May 2008 and re-accredited for another eight years in 2021. For details see the following website of the Stiftung Akkreditierungsrat [de]
---
 "When do I have to submit my application?"


For the MA NTS, the application period will begin in May 2022. One application per candidate is possible during this period; applications outside the designated application period cannot be accepted.
Applications will be processed in two phases and places will be offered accordingly. Applications received by 31 May will be evaluated in time for notifying candidates between early and mid-June. Applicants from outside the EU are strongly advised to apply by 31 May at the latest. In this way, successful candidates have a maximum of time to apply for visas (which can be time-consuming) and also to arrange funding, travel, and accommodation before the start of the MA NTS orientation week, likely in October 2022.
Candidates applying between 01 June and 15 July 2022 will be notified at the end of July.
---
Essay task 2022
The essay task for 2022 applications can be found here.
Language skills
"Will I need to have obtained my English language certificates before applying, or is there a possibility to do this later, i.e. between application/acceptance and the start of my M.A. studies?"

You must already submit your English language certificate at the time of application.
This is necessary in order to ensure that all candidates really do have excellent skills in English (our official medium of instruction on this M.A.) by the time they start studying on the programme – otherwise they will not be able to follow classes. In order to ensure that places on the programme are only offered to students who indeed possess such language skills, all applicants who are not native speakers of English must submit evidence of their English language skills (language certificates) at the time of their application. For this kinds of language certificates required, please see the "Admissions and Regulations" section of this website.


"Do I really need a language certificate?" (for applicants from non-native-speaker countries)

Please note that it is NOT possible to just apply with a BA diploma in English, not even if that BA program was taught through the medium of English. All applicants who are not native speakers also need to submit a separate language certificate such as TOEFL, IELTS or similar. The reason is that language standards vary from university to university, even for BAs in English; hence we need a certificate like TOEFL etc. to facilitate assessment of applicants' actual language skills. Please note that we consider you a native speaker if English is an official language in your country.


 

"How important are German language skills?"

German language skills are desirable but not mandatory.
You do not need German language skills to study at the English Department, where all classes and assignments are in English.
Other departments teach some courses in English (or other languages), but most of their courses tend to be in German. Thus, a good knowledge of German will extend your course choices, especially for the interdisciplinary "External Module" in the third semester.
A good knowledge of German will also be helpful for the module "Work Experience": If you wish to do your work placement in Germany rather than abroad, a good knowledge of the language will greatly extend the range of options available to you.
Having at least a working knowledge of German will, of course, also facilitate your general life in Germany. However, it is usually possible to get through everyday life in English – most people speak some English and will be happy to practise their skills on you!
If you would like to attend a German language course while you are here, a good starting point is the University's Language Centre (Sprachenzentrum), Dept. for German as a Foreign Language / Lehrgebiet Deutsch als Fremdsprache  (contact:

Mr.

Lothar Bunn, bunn_AT_uni-muenster.de) – they offer advice and a range of courses at different levels. 

 
Other educational certificates
"We don't have an equivalent to the German Abitur in my country, and the application requires those scores.  Am I exempt from that requirement?"

Non-German school leaving certificates / college admissions tests can be accepted as Abitur equivalent. Whether this applies in your individual case is not dependent on the general type of certificate you have (e.g. American SAT or ACT test), but on your individual grades and qualifications shown on those certificates. Thus, when applying for our M.A. programme, please submit both your school leaving certificates and (if applicable in your case) your certificate(s) about the college admissions test(s) you sat. The admissions committees of Muenster University will then check your documents for Abitur equivalence.


In many cases, however, the requirement for Abitur or non-German equivalent school leaving certificates / college admissions tests is a mere formality, since we also require your BA certificate which is a more important (and more recent) indicator of your academic abilities.

 


"If I don't yet have my B.A. certificate at the time of application, the admissions regulations (Zulassungsordnung) requires a preliminary certificate. But my current university does not give out preliminary certificates (e.g. incl. information on expected final grades)."

For such specific questions relating to application formalities, please contact the University's Master Admissions Office (Masterbüro) at masterbuero@wwu.de. For instance, you can explain your problem to them and ask if they accept a certificate from your current university that you are due to graduate this year, along with a current student transcript which shows the grades you've obtained so far (to give at least some impression of your performance level) – as long as you supply your official B.A. certificate at a later date, once you have obtained it (even if that will be after the deadline).
If such agreements come to be made in your case, you should briefly refer to them again in your appli­ca­tion, as a reminder and an explanation of why your documents are (at present) slightly dif­ferent.
 
Other application questions
 "Should I submit my application documents in English or German?"

The application form required by the University's central registration office should be filled in in the language in which the questions are asked.
Certificates (Zeugnisse), e.g. your B.A. certificate or proof of other educational qualifications, can be submitted in German or English.
Your letter of intent (Motivationsschreiben) and CV (Lebenslauf) should definitely be in English in order to enable us to get an impression of your English language proficiency.


"Should I submit my application online or on paper?"

All students should apply via the online application form on the university's application portal ("Bewerberportal") [de].
You should fill in this online application first. All necessary documents should be uploaded as pdf files.
"Is it possible to apply for and study both the MA NTS programme and an additional MA programme at Muenster University (i.e. Master of Education) at the same time?"

Yes, this is basically possible! Students who apply for such additional programme must of course meet the respective programme's admission regulations/requirements and consider the extra work load of studying in two programmes at the same time. For details please contact the English Department's director of academic affairs, Dr. Anna Rapp (e-mail kustes@wwu.de).
 
---
"What is the cost of tuition per semester or academic year?"
There are no tuition fees (regardless of students' country of origin). There is, however, a social service contribution which currently amounts to € 294.74 per semester and includes a semester ticket covering public transport for the greater Münster area and the German federal state of North Rhine–Westphalia.
Consider this website for further details regarding semester fees.
"How high are the costs of living in Münster?"
Costs of living amount to approximately € 800–900 per month.
 
"I'd like to apply for a grant or scholarship (e.g. DAAD, Fulbright). Who would be the best contact person for me to begin discussing projects/requirements?"
1) The first person you should contact for general advice on scholarship programmes is Dr. Anna Rapp (e-mail kustes@uni-muenster.de), the director of academic affairs at the English Department.

2) The University also has a central institution dealing with such matters, the International Office. They should also be able to give advice.
 
"Does the English department offer any sort of teaching assistantships to M.A. students?"
The numbers of student tutors (studentische Tutoren) we employ is very limited. But there are posts for student assistants (studentische Hilfskraefte) working for professors/chairs or in the departmental library – and openings for such jobs are regularly available. It would be good to signal your interest in and qualifications for this early on. We cannot guarantee such placements, however.
 Information on residency regulations for international students
"How can I apply for / extend my residence permit?"
For detailed information on regulations, required documents, and the procedure, download the following document: PDF: Information for international students [de].
---
"Whom can I contact for further information?"
If you like, you can use our general contact form. We will then forward your inquiry to the appropriate contact person or department.
If you prefer to contact an individual contact person or department directly:
Inquiries about the contents and curriculum of the degree programme can be addressed to MANTS@wwu.de.

Inquiries about entry requirements, application procedures, etc. can be addressed to the Student Adivsory Service of the English Department (e-mail studienberatunges_AT_wwu.de).
Inquiries concerning formal aspects of the admissions procedure can also be addressed to the University's Registry / Student Services Office (Studierendensekretariat) (e-mail studierendensekretariat_AT_uni-muenster.de)
The University also has a Student Advisory and Counselling Centre [de].
Information about scholarships is also available at http://www.uni-muenster.de/studium/en/kosten/stipendien.html [de]

International students who are already enrolled in the programme and would like help with settling in here, or want to make new acquaintances and friends, can contact the University's international centre "Die Brücke" ('The Bridge'). The centre offers consultation concerning studies, general questions and problems, in addition to cultural events and international celebrations. Their variety of projects and activities is a great opportunity for international students to integrate and meet other foreign and German students. For general information on the centre, visit:
http://www.uni-muenster.de/DieBruecke/en/