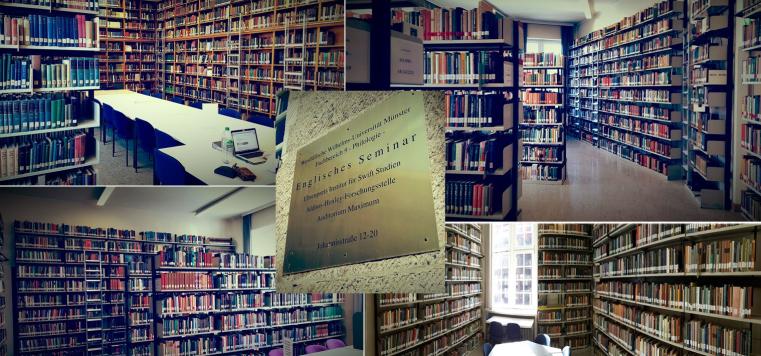 Comments, concerns, and book suggestions via  E-Mail. Please don't hesitate to contact us! - Library information & Lending desk: 0251- 83 24 506.  - Specialized information: 0251 - 83 24 507
Library hours in summer term (9.4.2018 - 20.7.2018):
Monday - Friday: 9:00 a.m - 6:00 p.m.
Library hours in semester break (23.7.2018 - 5.10.2018):
Monday - Friday: 10:00 a.m - 4:00 p.m.
Closed: 3.10.2018 (Tag der Dt. Einheit)

  Audio Tour  - Explore the Department Library!

The Library recommends also Training tours of the University and Regional Library (ULB) Münster.
The library of the English Seminar is located on the first floor at Johannisstraße 12 – 20. The special library offers an ever-growing collection of some 100,000 volumes, 280 digital media, 39,000 microfilms, and other audio-visual resources.
The English Seminar has a reference library. Accordingly, books may be read in the library or partially copied. This allows all users uninterrupted access to the library's resources. Recent acquisitions can be found on a special shelf in room 106.
All students of the WWU with a valid student identification card can loan books over the weekend and public holidays.  There is also the possibility of a short-term loan for out-of-house copying. The borrowing policy can be found under  Library Regulations
Questions?  We'd love to help: Information in Room 103. E-Mail and telephone:  (0251) 83 - 24 636 or 0251 83 - 24 507
Library Staff in alphabetical order:
Prof. Dr. Dagmar Deuber (Library Trustee of the Seminar)
Ingrid Hokamp (Employee Accession)
Silke Lück (Graduate Librarian)
Carsten Roepke (Library Technical Assistent Accession)
Simone Ullrich (Library Technical Assistent)
Student Aides/Information & Lending Desk (Tel. 0251 - 83 24 506) E-Mail: Eva Düsing, Lena Flathmann, Julia Hartmann, Jacqueline Sachse, Vanessa Thomas, Saskia Warkus, Ana-Patricia Weihermann

Hinweis für Bibliotheksbenutzer mit Behinderung:
Die Bibliothek des Englischen Seminars ist leider nicht barrierefrei.
Sie haben die Möglichkeit, mit dem Aufzug in das Obergeschoss der Bibliothek zu fahren. Die Glastür im OG können Sie selbst durch eine Transponder-Karte öffnen. Diese erhalten Sie bei Bedarf an der Aufsicht.
Mitarbeiter der Bibliothek holen Ihnen auf Wunsch jedes Medium an Ihren Arbeitsplatz.
Sie können gerne auch per Telefon oder E-Mail Medien zur Benutzung vorbestellen, die dann an der Aufsicht für Sie bereitgehalten werden.
Tel. 0251 – 83 24 636. E-Mail