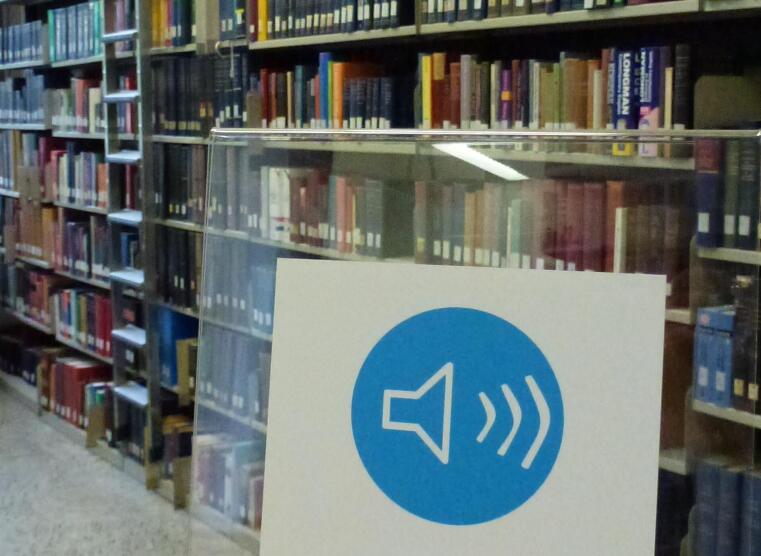 Please note:
The audio tour is no longer up to date!
A revision is planned, but cannot yet be precisely scheduled due to the upcoming changeover to a new library management system.
(Status May 2022)
With our  Audio Tour you can discover our Departmental Library whenever you want to. You will get to know interesting facts about the structure of our library, our lending conditions, our collection of books and much more. Enjoy it!
How does the Audio Tour work?
1. There are three possibilities of listening to the audio tour. Please note that there is a German and an English version of the tour – the choice is yours:
Download the listed mp3-files onto your mp3-player or smartphone. (for download: right-click on the corresponding file, then click "Ziel speichern unter")
Easily scan the QR-codes which you will find at every station of the Audio Tour with your smartphone. The link will directly lead you to the corresponding audio file.(For further information about QR codes please visit the ULB page on QR codes.)

Borrow an mp3-player at our Information & Lending Desk. (We have three audio guides at our disposal, so please note that in case of high demand you will have to calculate some waiting time. In order to loan one of our audio guides please do not forget to bring a valid (student) identity card.)
2. Please print out the handout (GERMAN (pdf) or ENGLISH (pdf) version) as it helps you to locate the different stations and is useful for your better orientation.

3. Come to our Departmental Library which is located at Johannisstraße 12-20, 1st floor. You will find the first station in the entrance area.

Stations:
▪    A list of all stations you will come across is provided on the handout.
▪    We highly recommend to proceed through the stations in the proposed order.
Stationen des Rundgangs
Information points of the tour
English audio files (mp3) (ZIP folder, ca. 20 MB)
German audio files (mp3) (ZIP-Ordner, ca. 20 MB)

We wish you a pleasant stay at our library. If you have any questions please do not hesitate to contact us at the Information & Lending Desk (0251/83-24506).