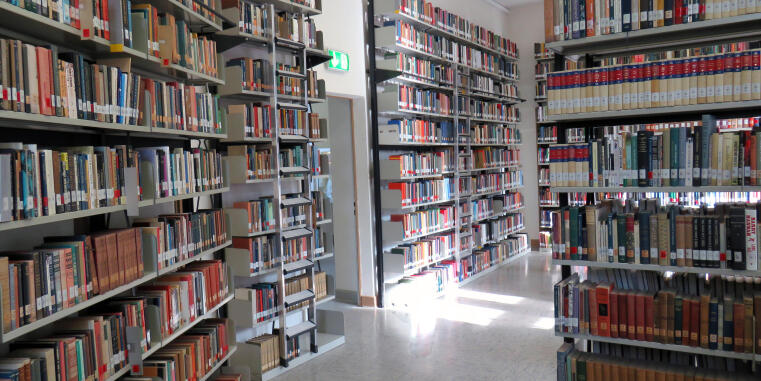 Floor Plan
Books:
Books are arranged systematically by shelf mark according to subject.  To aide in navigation, library diagrams are posted in the library entryway as well as in the catalog room.
Journals:
Current editions of the most important specialized journals are located in Room 106.  Further titles may be accessed per request through the library administration, Room 101-103.  Editions from previous years are located under the shelf mark "Z …"
Many periodicals and journals are not to be found in printed form at the University of Münster.  Many of these, however, stand at your disposal electronically in the form of E-Journals.  Please take advantage of the comprehensive collection of E-Journals, accessible via the Electronic Periodical Library (EZB).

Newspapers & Magazines:
Current editions of TIME Magazine, Times Literary Supplement (TLS), The London Review of Books (LRB) are on display in the library. Please ask the librarians for missing issues.
A variety of daily and weekly English-language newspapers are available free on the Internet (a selection):
Microfilm and books with the "Sonderstandort" designation are available upon request (for secreted rare, old or damaged volumes)
DVDs, CD-ROMs and Audio-CDs are kept in the "Medienschrank" and have to be ordered at the library supervising board before using or borrowing.
 
Suggestions for how we can broaden and improve our collection may be submitted via e-mail. Please provide the author, title, edition, publishing year, and ISBN number if known.