Young Set Theory Workshop 2023
Monday 29 May - Saturday 3 June 2023, Münster, Germany
Set theory is a broad area of mathematics, with many interconnecting themes, and our knowledge is developing rapidly. This international workshop will bring together young mathematicians, providing in depth introductions to various topics in set theory, leading to questions at the forefront of research. Tutorials and talks will be given by both experienced researchers and postdocs, and will be primarily aimed at advanced PhD students and early career researchers.
Speakers
Book of abstracts
The book of abstracts includes abstracts for the talks, and also general information about the conference, the city of Münster, the conference dinner and the excursion on Wednesday.
Organisers
Stefan Hoffelner (WWU Münster)
Aleksandra Kwiatkowska (WWU Münster)
Sandra Müller (TU Wien)
Farmer Schlutzenberg (WWU Münster)
Local Organisers
Alessandro Codenotti (WWU Münster)
Azul Lihuen Fatalini (WWU Münster)
Schedule
The program will start the morning of Monday, 29 May, and run until the afternoon of Saturday, 3 June. The schedule can be found here. Registration will be on the ground floor of the building at Orléans-Ring 12 (next to the building where talks are held) between 8:30 and 9:30 on Tuesday, 30th May.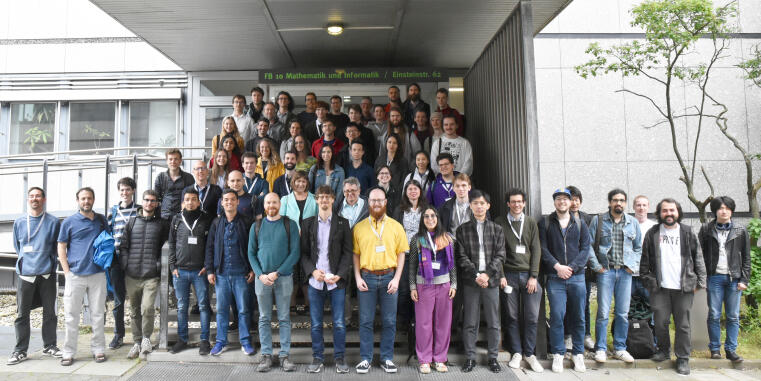 Download Conference photo
Poster session
The workshop will include a special poster session. The posters will also be displayed throughout the week. We welcome workshop participants to submit abstracts for posters to contribute. The number of posters we can include will be limited, and will be determined by application. If you are interested in contributing a poster, please send an application email to yst2023@gmail.com, with the subject "Poster" and an abstract, by Feb 28, 2023. Contributors of posters whose participation is not already covered by grant money can also apply for partial financial support; see the section below on financial support.
Registration
The deadline for registration is April 24, and it can be done here. There is a conference fee of 50 euros.
Support and child care
Child care is available free of charge, on site, for all participants of the workshop. If you require child care, please inform us of this when registering.
Venue and Travel Information
The conference will take place in Münster, Germany, at the Münster mathematics and computer science department, which is situated at the north-east corner of the intersection of Einsteinstraße and Orleans-Ring. The talks will be held in lecture hall M2, Einsteinstraße 64 (Hörsaal building). This is the building closest to the intersection just mentioned. Coffe breaks will be on the second floor of the adjacent building, Orléans-Ring 12.
The University of Münster is located in Münster in Westphalia. The address of the Faculty of Mathematics and Computer Science is Einsteinstrasse 62 and is listed on all common route planners.
You can find the Cluster of Excellence Mathematics Münster in the annex:
Orléans-Ring 10
ground floor
48149 Münster
Directions can be found on openstreetmap or on the Campus map of the University of Münster.
Hotel information: in English or German
Further detailed travel information can be found on the MM websites.
Download: Information for conference guests / Informationsblatt für Tagungsteilnehmer:innen [de|en]
***Scam warning: Some participants have received false messages regarding travel for the conference, from ops@travellerpoint.org,  http://www.travellerpoint.org/, "You do the packing, We do the planning". Please ignore these messages!
Poster
You may download, print and display the poster at your institution.

Financial support for participants
Student members of the Association for Symbolic Logic (ASL) may apply for travel support at ASL. Note that such applications have to be submitted at least 3 months prior to the meeting (February 27). For precise instructions on how to apply for ASL support please see the ASL website here.
We also have some limited funding available to help support qualified participants, particularly poster contributors, whose costs are not already covered by a grant. To apply for such support, please send an email to yst2023@gmail.com, including your CV, your expected budget, and how much is/is not already covered. If you are a graduate student, please also arrange that your advisor sends a letter of support to the same email address. (You should receive an email in reply to confirm receipt of your application.) All application materials should be received by March 15, 2023.
Sponsors
The workshop is supported by the following organizations: