Student ID card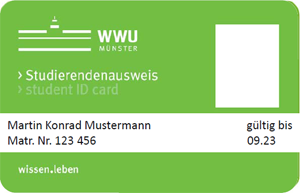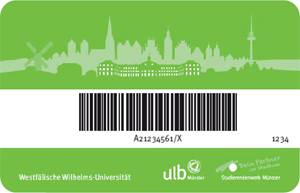 The student ID card can be used for the following purposes:
Student ID card
By presenting your student ID card, you identify yourself as a student of the University of Münster. Your student ID also entitles you to concessions at public facilities, such as the municipal swimming pools.
Library user ID card
Your student ID also doubles as a library user ID for use at the University Library (ULB). On the back of your student ID card, you will find your personal ULB user number printed under the bar code. For security reasons, this ULB user number must be activated one time only.
Copy card
With your student ID card, you can print and make copies on any of the 300 multifunctional devices available in the University's libraries, institutes and central buildings.
Mensa card
With your student ID card, you can purchase meals and beverages at all dining halls and bistros at the University at the student rate.
For more details on how to use the copy card and Mensa card, visit the website of the Studierendenwerk Münster.