Totally disconnected locally compact groups from a geometric perspective
11-15 September 2023, Münster, Germany
Many discrete geometric structures admit symmetries that are not determined by a finite substructure. This phenomenon is reflected in the non-discreteness of their automorphism group. Conversely, sufficiently non-discrete t.d.l.c. groups admit geometric actions on such structures. This workshop focuses on the above approaches and their interplay.
Speakers
Pierre-Emmanuel Caprace (Louvain)
Ilaria Castellano (Bielefeld)
Ged Corob Cook (Lincoln)
Yves Cornulier (Nantes)
Tom de Medts (Ghent)
Michel Ferov (Newcastle)
Alejandra Garrido (Madrid)
Helge Glöckner (Paderborn)
Adrien Le Boudec (ENS Lyon)
Waltraud Lederle (Louvain)
Rögnvaldur Möller (Iceland)
Miho Mukohara (Tokyo)
Tatiana Nagnibeda (Geneva)
Yury Neretin (Vienna)
Colin Reid (Newcastle)
Rachel Skipper (Utah)
Simon Smith (Lincoln)
Katrin Tent (Münster)
Federico Vigolo (Göttingen)
George Willis (Newcastle)
Organisers
Simon André (Münster)
Michal Ferov (Newcastle)
Alejandra Garrido (Madrid)
Shirly Geffen (Münster)
David Kerr (Münster)
Colin Reid (Newcastle)
Katrin Tent (Münster)
Stephan Tornier (Newcastle)
George Willis (Newcastle)
Schedule
Registration will take place on the ground floor of the highrise building, starting at 9:00.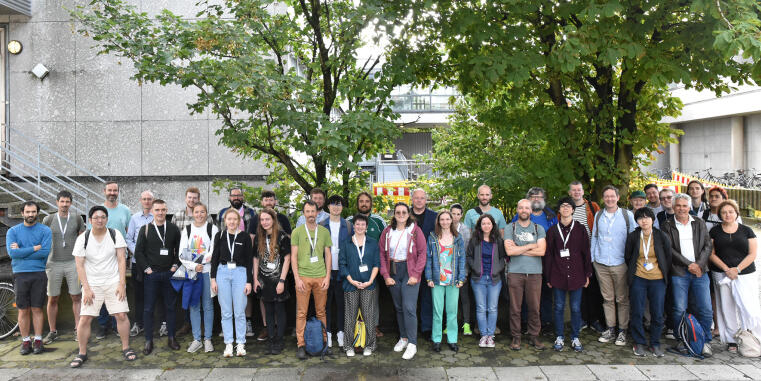 Registration
Register here for the workshop.
Support and child care
Child care is available free of charge for all participants of the workshop.
Venue and Travel Information
The conference takes place in room SRZ 217 on the second floor of the seminar building located at
Orléans-Ring 12
48149 Münster
Germany
We have reserved a block of hotel rooms that, subject to availability, can be directly booked by participants through the web portal of Münster Marketing.
Directions can be found on openstreetmap or on the Campus map of the University of Münster.
Detailed travel information can be found on the MM websites.
Download: Information for conference guests / Informationsblatt für Tagungsteilnehmer*innen [enIde]
Poster
Once available, you are welcome to download the poster and display it at your institution.
Sponsor
The conference is supported by the Cluster of Excellence Mathematics Münster.