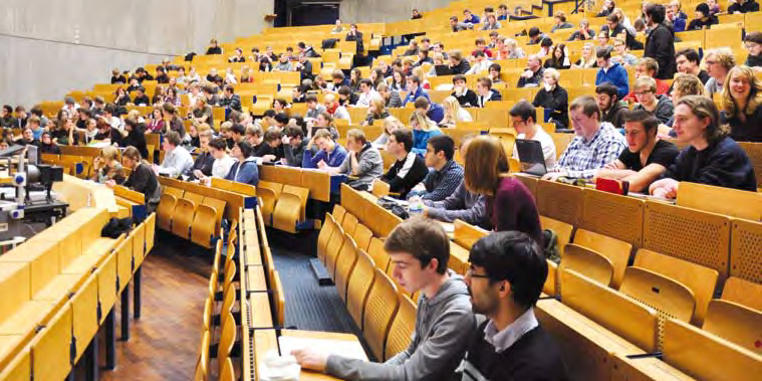 Studying at the Department of Physics
The Department of Physics at the University of Münster has approximately 1,300 students of physics and geophysics (including those in physics education), plus about 200 PhD students. It has long been one of the large physics departments in Germany. Due to its size, the department is able to cover a broad range of subjects in both research and teaching, with programs for both undergraduates and postgraduates offering many possibilities for specialization, depending on students' interests.
In addition, the department offers teaching services for students of other departments such as chemistry, biology, earth science, computer science, mathematics, medicine, pharmacy and other subjects.
Despite the large number of students (for a physics department at least), the department places great value on intensive and personal study guidance. Theoretical and laboratory assignments are carried out in small study groups, offering many opportunities for in-depth discussion both between the students themselves and with their supervisors.
About 30 professors and 70 scientists are engaged in the teaching at the department. About the same number of researchers is financed by external research funds offering students exciting insights on an internationally acknowledged level in all research areas of the department.
Bachelor's and Master's Courses
All study programs in the department are structures as consecutive Bachelor's/Master's courses. In the Bachelor's course, which is planned for a duration of 3 years (6 semesters), the students acquire primarily a broad fundamental knowledge in the respective subject. However, it also provides a first professional qualification. The Master's course, planned for 2 years (4 semesters), is then devoted to a specialization towards the chosen professional perspective. In particular during the research phase, which comprises also the delivery of the Master's thesis, the study program in the Master's course reaches the current state of research.
The degree programs offered by the department of physics can be separated into scientifically oriented courses, in which a single subject is studied, and in courses which are primarily devoted to the education of prospective physics teachers. In the latter case (at least) two subjects complemented by elements of educational sciences are studied. The scientifically oriented courses comprise the Bachelor of Science (BSc) and Master of Science (MSc) in Physics as well as the Bachelor of Science (BSc) and Master of Science (MSc) in Geophysics. Courses for the teaching profession are offered for the German school types Gymnasium and Gesamtschule as well as Berufskolleg (GymGe, BK), Haupt-, Real-, Sekundar- und Gesamtschule (HRSGe) as well as Grundschule (G). In all cases the study program consists of a Bachelor's Course followed by a Master of Education course.
The quality of all study courses is based on a long and successful teaching tradition at the WWU, as well as on constant examination and evaluation. Of course, all study courses at the department are accredited.
Information on the Degree Programs
If you want to become a physicist or geophysicist:

For new students two Bachelors's degree programs,

Physics

and

Geophysics

, are offered. The Bachelor's course in physics can also be completed in a practice-oriented branch of study called "Scientific Instrumentation". The decision for this option has to be taken in the third year of study. The Master's courses in

Physics

(in English) or

Geophysics

build on the respective Bachelor's courses to attain a complete academic education. The Master's course in Physics can also be studied within the double degree program in cooperation with the University of Seville (Spain).

If you want to become a teacher:
Also the study programs for the teaching profession are structured in consecutive Bachelor's and Master's courses. For the different school types we offer: