International Day of Mathematics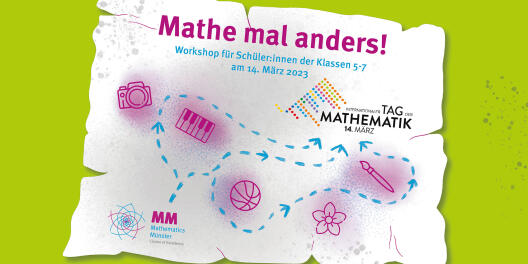 This year's motto is "Mathematics for everyone". That's why the Cluster of Excellence Mathematics Münster has invited pupils in grades 5-7 who are not (yet) the biggest maths fans to a workshop. On 14 March 2023, they can discover new perspectives on mathematics during a creative scavenger hunt and other exciting activities.
read more on the workshop website
---
Global Online Celebration
The global live celebration of the International Day of Mathematics will take place online and everybody is invited!
All through the 48 hours of celebration (from its start as March 14 begins in Oceania) there will be liveblogging of pictures and videos from IDM events worldwide, results of the Comic Challenge, announcements and more.
2023 Global Online Celebration Live stream
The main event in the online celebration will be a series of short talks for a general audience.
This year there will be two sessions, one with guest mathematicians and one with the 2022 winners of the Fields Medal (one of the highest honors a mathematician can receive).
The talks will be conducted in the mathematicians' own languages, with English subtitles. Full schedule and access
All talks will be streamed through the idm314 website, completely free and without any need to sign up.
First session: March 14, 2023, 13:00 (Mitteleuropäische Normalzeit)
Second session: March 14, 2023, 15:00 (Mitteleuropäische Normalzeit)