Funding Programme "Student Research Projects"
Event: Tips for a Successful Proposal
Thursday, 9 November 2023, 12:15 – 13:45 | Seminar room 1, Graduate Centre (ground floor, Schlossplatz 6, 48149 Münster) | register via Indico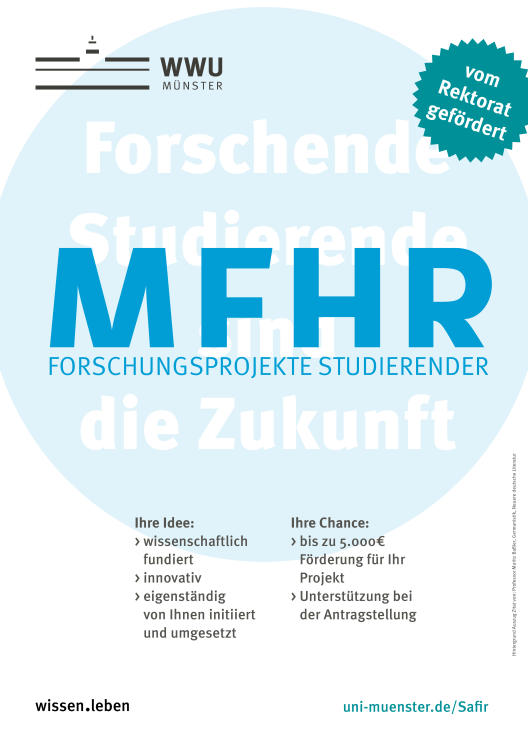 General Information
The Rectorate of the University of Münster allocates 50,000 euros a year to support student research projects. Individual projects can receive up to 5,000 euros in funding for a maximum of 12 months. Funding is awarded on the basis of an evaluation conducted by the Rectorate Committee for Research Affairs (RKF).
More important than enhancing one's personal academic qualifications, the projects should be innovative and academically informed, and thus be clearly distinguishable from one's doctoral, professional or academic pursuits. Such projects could include:
► Research projects which are initiated and carried out by students
► Student projects which encourage academic collaborations in Germany and abroad
► Seminars or conferences which students organise and carry out on their own
Application procedure
Students may apply for funding if they are enrolled at the University of Münster at the time of application and are under the age of 28. The prerequisite for consideration is that the applicant is officially enrolled as a student of the University of Münster and has not yet completed his/her doctoral programme.
As a rule, the RKF will only review applications which are submitted two months prior to an upcoming meeting. Experience shows that the first drafts of most applications require some revision. Therefore, we urge you to contact us for consultation before submitting your application.