Anglistentag 2007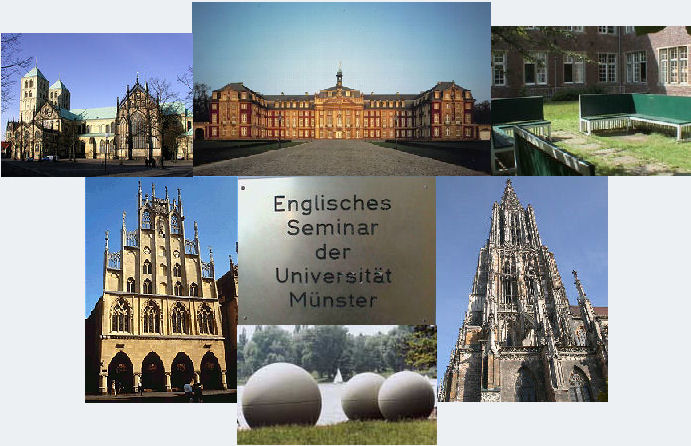 unter der Schirmherrschaft von
Ministerpräsident Dr. Jürgen Rüttgers


Programm Anglistentag Münster 2007
---
 Sonntag, 23. September 2007
| | |
| --- | --- |
| 14.00-20.00 | Tagungsbüro geöffnet (Englisches Seminar: EG vor Raum 036) |
| 18.30- | Conference Warming im Pinkus Müller |
Montag, 24. September 2007
08.30-19.00
Tagungsbüro geöffnet (Englisches Seminar: EG vor Raum 036)
09.00-10.00
Eröffnung und Begrüßung (Aula im Schloss)


Dr. Marianne Ravenstein (Prorektorin für Lehre, Studienreform und studentische Angelegenheiten der WWU Münster)
Prof. Dr. Klaus Stierstorfer (Geschäftsführender Direktor, Englisches Seminar)
Prof. Dr. Silvia Mergenthal (1. Vorsitzende des Deutschen Anglistenverbands)

Verleihung des Habilitationspreises
Laudatio: Prof. Dr. Monika Fludernik, Universität Freiburg
10.00-10.30
Kaffeepause (Foyer im Schloss)
10.30-12.30
Forum (Aula im Schloss):
"Die Anglistik und Amerikanistik in der Gesellschaft des 21. Jahrhunderts"
10.30-12.30
Stadtführung durch Münster                               
12.30-13.45
Mittagspause und Ortswechsel zum Englischen Seminar
13.45-14.45
Plenarvortrag Sektion I (Englisches Seminar: Audimax)
Harriet Ritvo: "The Animal Turn in British Studies"
14.45-15.45
Plenarvortrag Sektion II (Englisches Seminar: Audimax)
David Edgar: "Too True? The Achievements and Limitations of Fact-Based Drama"
15.45-16.15
Kaffeepause (Englisches Seminar: EG und Study Garden)
16.15-18.00
 Sektionsprogramm
16.30-17.30
Aldous Huxley Revisited (Englisches Seminar: Raum 322-323)
18.30-20.30
Empfang im Rathaus des Westfälischen Friedens (gemeinsamer Gang ES-Rathaus beginnt vor dem ES um 18.15)                        
 Dienstag, 25. September 2007
09.00-10.00
Plenarvortrag Sektion V (Englisches Seminar: Audimax)
Donald Winford: "New Englishes in the Context of Contact Linguistics"
09.30-13.00
Exkursion: Haus Rüschhausund Burg Hülshoff
10.00-12.00
Tagungsbüro geöffnet
10.00-11.00

Plenarvortrag Sektion IV (Englisches Seminar: Audimax)
David S. Miall: "Cognitive Poetics: From Interpreting to Experiencing What is Literary"

11.00-11.30
Kaffeepause (Englisches Seminar: EG und Study Garden)
11.30-13.00
Sektionsprogramm
13.00-14.30
Mittagspause
14.30-17.00
Mitgliederversammlung (Englisches Seminar: Audimax, Eingang Fahrstuhl 3. Stock)
16.30-17.30
Aldous Huxley Revisited (Englisches Seminar: Raum 322-323)
17.00-18.30
Informations- und Diskussionstreffen (Englisches Seminar: Audimax):
Modularisierte Lehramtsstudiengänge (Beginn unmittelbar nach der Mitgliederversammlung)              
18.30-20.00
Nachwuchsforum (Englisches Seminar: Audimax):
Universitätsstrukturen im Wandel - Zur Orientierung
Leitung: Prof. Dr. Friederike Klippel, Prorektorin der LMU 2003-2007
21.30-
Nachtwächter-Rundgang durch Münster
 Mittwoch, 26. September 2007
09.00-10.00
Plenarvortrag Sektion III (Englisches Seminar: Audimax)
David S. Reynolds: "'Evil Propels Me, and Reform of Evil Propels Me': Literary and Social Versions of Evil in the American Renaissance."
10.00-10.30
Kaffeepause (Englisches Seminar: EG und Study Garden)
10.30-12.45
Sektionsprogramm
15.00-17.30
Besichtigung Schloss Nordkirchen
17.30-21.00
Bankett im Saal Oranienburg, Schloss Nordkirchen        
Sektionen
Sektion I:   Defining the Human: Man-Animal Relations in Literature
                   Leitung: Stefan Welz (Leipzig), Anne-Julia Zwierlein (Bamberg)
Vorträge:
Harriet Ritvo (MIT, Cambridge, MA): "The Animal Turn in British Studies"
Jürgen Meyer (Halle): "'Italianate Englishmen' and Other Renaissance Chimaeras"
Andreas Höfele (München): "Staging the Species Boundary in Shakespeare's Theatre"
Virginia Richter (München): "Moving Machines, Suffering Creatures: Animals in  Eighteenth Century Literature and Culture"
Greta Olson (Freiburg): "Evolving Images of Beasts in Eighteenth-Century Britain"
Oliver Lindner (Leipzig) "'Stout Competitors': Man and Animals in British Science Fiction, 1880-1930"
Sonja Fielitz (Marburg): "'I always thought unicorns were fabulous monsters. I never saw one alive before': The Cultural Construct and Significance of the Unicorn in Nineteenth-and Twentieth/Twenty-First-Century Texts"
Beatrix Hesse (Bamberg): "Learning from Animals: T.H. White's King Arthur"

Sektion II:  The Documentary Turn
                   Leitung: Christiane Schlote (Bern), Eckart Voigts-Virchow
                   (Siegen)
Vorträge:
David Edgar: "Too True? The Achievements and Limitations of Fact-Based Drama"
Gerd Bayer (Erlangen): "Fake Films As Media Criticism"
Stefani Brusberg-Kiermeier (Potsdam): "'Many a weary mile have I gone with Herr Guillaume at my side': Michael Frayn's Democracy as Docudrama"
Martin Doll (Frankfurt): "'Documents' from The Atlas Group Archive - Of a Witness Telling His Story/History: 'Hostage: The Bachar Tapes'"
Christian Huck (London): "Rockumentaries: Putting Music in Pictures"
Roger Lüdeke (München): "'Documentary Drama' and the Theatricality of Politics: Guantanamo: Honour Bound to Defend Freedom by Victoria Brittain and Gillian Slovo"
Kathleen Starck (Osnabrück): "My Name is Rachel Corrie"    
Soenke Zehle (Saarbrücken): "Passions for the Real: How Sorious Samura Redeems Reality"

Sektion III: Representations of Evil in Anglophone Cultures
                   Leitung: Jochen Achilles (Würzburg), Ina Bergmann (Würzburg)
Vorträge:
David S. Reynolds (New York): "'Evil Propels Me, and Reform of Evil Propels Me': Literary and Social Versions of Evil in the American Renaissance."
Michael Szczekalla (Greifswald): "'Radical Evil' in Huxley and Burgess"   
Barbara Puschmann-Nalenz (Bochum): "The Evil Empire: Representations of Evil in Contemporary Anglophone Fiction"
Patricia Plummer (Mainz): "The Return of the Gothic in Contemporary Anglophone Crime Fiction"  
Frank Austermühl (Auckland): "'Fighting Evil'? The Strategic Use of Evil in British and American Political Discourse"
Lutz Schowalter (Trier): "Satan and the Anti-Christ: Fictionalizations of the Ultimate Evil in Contemporary North American Cultural Production"    
Rüdiger Heinze (Freiburg:) "'Evil' Protagonists in American Fiction and Film: Charm and Persuasion of Psychopaths, Serial Killers, Murderers and Co."    
Hans-Ulrich Mohr (Dresden): "Neo-Noir Films: Evil and Postmodernism"

Sektion IV:  Cognitive Approaches in Literature and Linguistics
                   Leitung: Monika Fludernik (Freiburg), Ralf Schneider (Bielefeld)
Vorträge:
David S. Miall (Alberta): "Cognitive Poetics: From Interpreting to Experiencing What is Literary"
Margarete Rubik (Wien): "Cognitive Strategies of Presenting Non-Linear Emotional Experience in Narrative"
Pascal Fischer (Würzburg): "Trouble in the Family: Neoconservative Discourse on Transatlantic Relations"
Jochen Petzold (Freiburg): "Constructing the Speaker in (Lyrical) Poetry - A Cognitive Approach"
Christoph Schubert (Würzburg): "Orientational Metaphors in Romantic Poetry: A Cognitive Semantic Perspective on Verticality"
Sven Strasen (Aachen): "Cultural Models, Cognitive Environments, and the Reading of Literary Texts: Towards a Cognitive Reinvigoration of Reader-Response Theory"
Beatrix Busse (Münster): "Writing is Medicine: Conceptual Blends in Interplay With Fundamental Metaphorical Mappings in Paul Auster's Narrative Fiction"
Alexander Bergs (Osnabrück): "Can We Take Construction Grammar Beyond Sneezing Napkins Off Tables?"

Sektion V:   Englishes in Contact
                   Leitung: Andrea Sand (Hannover), Lucia Kornexl (Greifswald)
Vorträge:
Donald Winford (Ohio State University): "New Englishes in the Context of Contact Linguistics"
Stefan Thim (Potsdam): "The Rise of the Phrasal Verb in English: A Case of Scandinavian Influence?"
Hildegard Tristram: "Shifting Britons: The Impact of Late British on Medieval English"
Lucia Siebers (Regensburg): "'I don't know nothing on cricket'. Negative Concord - an Atypical L2 Feature?"
Carolin Biewer (Heidelberg): "Concord Patterns in South Pacific Englishes - the Role of New Zealand English and the Local Substrate"
Angelika Lutz (Erlangen/Nürnberg): "Types and Degrees of Mixing: A Comparative Assessment of Latin and French Influences on English and German Word Formation
Joybrato Mukherjee (Gießen): "The New English Triangle (NET): Institutionalised Second-Language Variation Between Common Core, Interference and Autonomy"
Peter Siemund (Hamburg), Lukas Pietsch (Hamburg): "Contact-Induced Change and Linguistic Universals: The Case of Irish English"

Sektion VI:  Varia
Vorträge:
Wolfram R. Keller: "Fresh Colours of Rhetoric: John Lydgate and Medieval English Nationhood"                                                                                                           
Till Kinzel: "Benjamin Disraeli and Carl Schmitt's Political Theology"
Sebastian Domsch: "18th-Century Man as Sex-Object: Eliza Haywood and the Contruction of Desirable Men"
Katharina Böhm: "The Invention of the Dickensian Child - From Sketches by Boz to Oliver Twist"                                                                                                          
Anne Hoyer: "Linguistic Changes of a Popular Scottish Comic"
Christiane Brand: "From Killer Bug to Novel Coronavirus - Collocational Variation, Lexical Priming and Institutionalisation in Scientific Discourse Popularisation"
Daniela Wawra: "America at its Best: The Discoursive Construction of American Identity in the Inaugural Addresses of US-Presidents Since 1789"