New MATHRIX Professor: Aleksandra Kwiatkowska
We welcome Aleksandra Kwiatkowska to the Faculty of Mathematics and Computer Science and the Cluster of Excellence Mathematics Münster. She commenced her appointment as a MATHRIX Juniorprofessorin on 1st of October 2020.
Aleksandra Kwiatkowska works on the structure and dynamics of separable completely metrizable topological groups. Her research borders on topological dynamics, Ramsey theory, descriptive set theory and model theory. Within the Cluster's research programme she will contribute to research unit A2: Groups, model theory and sets. Within the CRC "Geometry: Deformations and Rigidity" she will work on her own project in the field of rigidity of group topologies and universal minimal flows.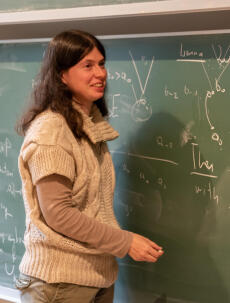 Having received her master's degree from the University of Wrocław, Poland, and her PhD from the University of Illinois, USA, she spent three years as a postdoc at the University of California in Los Angeles and one year as a Hausdorff Fellow at the University of Bonn. Then she worked at our Faculty for three years as a postdoc ("Akademische Rätin auf Zeit"). After one year of research and teaching at the University of Wrocław she is now back in Münster.
Aleksandra Kwiatkowska was motivated to return to Münster by the inspiring environment and the various opportunities that the Cluster and the CRC offer. "I am looking forward to working with my group," she says. This group includes the postdoc Aristotelis Panagiotopoulos, who she already knows from her time in the USA, and the PhD student Alessandro Codenotti. She is looking for challenges in her teaching and to this end has decided to offer a lecture in German.
We wish Aleksandra Kwiatkowska a successful and inspiring time in Münster!
Links:
Jun.-Prof. Dr. Aleksandra Kwiatkowska: personal website and contact information