Gäste am Lehrstuhl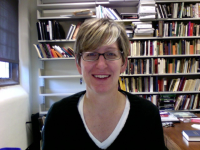 Gastprofessur:  Prof. Dr. Sara Poor, Princeton University
Department of German
Princeton University
203 East Pyne
Princeton, NJ 08544
spoor@princeton.edu
21.06.-11.07. 2010
Gemeinsames Blockseminar im Sommersemester 2010:
Text- und Bildwelten religiöser Frauen im Mittelalter

Employment
Education
Academic honors and awards
Publications
Recent invited lectures (selection)
             
EMPLOYMENT
Associate Professor of German Literature, Princeton University 2006 -
Assistant Professor of German Literature, Princeton University 2002 - 2006
Assistant Professor of German Studies and Gender Studies, Stanford University 1996 - 2002
Mellon Postdoctoral Fellow/Visiting Professor, Penn Humanities Forum,
University of Pennsylvania 1999-2000
Lektorin für amerikanische Sprache, Universität  Erlangen-Nürnberg 1995 - 1996
Instructor of German and Literature,  Duke University 1987 - 1995

 
EDUCATION

Duke University: Ph.D., Literature Program, 1994

Dissertation: "Medieval Incarnations of Self: Subjectivity and Authority
in the Writings of Mechthild von Magdeburg," Director, Ann Marie Rasmussen

Cornell University: B.A., Comparative Literature, 1985

 
ACADEMIC HONORS and AWARDS
Behrman Fellowship, Princeton Humanities Council, 2006-2008
Princeton University Charles Osgood Bicentennial Preceptorship, 2005-2008
University of Pennsylvania Mellon Post-doctoral Fellowship, 1999-2000
Stanford Humanities Center Fellowship, 1999-2000 (declined)
Bunting Institute Fellowship, 1999-2000 (declined)
DAAD Research Fellowship for Recent Ph.D.'s, June - October 1995
Charlotte W. Newcombe Doctoral Dissertation Fellowship, 1992-1993.
International Research Grant, Center for International Studies, Duke University 1992
Duke/Berlin Exchange Fellowship, 1989-1990
Cornell University, Summa cum laude and Distinction in all Subjects, 1985

 
PUBLICATIONS


book: Mechthild of Magdeburg and Her Book: Gender and the Making of Textual Authority (Philadelphia, University of Pennsylvania Press, 2004)

Winner of 2006 Society for Medieval Feminist Scholarship Prize for the best first book in medieval feminist studies.

Winner of 2008 Medieval Academy of America John Nicholas Brown Prize for the best first book on a medieval subject.

book project (in progress): Gender and the Devotional Book in Late Medieval Germany

edited book: Women and Medieval Epic: Gender, Genre, and the Limits of Epic Masculinity (with Jana K. Schulman, Western Michigan University) (New York: Palgrave MacMillan, 2007)

edited journal: Medieval Feminist Forum, Issues 38 and 39 (Winter 2004, Summer 2005)

articles:

(forthcoming):
"Women Teaching Men in the Medieval Devotional Imagination," to be included in Brothers and Sisters in Christ: Men, Women, and the Religious Life in Germany 1100-1500, edited by Fiona Griffiths and Julie Hotchin.
"Transmission," Cambridge Companion to Christian Mysticism, ed. Amy Hollywood and Patricia Beckman (forthcoming 2010).

(published) (selection):
"Standing Still: The Associate Professor Survey," co-authored with Kathleen Woodward and Rosemarie Scullion, Profession 2009: 313-350.
"Early Mystical Writings" in Camden House History of German Literature, vol 2: The High Middle Ages, ed. Will Hasty (Rochester, NY: Camden House, 2006), 185-200.
"St. Katharine, St. Alexius und 'der scholer van parijß': Aesthetische Form und Gender als Ordnungsprinzipien im Codex 824 der University of Pennsylvania," in Ordnung und Unordnung in der Literatur des deutschen Mittelalters, ed. Wolfgang Harms,  C. Stephen Jaeger, and Horst Wenzel (Stuttgart: Hirzel Verlag, 2003), 193-205.
"Mechthild von Magdeburg, Gender, and the 'Unlearned Tongue,'" Journal of Medieval and Early Modern Studies 31.2 (2001): 213-50; reprinted in The Vulgar Tongue, ed. Fiona Somerset and Nicholas Watson (University Park, PA: Pennsylvania State University Press, 2003), 57-80.
"Gender Studies and Medieval Women in German" College Literature 28 (2001) 118-29.
"Cloaking the Body in Text: The Question of Female Authorship in the Writings of Mechthild von Magdeburg" Exemplaria 12.2 (2000): 417-453 .


RECENT INVITED LECTURES (selection)
"Sister Act: Gender, Reform, and the Devotional Book in Late Medieval Germany" (plenary) Medieval Academy Annual Meeting, Chicago, IL, March 28, 2009.
"Reformation, Secularization, and the Survival of Medieval Vernacular Books," New Chaucer Society Meeting, Swansea, Wales, July 21, 2008.
"Women Teaching Men in the Medieval Devotional Imagination," (invited lecture) Harvard University, December 6, 2007.
"The Countess, the Abbess, and Their Books: Patterns of Transmission in a Fifteenth-Century German Family" (invited lecture), Hood College, February 8, 2006.