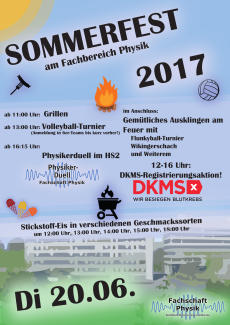 Dear students,
together with the annual Summer Festival at the Department of Physics on Tuesday, the 2017-06-20, you will have the opportunity to register with DKMS.
Apart from that, as in the previous years, there will be a volleyball tournament and after that, our popular Physicists' Feud. Your physical well-being is taken care of; for the first time, we will try our hands at nitrogen ice cream. The Summer Festival begins at 11:00; the remaining program:
Barbecue: from 11:00
DKMS registration: 12:00–16:00 in the StudiO
Volleyball tournament: 13:00 (registration until 12:45)
Physicists' Feud: 16:15 in HS 2
Afterwards, we will continue with the barbecue and relax in the evening with flunkyball and Kubb. TK supports us as a sponsor.
We're looking forward to you!