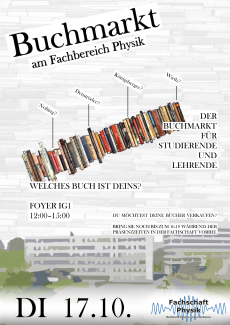 Dear students,
we would like to inform you of a number of events which we organize at the beginning of the semester. Among these are the book market, the Bachelor–Master Day, the Physicists' Party and the game night. The individual details follow further below. Don't miss it! :-)
Book market: Tuesday, 2017-10-17
On the following Tuesday, the 17th October, our annual book market will take place in the IG1 foyer. If you'd like to cheaply buy scientific literature, just drop by between 12:00 and 15:00. The revenue from the sale of books from the old stock in the StudiBib is invested into new books.
For 5th-semester bachelor's and 3rd-semester master's students, we're hosting this year's Bachelor–Master Day (BaMa Day) on the 18th October in the IG1 foyer. There, you'll have the opportunity to talk to all working groups at the department as well as some external groups about their research and possible subjects for a thesis. We'll start at 15:00 (s.t.!) in HS 1 with a short talk (10–15 minutes) about the general framework of bachelor's/master's theses.
---
The dates for all our events can also be found in our event calendar, as always.