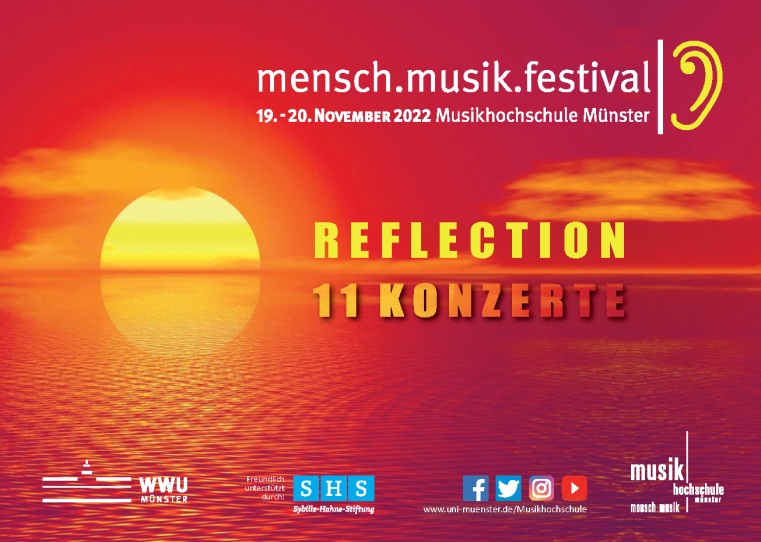 reflection
8th mensch.musik.festival
on November 19 and 20, 2022
The eighth mensch.musik.festival of the Münster University of Music in 2022 is dedicated to the theme of reflection. On November 19 and 20, from Saturday noon to Sunday evening, students, teachers and guests of the University of Music will present their interpretation of the theme in eleven exciting and varied concerts featuring classical, early and new music, pop and improvisation. The individual program points and concert times can already be found in our online calendar and will be published in a program booklet for the festival.
The English term reflection opens the festival program for different characteristics, actions and circumstances, which in German could only be described with (at least) two terms. On the one hand, reflection is meant, in the sense of contemplation, reflection, contemplation, reaching up to knowledge, for example about oneself, about others, about contexts, about musical genres, works and interpretation. On the other hand, the term also includes reflection, i.e. mirroring and reflection, also the purely physical throwing back or bending back, e.g. of radiation and waves, of light and sound. - Plenty of room for musical interpretation!
The mensch.musik.festival 2022 will take place on November 19 and 20 in the concert hall of the University of Music. Free admission tickets are available on site while supplies last, Saturdays from 10am for all concerts on Saturday, Sundays from 10am for all concerts on Sunday. Ticket and seat reservations are not available.  The current rules for concert attendance apply.
At home live! The festival concerts will also be live-streamed via YouTube.
On-site admission and access to the live stream are free, donations are requested.
The renewed generous support of the Sibylle-Hahne-Foundation makes it possible for us to organize and technically realize the festival. For this we thank you very much!