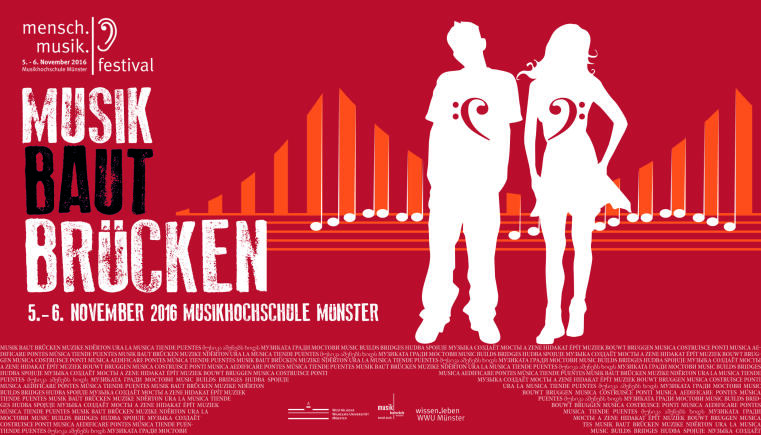 Music builds bridges
2nd mensch.musik.festival
from November 5 to 6, 2016
All students, teachers and staff* of the University of Music were asked to develop ideas for the motto of the mensch.musik.festival 2016. A selection committee decided on the proposal of Michael Hierer, Bachelor student in Keyboards & Music Production, "Music builds bridges". The motto enables musical bridges of the most diverse kind and thus guarantees an extraordinary festival program.
In the second festival edition, musical connections will be presented that you don't hear every day: bridges between continents and countries, people and cultures, classical music, new music, pop, jazz and world music, not least between instruments, singing and musical styles - "crossover" in the most diverse sense.
In addition to classical music concerts, the program (PDF here) also offers infotainment with entertainment, interesting facts and hands-on activities on the topics of choir, live looping and applied music psychology. On Saturday evening, the pop department will present itself in a "living room atmosphere" in the concert hall. On Sunday morning, the concert hall will become a movie theater: In the presence of director Ansgar Ahlers, the film "Bach in Brazil" will be shown, which both ties in with last year's motto "Music in Film" and builds a musical bridge between classical music and samba. From the performance of the Youth Academy to the lecturers' concert, the best of the Academy of Music will present themselves. An art exhibition rounds off the program.
Julia Berg, student of the woodwind class, and Prof. Stephan Froleyks, percussionist and vice dean of the University of Music, will present the mensch.musik.festival 2016 in an equally expert and charming manner.
The festival is made possible by the generous support of the Sibylle Hahne Foundation, many small and generous donations from our visitors, and the extraordinary commitment of everyone involved. - A heartfelt thank you to all!
mensch.musik.festival 2016