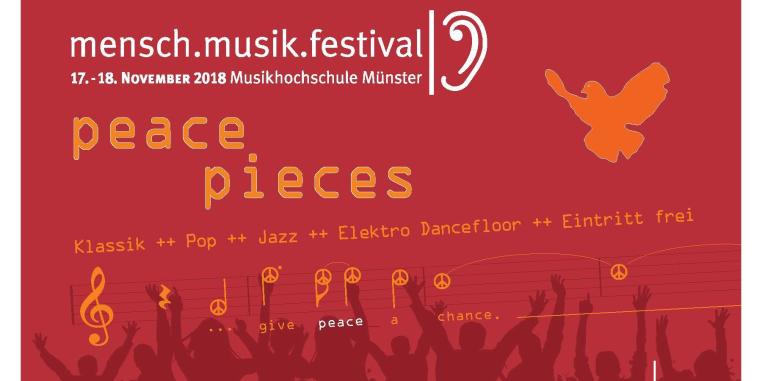 peace pieces
4th mensch.musik.festival
on November 17 and 18, 2018
Musically, the "Year of Peace" 2018 is about peace pieces, pieces that deal with "peace". The students of the pop and classical music departments explore the whole range from "war and peace" to "peace with oneself". They put on a total of 22 hours of programming on Saturday and Sunday.
The range of what is presented is wide: Saturday leads from the most beautiful melodies of classical singing and virtuoso violin and piano concerts to jazz and the pop department with singer/songwriters, hip-hop, sample sounds and electro party. The Sunday program offers musical black light theater for the little ones (and their parents), a multiple award-winning piano trio of the Youth Academy, "Jazz for Peace", a project of jazz lecturers, classical accordion and saxophone as well as neo-classical music and improvisations on the piano, and finally the grand finale with cello ensemble, Galaxybrass and choir.
All concerts will be charmingly presented by our student (Keyboards & Music Production) Felix Wunderer and the well-known WDR presenter Ulrike Froleyks.
We would like to thank the Universitätsgesellschaft Münster e. V. for honoring and supporting this year's mensch.musik.festival as a "Lighthouse Project of the WWU" and the Kulturstiftung der Westfälischen Provinzial Versicherung for financially supporting the mensch.musik.festival 2018. Further thanks go to our audience for numerous small and large donations!
mensch.musik.festival 2018