Prospective students
Are you interested in studying at the Münster University of Music? We look forward to receiving your application!
On the following pages, you can learn everything you need to know about our degree programmes and application modalities.
JETZT BEWERBEN: Eignungsprüfung für ein Studium ab Wintersemester 2022/23
ACHTUNG:
VERLÄNGERTER BEWERBUNGSZEITRAUM!!!
Liebe Studieninteressierte,
vom 15. Februar bis zum 18. April 2022 können Sie sich für die Eignungsprüfung für ein Studium ab dem Wintersemester 2022/23 bewerben. Hier geht es zur Online-Bewerbung.
Für die Spielzeit 2022/23 werden außerdem sechs Orchesterakademie-Stipendien für 2. Violine, Viola, Kontrabass, Schlagzeug, Klarinette und Posaune ausgeschrieben – alle Details finden Sie hier – sowie vier Plätze im Opernstudio inklusive bezahlter Praktika in Produktionen des Theaters Münster – alle Details dieser Ausschreibung finden Sie hier.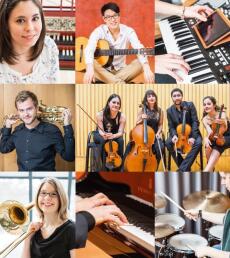 Master courses for prospective students
STARTING A LIFE FULFILLED WITH MUSIC – THE MASTER COURSES OF THE MÜNSTER UNIVERSITY OF MUSIC
Students of the University of Music can deepen their knowledge of piano, cembalo, violin, violoncello, double bass, recorder, oboe, clarinet, bassoon, trumpet, trombone, saxophone, percussion, timpani, jazz vibraphone, singing, keyboards & music and popular music production (electric guitar, electric bass, pop vocals and drum set) every year in February within the master courses for prospective students.
The master courses are targeted at advanced music students who are interested in studying music at university. Even students who are contemplating transferring to the Münster University of Music or wish to pursue a higher musical qualification (master's degree, concert examination, Dr. Phil. in Art) are welcome to participate.
We cordially invite you to become acquainted with the familial atmosphere of the Münster University of Music. Take advantage of trial lessons and individual counselling – also in view of upcoming aptitude assessment tests!
In 2022 the master classes took place from February 17th to 20th, you can find all information HERE in the flyer.