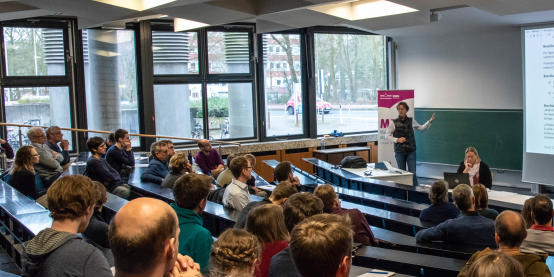 Second General Assembly of the Cluster of Excellence Mathematics Münster
The Cluster of Excellence Mathematics Münster has been running for a year now. At the Cluster's second general assembly on 29 January 2020, the members looked back on the year's achievements and set the course for the future.
To open, Cluster spokesperson Prof. Dr. Mario Ohlberger presented some figures that highlight the Cluster's successful start. With the recruitment of two new investigators (Prof. Dr. Arnulf Jentzen and Prof. Dr. Martin Huesmann) several postdocs, doctoral students and management staff, the number of Cluster members has grown to 140. Last year, the scientists published 150 publications, 85 of which appeared with Cluster acknowledgement. 130 guest researchers visited the Cluster. The eight conferences attracted about 600 participants in total.
The Opening Colloquium last June was noted as a particular highlight of the year. Given the positive feedback received from the participants, the majority of the members were in favour of offering a similar conference again in 2022, bringing together various different mathematical disciplines. This summer, a new format will be held for the first time: The Focus Program "Operator algebras and topological dynamics: amenability and beyond" includes a number of conferences and various events.
With many resolutions on financial planning, processes and committee memberships, the general assembly made important decisions for the future development of the Cluster.