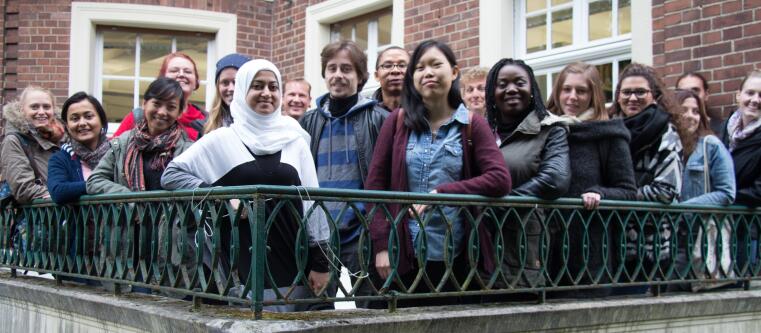 News

QISPOS-Registration Winter Semester 2023/24

October 23rd 2023 - December 19th 2023

You can find information on this terms' courses and module exams by clicking  here

---

New Guidelines on how to access eJournals

For guidelines on literature research and getting access to eJournals please click here.

---

Instagram MA Social Anthropology Student Council

The MA Social Anthropology student council at Uni Münster has an official Instagram account, a space for information, announcements and connection. You can find it by clicking here.

---

Master in Social Anthropology: FAQ and Learnweb Tutorial

Master in Social Anthropology, Department of Anthropology - Frequently Asked Questions (FAQ)
Master in Social Anthropology/Sozialanthropologie
---
Profile
Social anthropology looks at diverse socio-cultural lifeworlds. Social anthropologists explore human diversity, cultural similarities and differences, and modes of communication. Taking history into account, social anthropology is grounded in ethnography subjected to theoretical analyses and description. Social anthropological knowledge facilitates cross- and intercultural understandings. The programme encourages reflexivity and ethically responsible research practices. The 4 semester curriculum entails three types of modules imparting knowledge of anthropological theories, fieldwork methods/research project development and regional ethnographic knowledge.
Language of instruction: English (non-obligatory courses may be taught in German).
---
Acquired Competence
 Knowledge of human diversity Anthropological perspectives of socio-cultural practices and processes of change
Conceptual and methodological qualifications in designing and conducting ethnographic research projects
Culture sensitive approaches in pluralistic social settings
Skills of mediation and transcultural communication
Chances and perspectives
The M.A. Programme in Social Anthropology is a prerequisite for the PhD and prepares for a number of professional fields such as:
research and teaching at universities and other institutions of higher education
international development and peace and conflict research
museums and exhibition activities
media and publishing
youth and adult education; inter-cultural education
culture management and cultural mediation
public relations, advertising, tourism
organisation and market research
---
Application
Start: Winter Semester (October)
Application deadline:  May 2023 -  July, 15th 2023
For German, EU-citizens and  NON- EU citizens:  Deadline for applications is 15th July 2023.
NON-EU citizens:  Application opens 1st week of May. An early application is recommended.
Applicants have to submit all documents online. Applicants will have to submit original documents at the time of enrolment.
Application portal: studienbewerbung.uni-muenster.de
Detailed information on application process: master application process.uni-muenster.de
Contact at the Department of Social and Cultural Anthropology / student advisor:
Dr. Souleymane Diallo (sdiallo@uni-muenster.de/ open office hours by zoom: tba)
Please note: Questions concerning the application procedure and the formalities Can ALSO be asked at the Student Admissions Office