Save the date: The Alumni Day 2018 will take place on saturday, 7 July 2018.
Photos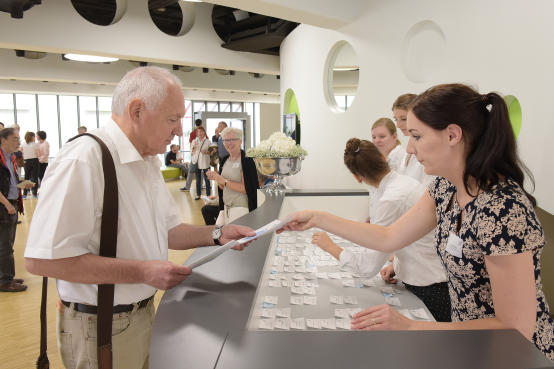 Alumni Day 2017 – Brunch at the Lecture Building of the Faculty of Medicine
The Alumni Club WWU Münster invited former students and staff for the Alumni Day 2017, which took place on Saturday, 8 July 2017. Rector Professor Johannes Wessels welcomed the alumni and gave an overview on the current developments at the University. Then Dr Nora Kluck reported on the recent activities of the Alumni Club WWU Münster. Afterwards Dr Bernhard Marschall, Dean of Studies of the Faculty of Medicine, gave his talk "Ad manus medici - Von der Qual der Wahl" ("To be spoiled for choice").
During the subsequent brunch the alumni had the opportunity to chat with their former fellow students and colleagues. After the brunch, the alumni were able to get to know the more unusual and unfamiliar aspects of their alma mater and of Münster through the different tours and lectures that were organised for them.
In the afternoon, the Faculty of Mathematics and Computer Science and the Institute of Applied Physics invited their alumni to lectures, tours and for a cup of coffee.