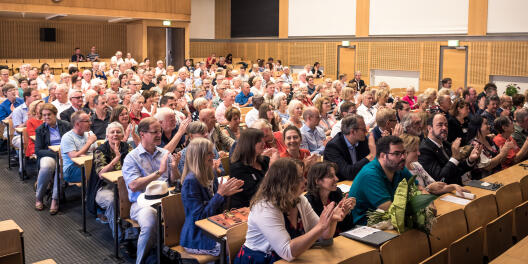 The alumni network of Münster University
The Alumni-Club WWU Münster is the central point of contact for all alumni of the University, regardless of their field of study. The events we organise and the services we offer are interdisciplinary. Perhaps you also wish to stay in touch with your former institute or faculty? Then should contact their specific alumni organisation, with which the Alumni-Club WWU Münster also cooperates.
Most of the faculties of Münster University already offer their own alumni organisation or alumni contact persons; some institutes already do so, too. Perhaps your institute is one of them? Check whether this is the case for your own former faculty.
General networks
Alumni-Club WWU Münster
Universitätsgesellschaft Münster e. V.
Förderkreis Hochschulsport Münster e. V.
Networks of the faculties
Faculty of Protestant Theology, FB 1
Faculty of Catholic Theology, FB 2
Faculty of Law, FB 3
School of Business and Economics, FB 4
Faculty of Medicine, FB 5
Faculty of Educational and Social Science, FB 6
Faculty of Psychology/Sport and Exercise Sciences, FB 7
Faculty of History and Philosophy, FB 8
Faculty of Philology, FB 9
Faculty of Mathematics and Computer Science, FB 10
Faculty of Physics, FB 11
Faculty of Chemistry and Pharmacy, FB 12
Faculty of Biology, FB 13
Faculty of Geosciences, FB 14
Music Conservatory, FB 15