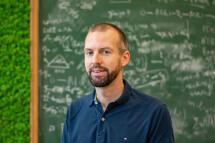 Research Areas

Topology

Ich interessiere mich für Topology vom Standpunkt der Homotopietheorie aus, also das Studium von geometrischen Objekten bis auf stetige Deformation.Die Homotopietheorie ist eng verwand mit der Höheren Kategorientheorie (insbesondere unendlich-Kategorien). Eines der Hauptgebiete in denen ich in den letzten Jahren gearbeitet habe ist die höhere Algebra, also das Studium von Ringspektren und Spektren mittels algebraischer und arithmetischer Techniken.

Homotopy Theory

Arithmetic

Higher Categories

CV

Education

PhD in Mathematics at the University of Hamburg, supervisor Prof. Dr. Christoph Schweigert Title of thesis: Higher Categorical Structures in Geometry - General Theory and Applications to Quantum Field Theory
Study of mathematics ( secondary subjects: computer science and physics) at the University of Hamburg

Positions

Professor at the University of Münster
Head of junior research group at the May-Planck-Institute in Bonn
Deputy professorship at the University of Bonn
Assistant professor at the University of Regensburg

Publications

Doctoral Studies

Talk

Nikolaus, Thomas (): 'Frobenius homomorphisms in higher algebra'. International Congress of Mathematics 2022, Virtual event, .