Virtual ICM 2022
Video recordings of Gustav Holzegel's and Thomas Nikolaus' talks available
The International Congress of Mathematicians (ICM) is the world's largest mathematical meeting. Taking place every four years, it presents a unique opportunity for interaction of mathematicians from the whole world and across all mathematical disciplines.
The ICM 2022 was reorganised as an online event, and this event hosted some of the talks real life. The focus of the event in Copenhagen, supported by Mathematics Münster, was the Geometry and Topology sections. Similar events were organized at other locations from 6–14 July 2022.
 Video recordings of all talks are now availabe at the YouTube channel of the International Mathematical Union.
Below you can find the video recordings of the talks by our MM members Prof. Dr. Gustav Holzegel and Prof. Dr. Thomas Nikolaus.
Gustav Holzegel was a "special invited speaker". Together with Prof Peter Hintz (ETH Zurich) he presented an overview of recent progress made on the General Theory of Relativity.
Thomas Nikolaus gave a talk in the topology section. His main research focuses are homotopy theory and algebraic topology, but his work also relates to arithmetic and mathematical physics. He spoke about Frobenius homomorphisms in higher algebra.
Learn more about their research in these interviews.
---
Gustav Holzegel, Peter Hintz: Recent Progress in General Relativity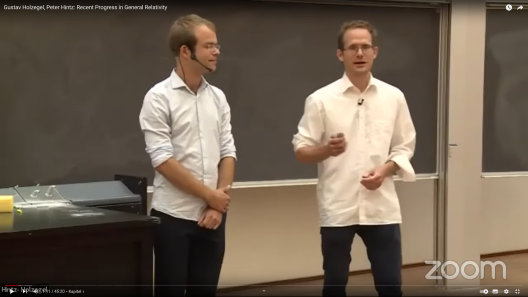 Thomas Nikolaus: Frobenius homomorphisms in higher algebra