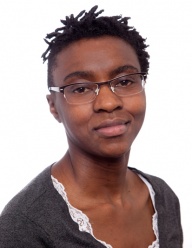 Deborah
Nyangulu
Professur für English Studies: New English Literatures and Media Studies (Prof. Stein)

Johannisstraße 12-20, Room 307
48143 Münster
Phone:
+49 251 83-24823
deborah.nyangulu@uni-muenster.de
Consultation hours: Summer Term 2020 | Thursdays 12:00 - 13:00, register in advance via email.
Deborah Nyangulu
is a post-doctoral researcher and lecturer in English, Postcolonial and Media Studies at the University of Münster, where she read for a DPhil in English Philology and an MA in
National and Transnational Studies
. She obtained her BA in Humanities from the
University of Malawi
. Her interdisciplinary PhD thesis,
Big Man Aesthetics: Masculinity, Power, and Contemporary African Literature,
broadens the scope of both comparative masculinity studies and cultural studies. Deborah teaches BA and MA level courses and some of her research publications can be accessed
here
and
here
. She is currently working on a book on how hashtag activism is shifting the contours of knowledge production.
External Profile: