Afroeuropeans Net
Network for African European Studies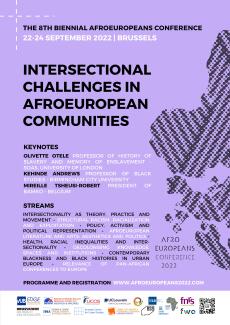 The Afroeuropeans Network hosts a mailing list that allows subscribers to exchange CfPs and information about African European Studies. The list has recently migrated from Tampere University to Uni Münster; Deborah Nyangulu took over as list-coordinator from Leonardo Da Costa Custódio. The current administrator of the list is Can Çakır.
To join the list, click here.

The 8th Biennial Afroeuropeans Network Conference will be held at Vrije Universiteit Brussel (VUB):

Intersectional Challenges in Afroeuropean Communities
22 – 24 September 2022
The conference programme is online!
With several exciting keynote speakers, including:  
Professor Olivette Otele (SOAS London)
Mireille-Tsheusi Robert (Bamko)
Professor Kehinde Andrews (Birmingham City)
Click here for further information.
 
History of the Afroeuropeans Research Network (2004-)
Here is an overview of biennial Network conferences that can be found online, followed by a sketch of the History of the Afroeuropeans Research Network.
Black Europe in Brussels
Online Event in Anticipation of the 8th Biennial Afroeuropeans Network Conference
1-15 July 2021
Click here for further information.
Black In/Visibilities Contested
7th Biennial Afroeuropeans Network Conference
University of Lisbon
4 – 6 July 2019
Click here for further information.
Afroeuropeans: Black Cultures and Identities in Europe VI
6th Biennial Afroeuropeans Network Conference
University of Tampere
6 – 8 July 2017
Click here for a conference report by Carol Ann Dixon.
Afroeuropeans: Black Cultures and Identities in Europe V
5th Biennial Afroeuropeans Network Conference
University of Münster
16 – 19 September 2015
Click here for further information.

The Afroeuropeans Network: A Short Historical Overview
Download PDF
The international multidisciplinary research group Afroeurope@s: Culturas e Identidades Negras en Europa [Afroeurope@ns: Black Cultures and Identities in Europe] was established in 2004 at the University of Léon by Professor Marta-Sofía Rodriguez-López with other academics, artists, and writers. It soon grew into a research network connecting academics, artists, activists and cultural workers committed to the study of black cultures in different countries and institutions across Europe. The comparative study of the culture, literature, history, and theory created by African Europeans in the last decades has aimed to explore cultural specificity, heterogeneity, and dialogue among black communities in Europe. The varied connections to Africa and across its diasporas are also considered. The Network's remit continues to evolve, adapting to developments in black cultures in Europe and beyond.

Linguistic, cultural, and political barriers within Europe have impeded communication between stakeholders working within different disciplines and in distinct languages. The Afroeuropeans Network has been committed to transcending these barriers by creating a virtual workspace, shared by artists, academics, and activists working in, among other languages, Spanish, French, Portuguese, German, and English. It also has acted as a link between research groups and private and public institutions such as Casa África (Las Palmas de Gran Canaria) and The George Padmore Institute (London) working in adjacent and related fields who share the aim of promoting dialogue with Black communities. It strives to stimulate more collaboration between the Global South and the Global North – from anti-essentialist, inclusive, and transdisciplinary perspectives. The reflections put forward by this Network are designed also for the benefit of policy makers and those invested in the process of evolving a culture of dialogue and equal exchange in the context of an irrevocably heterogeneous Europe and an increasingly globalized world. The formation of a multidisciplinary and translocal Network linking up Afroeuropean practitioners working in different locations with representatives from different academic disciplines constitutes a decisive step towards the development of open-minded, pluralized, and hybridized European identities and a more inclusive Europe.
The Research Group initially received funding from the Ministerio de Educación y Ciencia (Spanish Ministry of Education and Science) for three phases (2004-07; 2009-12; 2013-6), with partners in Spain (Universidades de León, Cádiz, Alcalá y Salamanca), the UK (Universities of Nottingham Trent and Leeds); Germany (Universität Münster); the US (University of Maryland); and Finland (University of Tampere). During this period, the group evolved into a Research Network that is characterized by its open format. It has no formal executive structures and no formal membership. Given its continuing development, the Network also appeals to younger generations of scholars and reaches out to further constituencies across Europe and beyond, mainly through its conference series, publications, and mailing list.
For over fifteen years, the Afroeuropeans Network has regularly hosted major international conferences across the European mainland, from Spain to the UK, from Germany to Finland, from Portugal to Belgium1. These events have been very well-attended by delegates and speakers from around the globe and from a wide range of academic disciplines and fields, including also writers, artists, activists, publishers, and other cultural workers. The biennial Network conferences stand in a relationship of entailment: the torch is passed on from one team of conveners to the next, supporting dynamic growth, dialogue, and continuity. In this way, emphasis, perspectives, and work modes shift from one conference to the next, while the overall aims continue to be shared.
The 2017 conference held in Tampere ended with a plenary discussion focusing on ways to continue the network's aims and conferences beyond the Spanish funding scheme. A Call for Conveners was circulated and publicized widely; several proposals were received from teams across Europe. These were reviewed and compared (with respect to the conference topic, its innovativeness, aspects including inclusivity, diversity, conference format and work modes, feasibility, and funding options) and as a result Lisbon (2019) and Brussels (2021) were invited to host the next two conferences. The 2021 conference was postponed due to the COVID-19 pandemic, however, we are excited that it's happening between 22-24 September 2022 in Brussels, where we can convene in person once again. Discussions regarding the venue of the 2024 conference will be held around the conference period in September 2022.
Since 2004, the Network has not only grown larger and become more diverse, it has also published a volume of essays titled Afroeurope@ns: Cultures and Identities (López 2008) and published the peer-reviewed e-journal Afroeuropa (2007 to 2009). Further book publications include Brancato 2011, Beezmohun 2016, Rastas 2019, and Espinoza Garrido et al. 2020.
From Afropean to Afrosporic, from black British to afrodeutsch, from diasporic to Black, from Afroeurope@n to African European, the terminology embraced in different languages and contexts by individuals, collectivities, organisations, and disciplines is highly diversified, nuanced, and not undisputed. Terminological choices made by academics, artists, and activists are often tied to specific debates, struggles, and histories; terminology can change its semantic meaning, its function, and even its appeal as it travels across time, place, and constituency. Without the many initiatives, projects, and organisations founded by Afroeuropeans, without the wealth of cultural, political, and academic work that has already been achieved, this Network could not have developed. It is therefore vital to see the Afroeuropeans Network in the wider context of other initiatives, projects, research fields, organisations, and publications that have evolved across and beyond Europe. A short bibliography can at best gesture at the context's academic and cultural diversity as well as its intellectual vibrancy and political urgency.

ACKNOWLEDGEMENTS: This update of the history of the Afroeuropeans Network would not have been possible without the information and critical readings provided by Marta-Sofía Rodriguez-López, Deborah Nyangulu, Maya García de Vinue de la Concha, Asuncion Aragon, Elisabeth Bekers, and Sophie Withaeckx.
Thank you all! [Mark Stein]
______________
1 2006 and 2008 in León; 2011 in Cádiz; 2013 in London; 2015 in Münster; 2017 in Tampere; 2019 in Lisbon; 2021 online; 2022 in Brussels.

Select bibliography:
Adebajo, Adekeye, and Kaye Whiteman, eds.
      2012. The EU and Africa: From Eurafrique to
      Afro Europa. London: Hurst.
Maureen Maisha Eggers, Grada Kilomba, Peggy
      Piesche, and Susan Arndt, eds. Mythen, Masken
      und Subjekte. Kritische Weißseinsforschung in
      Deutschland, 2nd ed. UNRAST, 2009.
Andrews, Kehinde. 2018. Back to Black:
      Retelling Black Radicalism for the 21st
      Century. London: Zed Books.
McEachrane, Michael, ed. 2013. Afro-Nordic
      Landscapes: Equality and Race in Northern
      Europe. Routledge Studies on African and
      Black Diaspora 5. New York, NY: Routledge.
Anim-Addo, Joan, and Suzanne Scafe, eds.
      2007. I Am Black/White/Yellow: An
      Introduction to the Black Body in Europe.
      London: Mango.
McLeod, John. Postcolonial London: Rewriting the
      Metropolis. Routledge, 2004.
Aydemir, Fatma and Hengameh Yaghoobifarah,
      eds.Eure Heimat ist unser Albtraum .
      Ullstein fünf, 2019.
Nasta, Susheila and Mark U. Stein, editors, The
      Cambridge History of Black and Asian British
      Writing. Cambridge University Press, 2020.
BDG Network. 2018. The Black Diaspora and
      Germany: Deutschland und die Schwarze
      Diaspora. Münster: Edition Assemblage.
Olusoga, David. 2016. Black and British: A
      Forgotten History. London: Pan Macmillan.
Beezmohun, Sharmilla, editor. Continental
      Shifts, Shifts in Perception. Black Cultures
      and Identities in Europe. Newcastle upon
      Tyne: Cambridge Scholars, 2016.
Opitz, May, Katharina Oguntoye, and Dagmar
      Schultz, eds. 1986. Farbe bekennen:
      Afro-deutsche Frauen auf den Spuren ihrer
      Geschichte. Berlin: Orlanda Frauenverlag.
Bekers, Elisabeth, Sissy Helff and Daniela
      Merolla. Transcultural Modernities:
      Narrating Africa in Europe. Rodopi, 2009.
Opitz, May, Katharina Oguntoye, and Dagmar
      Schultz, eds. 1992. Showing Our Colors:
      Afro-German Women Speak Out. Translated
      by Anne V. Adams. Amherst, MA: University
      of Massachusetts Press.
BEST—Black European Studies. www.best.uni
      mainz.de/modules/news/
      index.php?storytopic=4.
Otele, Olivette. Afro-Europeans: A History. London:
      Hurst, 2020.
Brancato, Sabrina, editor. Afroeurope@an
      Configurations: Readings and Projects.
      Cambridge Scholars, 2011.
Piesche, Peggy, ed. "Euer Schweigen schützt Euch
      nicht": Audre Lorde und die Schwarze
      Frauenbewegung in Deutschland. 2012. Orlanda,
      2018.
Brancato, Sabrina. Afro-Europe: Texts and
      Contexts. Berlin: Trafo, 2009.
Piesche, Peggy. AufBrüche: Kulturelle Produktionen
      von Migrantinnen, schwarzen und jüdischen
      Frauen in Deutschland. Ulrike Helmer 1999.
Broeck, Sabine. Gender and the Abjection of
      Blackness. Suni Press, 2018.
Pirker, Eva Ulrike. Narrative Projections of a Black
      British History. Routledge, 2011.
Campt, Tina. 2005. Other Germans: Black
      Germans and the Politics of Race, Gender,
      and Memory in the Third Reich. Social
      History, Popular Culture, and Politics in
      Germany. Ann Arbor, MI: University of
      Michigan Press.
Ponzanesi, Sandra and Daniela Merolla. Migrant
      Cartographies: New Cultural and Literary Spaces
      in Post-Colonial Europe. Lexington Books, 2005.
Chatterton Williams, Thomas, Unlearning Race:
      Self Portrait in Black and White. 2019. John
      Murray, 2020.
Procter, James, ed. Writing Black Britain,
      1948–1998: An Interdisciplinary Anthology.
      Manchester University Press, 2000.
Clark Hine, Darlene, Tricia Danielle Keaton and
      Stephen Small, eds. 2009. Black Europe
      and the African Diaspora. Urbana, IL:
      University of IllinoisPress.
Rastas, Anna and Elina Seye. "Music as a Site for
      Africanness and Diaspora Cultures: African
      Musicians in the White Landscape of Finland."
      African and Black Diaspora: An International
      Journal, vol. 9, no. 1, 2016, pp. 82-95.
Diedrich, Maria I. and Jürgen Heinrichs, eds.
      2011.From Schwarz to Black: Cultural
      Crossovers between African America and
      Germany . East Lansing, MI: Michigan
      State University Press.
Rastas, Anna and Kaarina Nikunen, editors,
      Contemporary African and Black Diasporic
      Spaces in Europe. Spec. issue of Open Cultural
      Studies vol. 3, no. 1, 2019.
Eddo-Lodge, Reni. Why I'm No Longer Talking to
      White People About Race. Bloomsbury,
      2017.
Rastas, Anna, and Kaarina Nikunen. 2019.
      "Contemporary African and Black Diasporic
      Spaces in Europe." Special issue, Open Cultural
      Studies 3 (1).
El-Tayeb, Fatima. European Others: Queering
      Ethnicity in Postnational Europe. University
      of Minnesota Press, 2011.
Rastas, Anna. "The Emergence of Race as a Social
      Category in Northern Europe." Relating Worlds of
      Racism: Dehumanization, Belonging and the
      Normativity of Whiteness, edited by Philomena
      Essed et al., Palgrave Macmillan, 2018, pp.
      357-81.
Espinoza Garrido, Felipe et al., editors.
      Locating African European Studies:
      Intervention —Intersections—Conversations.
      Routledge Studies on African and Black
      Diaspora 10. Routledge, 2020.
Reichl, Susanne. Cultures in the Contact Zone:
      Ethnic Semiosis in Black British Literature.
      Wissenschaftlicher Verlag Trier, 2002.
Gerzina, Gretchen Holbrook. 1995. Black
      London: Life before Emancipation. New
      Brunswick, NJ: Rutgers University Press.
Sandhu, Sukhdev. London Calling: How Black and
      Asian Writers Imagined a City. HarperCollins,
      2003.
Gilroy, Paul. Against Race. Imagining Political
      Culture beyond the Color Line. Harvard
      University Press, 2000.
Small, Stephen. 2018. 20 Questions and Answers
      on Black Europe. Decolonizing the Mind 8. The
      Hague: Amrit.
Glynn, Martin. 2016. "Invisible Outsider:
      Reflections from Beyond the Ivory Tower."
      In Blackness in Britain, edited by Kehinde
      Andrews and Lisa Amanda Palmer, 24–33.
      London, New York: Routledge.
Stein, Mark U. Black British Literature: Novels of
      Transformation. Ohio State University Press,
      2004.
Innes, C. Lyn and Mark U. Stein, editors. African
      Europeans. Special issue of Wasafiri: The
      Magazine of International Contemporary
      Writing, vol. 23, no. 4, 2008.
Thomas, Dominic, ed. 2014. Afroeuropean
      Cartographies. Newcastle upon Tyne: Cambridge
      Scholars.
---. Black France: Colonialism, Immigration, and
      Transnationalism. Indiana University Press,
      2007.
Kelly, Natasha A. Millis Erwachen. Schwarze
      Frauen, Kunst und Widerstand. Orlanda
      Frauenverlag, 2018.

Wekker, Gloria. "Another Dream of a Common
      Language. Imagining Black Europe." Black
      Europe and the African Diaspora, edited by
      Darlene Clark Hine, et al., University of Illinois
      Press, 2009, pp. 277–89.
---. White Innocence. Paradoxes of Colonialism and
      Race. Duke University Press, 2016.

Kilomba, Grada. 2010. Plantation Memories:
      Episodes of Everyday Racism. 2nd edn.
      Münster: Unrast.
Wright, Michelle M. Physics of Blackness: Beyond
      the Middle Passage Epistemology. University of
      Minnesota Press, 2015.
Knudsen, Eva Rask and Ulla Rahbek. In Search
      of  the Afropolitan. Encounters,
      Conversations, and Contemporary
      Diasporic African Literature. Rowman
      & Littlefield, 2016.
Zeleza, Paul T. "Diaspora Dialogues: Engagements
      between Africa and its Diaspora." The New
      African Diaspora, edited by Isidore Okpewho
      and N. Nzegwu, Indiana University Press, 2009,
      pp. 31-5.
Kraft, Marion, ed. 2015. Kinder der Befreiung:
      Transatlantische Erfahrungen und
      Perspektiven Schwarzer Deutscher der
      Nachkriegsgeneration. Münster: Unrast.
 
López, Marta Sophia, editor, Afroeurope@ns:
      Cultures and Identities. Cambridge
      Scholars, 2008.
 
Matusevich, Maxim, ed. 2007. Africa in Russia,
      Russia in Africa: Three Centuries of
      Encounters. Trenton: Africa World Press.