"Die Brücke" – A home far away from home
Interview with Joachim Sommer, the former Director of "Die Brücke" for many years, and with its current Director Dana Jacob
If there is one place where international flair at Münster University can be felt and lived, then that place is "Die Brücke" ("The Bridge"). With its Café Couleur, and the many readings, national evenings and musical events it organizes, it stands, like no other organization, for an open-minded and warm-hearted atmosphere between German and foreign students. Bernadette Winter discussed with Joachim Sommer (67), the former Director of "Die Brücke" for many years, and with its current Director Dana Jacob (35), how internationality at Münster University has developed over the years.

"Die Brücke" has had an eventful history. Mr Sommer, you were its Director for over 30 years. What was it like when you took over there?

Joachim Sommer: "Die Brücke" was very well-known in Münster. While we were still at school we borrowed English-language books here. Also, the first jazz groups gave concerts that had been banned during the war. Up to the mid-1960s "Die Brücke" had more of a social function, with students organizing singing groups and film evenings. All that changed completely when the Shah of Persia visited Germany in 1967 and with the student protests of 1968. Foreign students became really political, and for them it was important to have a place where they could come to terms with the situation in their home countries. For German students "Die Brücke" was also always a place where they could experience internationality without going abroad themselves – which at that time was nowhere near as normal as it is today. The major German groupings all had their meeting place here.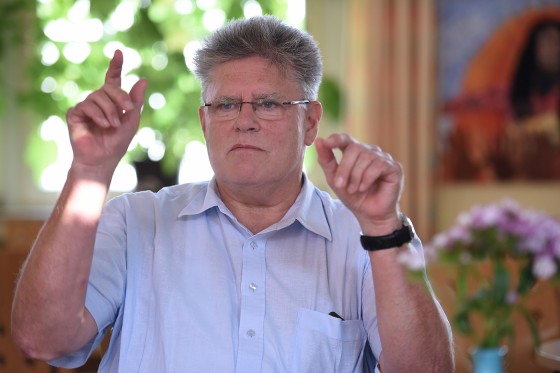 What do you remember most fondly?
Sommer: What I always found very impressive was the way the foreign students, with their different political backgrounds, interacted with other at "Die Brücke" – as if these obstacles didn't exist. So Kurds and Turks, for example, or Palestinians and Jews. True, the Palestinians made collections for the intifada in the past, but when they met guests from the Institutum Judaicum, also from Israel, they cooked for them because they were the only ones who knew how, and what, Jews ate. That also motivated me to contribute a lot myself. I was always happy to be here from the morning till the evening because it was always so interesting and we could learn so much from the many nationalities here.

Have the aims at "Die Brücke" changed much over the years?
Dana Jacob: In the last ten years "Die Brücke" has also become a place where people come for advice. As soon as students need help, for example when they have to go to the authorities or fill out application forms, we're there to help them. But nowadays that's a standard part of any university's work. "Die Brücke" here in Münster was a pioneer as far as looking after foreign students was concerned, but now the others have caught up. The range of organizations offering help and advice has also grown significantly because more student and church organizations now look after students. We're certainly having to fight to get ourselves noticed by our students.

Sommer: I think the aims were always the same, or similar. It was always a question of providing social integration and offering professional advice for foreign students. In the past, though, the students themselves and student organizations were much more active. Being so close to the target group, there were, at an early stage, ways of looking after students that were only offered very much later at other universities – for example, language tandems with German students, accompanying foreign students when they had to go to the authorities, a system of "buddies" and – in collaboration with partners from local government – systematic integration into city life. Since the late 1990s the team working at "Die Brücke" has had to give much more input and organize more.

Jacob: However mundane it may sound, students today have Skype, which means they have contact with their home countries. Today, anyone who feels homesick just needs to switch their computer on. They don't need to find a place where they can feel as if they were back in their home country.

Sommer: That's true. In earlier times "Die Brücke" had a unique selling point, so to speak, all over Germany. The idea of providing a warm welcome was something special in Münster – and we received an award for it in 1999 from the DAAD (German Academic Exchange Service). Today, everyone would say it's perfectly normal. Seen through the eyes of the students, some things have certainly changed. They no longer come here wanting to find a piece of their home country abroad. In the old days, "Die Brücke" was father and mother rolled into one. I remember one student telling me once that here at "Die Brücke" he experienced democratic elections for the first time. Unimaginable today. Students today come to Münster for a definite reason. They know what they want, they have a plan in their heads.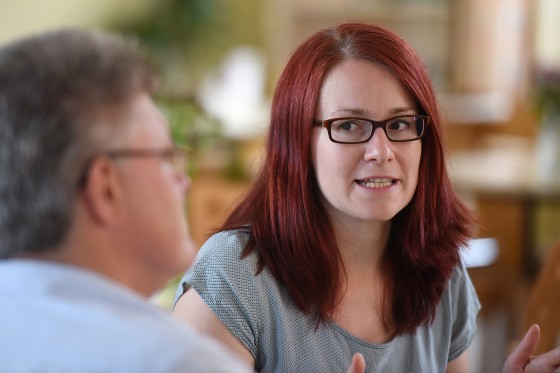 Ms Jacob, what are the plans for the future? What do you want to do differently from your predecessor?
Jacob: One thing we want to preserve is the basic idea of the positive experience students can have in engaging with one another. Of course, today conditions are changing even faster than in earlier times, and we have to adapt the advisory services we offer to take these changes into account. But what's very important for me is that the legacy of "Die Brücke" and its history should be preserved. In future we want to integrate "Die Brücke" into the student body much more, and also directly address German students who are interested in international issues.

You came from Dortmund Technical University, which also has an international centre. What's different at "Die Brücke"?
Jacob: "Die Brücke" has a history. The place is open every day and it's filled with life. The Café is open and there's an international atmosphere here which anyone can experience anytime – not only at certain events.

How are the various events organized? Does each group do that itself, and you provide the venue?
Jacob: A lot of the regular meetings are organized by our student staff. The primary objective, of course, is that international students and German students should meet and get to know one another, talk to each other. In doing so, integration should be as natural as possible. We want to avoid any approach which says foreign students have a problem, a deficit, when they come here and need to be helped. We want the interaction to be more relaxed.

Does mixing German and international students work in practice? Or are Spanish evenings only attended by Spanish students because they're glad they can speak their own language?
Jacob: Actually, the Spanish evening is a good example of an event where there is a high degree of mixing. The Brazilian evening too, because a lot of people here in Germany are interested in Brazil. But there are other events which people come to more because it has something to do with their studies, or where there aren't many German students present. But that doesn't matter, because those who come meet fellow-students from other faculties – as well as our student staff, who come from all corners of the earth.

How important is internationalization at Münster University? How well has it developed?
Jacob: A period of studying abroad belongs on any CV nowadays, so having foreign students is perfectly normal for universities. Perhaps "Die Brücke" has to become a bit more special. Our approach is right, but we should make it clearer that here we have a place that is a symbol of this internationalization.

Sommer: It really is something special that the University has been supporting a place like this, with its internationalization, for almost 60 years now. It has always been right behind us, even when there were hunger strikes taking place here for weeks on end – at a time when the subject of internationality was not in people's minds so much.


Background: "Die Brücke"

"Die Brücke" has been in existence since 1946. At that time, the Allies set up so called "Brücken" ("Bridges") in several German cities to increase German people's awareness of democracy. In Münster "Die Brücke" belonged to the British Council until 1956, then it was taken over by the University, which set up its International Welcome Centre for foreign students there. "Die Brücke" in Münster was the only one which was taken over by a university. Since 1970 the "Brücke" team has been located in Wilmergasse. Some of the things they organize are themed evenings or get-to-know weeks; they also help students to fill out application forms or accompany them when they have to go to the authorities. The members of the team speak not only German, English and Spanish, but also Turkish, Portuguese, Polish and Vietnamese. "Die Brücke" is supported by a number of institutions, including the DAAD (German Academic Exchange Service).
Further information