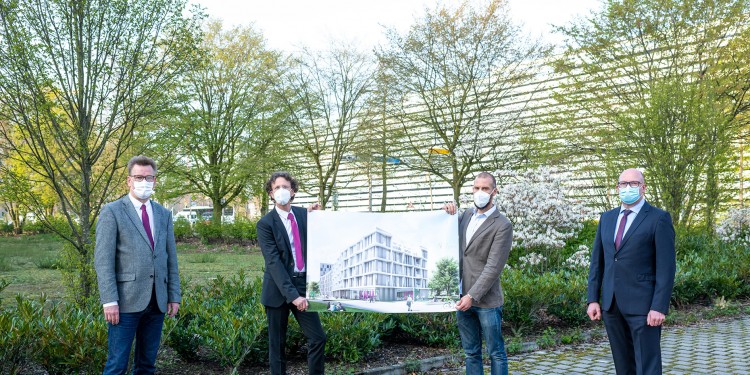 Science Council recommends funding for mathematics research building
New research building planned at Münster University / Aim: scientific breakthroughs through close collaboration between different fields of mathematics
Research buildings can house not only laboratories and large-scale equipment. The focus at the "Centre of Mathematics Münster" (CMM) is on interaction between researchers from different fields of mathematics. The aim is for them to work together and develop overarching approaches to solving fundamental mathematical questions. The innovative concept won over the German Council of Science and Humanities, which has now not only recommended that the building planned at the University of Münster should be included in funding agreed on by the national and regional state governments but has also placed the project in the top group of particularly outstanding projects.
"Together with the great successes in being selected as a Cluster of Excellence and gaining a second Alexander von Humboldt professorship for Mathematics, this research building will strengthen the profile of Mathematics at our University for some time to come," says Prof. Johannes Wessels, Rector of the University of Münster. Matthias Schwarte, Head of Administration, adds that "the CMM is a central, key component in the continuing development of our Natural Sciences Campus in general, and of our Maths Campus in particular."
The research building will be constructed on an as yet undeveloped area on Orléans Ring. The cost of the building, which will cover an area of 3,500 square metres, will be around 31 million euros, which the national and regional state governments in Germany will share equally. A final decision on the funding will be made in July at the Joint Science Conference held by these governments.
"In this CMM we have a vision. We want to consider mathematics as an organic whole – taking as our example the working methods of polymaths engaged in the field of mathematics," explains Prof. Mario Ohlberger, who, together with Prof. Thomas Nikolaus, supervised the application for funding from an organizational point of view. A large number of researchers from various fields of mathematics worked on the application. "The recommendation for funding is a success due to the entire team," Ohlberger stresses.
The research programme at the CMM is shouldered by 37 research groups and ten teams of junior researchers from four institutes within the Faculty of Mathematics and Computer Science, and its aim is to develop overarching approaches and techniques to solving central mathematical questions. "Our projects focus on four basic mathematical principles: structure, geometry, dynamics and deformation," Ohlberger explains. The results, he adds, are not only relevant to mathematics – they also form an important basis for applications in medicine, biology or physics, for example. A further aim is for the new research centre to raise the international visibility of Münster as a location for mathematics and thereby attract excellent young researchers from all over the world.
Many mathematical breakthroughs arise out of chance interactions, and so these will be particularly encouraged at the CMM through numerous scientific programmes and intelligent architectural solutions. Openness and flexibility characterize the philosophy of the building and are reflected in the plans drawn up by the Münster office of North Rhine-Westphalia's Buildings and Real Estate Management Department. Atriums and glass walls facilitate spontaneous communication and collaboration, and sliding board elements everywhere are an incentive to mathematical discussions. "The CMM has been conceived as an academic think tank and it takes its inspiration from concepts of coworking spaces which are familiar in the start-up culture," says Thomas Nikolaus. "This is unique in this form in Germany," he adds.
There will also be space for withdrawal and concentrated working. 153 workstations are available for researchers, working groups and guests, on a rotating basis and for a limited period of time so that new constellations come together continually. The concept is rounded off by an interaction lounge, conference rooms with hybrid technology, an open-design library, a scientific computing lab, a virtual reality lab for 3D visualizations, networked media technology, rooms for science communication and childcare facilities.
Parallel to the research building, the University of Münster is planning to gradually replace the old buildings of the Faculty of Mathematics and Computer Science with new ones. The CMM, with its striking crystalline metal façade, is to be the entrance building and the architectural highlight of this new Maths Campus at Coesfelder Kreuz.
Funding of research buildings at universities
Since May 2007, the national and regional state governments in Germany have been funding investments in research buildings at universities, including large-scale equipment. The aim is to enable universities to keep pace with international competition in the field of research. To this end, government funding amounts to 401 million euros annually, with 170 million of this being spent on large-scale equipment. Funding is provided in equal shares by the national government and the relevant state government. The applications submitted for research buildings are examined for their quality by the German Council for Science and Humanities. The Joint Science Conference makes funding decisions on the basis of the Council's recommendations.
Further information