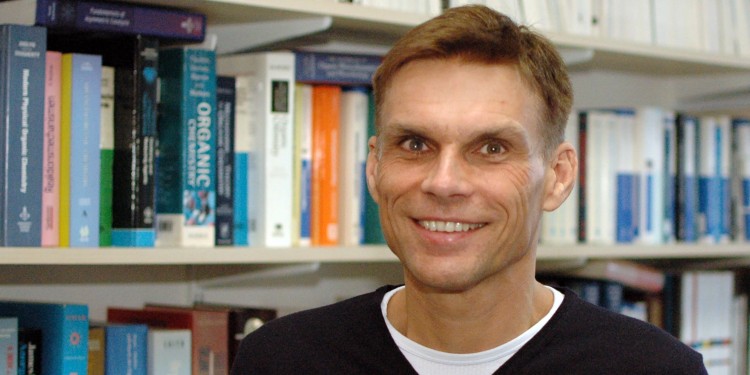 Münster University chemist admitted to "Leopoldina" Academy
Armido Studer is new member, joining around 1,600 scientists in the scholarly society
A chemist at the University of Münster is awarded a great honour: the National Academy of Sciences, "Leopoldina", recently appointed Prof. Armino Studer as a new member. In doing so, the Academy acknowledges his outstanding scientific achievements. "For me, it is a very special accolade to be part of the oldest society of scientific and medical scholars in German-speaking countries," says Armino Studer.
With his work in the field of radical chemistry, Armino Studer has made a significant contribution to the renaissance of the chemistry of free radicals in organic synthesis and polymer chemistry. He has used radical pathways in ring closure reactions for the synthesis of interesting target molecules, some of which have potential for applications in natural product synthesis. He has also devoted himself to environmentally-friendly, tin-free radical chemistry. Studer has also attracted attention by the original development of synthetic applications of the "TEMPO" radical and related derivatives. In addition to his contributions to the chemistry of carbon radicals, he has developed new methods for the generation of silicon- and nitrogen-centred radicals. In the past few years, Studer has been engaged in work on the use of the electron as a catalyst – the electron equivalent of the proton catalysis, which has been known for some time now. The concept has already been applied in a range of chemical reactions.
Swiss by birth, Armino Studer has been a professor at the Institute of Organic Chemistry at Münster University since 2004. He heads the Collaborative Research Centre 858, "Synergetic Effects in Chemistry", and in 2014 he received the University of Münster Research Prize. In 2016 he was awarded an Advanced Grant by the European Research Council (ERC), and since 2018 he has been a member of the North Rhine-Westphalian Academy of Sciences and Arts.
The National Academy of Sciences, "Leopoldina"
The "Leopoldina", the German Academy of Natural Scientists founded in 1652, is a classical scholarly society. In 2008, it was appointed as the German National Academy of Sciences and, in this capacity, it has two major objectives: representing the German scientific community internationally, and providing policymakers and the public with science-based advice. The Academy's 1,600 members come from more than 30 countries. Researchers are selected to join the Academy in a procedure comprising several stages. Armido Studer is a member in the "Chemistry" section and is now yet another "Leopoldina" member from the University of Münster. The University currently has 22 members and is already represented in the "Chemistry" section by Prof. Gerhard Erker and Prof. Bernt Krebs.
Further information