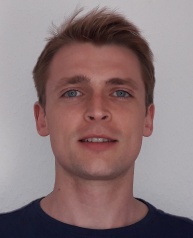 Publikationen

Frontiers of Psychology 9. doi: 10.3389/fpsyg.2018.00109.
. 'Delayed Latency of Postural Muscles of Individuals with Intellectual Disabilities.'

.

. 'Monosynaptic Stretch Reflex Fails to Explain the Initial Postural Response to Sudden Lateral Perturbations.' Frontiers in Human Neuroscience 11, Nr. 296: 1-10. doi: 10.3389/fnhum.2017.00296.

Vorträge

Mühlbeier, Andreas (): "Einfluss von externen Perturbationen auf die Reflexkontrolle der menschlichen Haltung". 23. Erfurter Tage, PRÄVENTION VON ARBEITSBEDINGTEN GESUNDHEITSGEFAHREN UND ERKRANKUNGEN, Erfurt, .
Mühlbeier, Andreas (): "Effect of unilateral and bilateral external perturbations on trunk muscle reflexes". HUMAN MOVEMENT AND TECHNOLOGY 11th joint Conference on Motor Control & Learning, Biomechanics & Training, Technische Universität Darmstadt, .