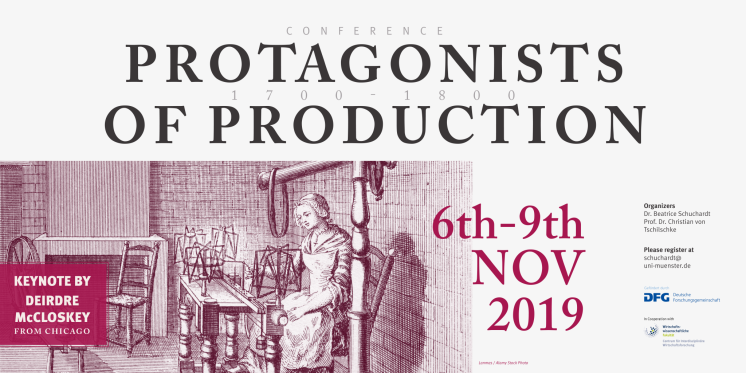 Protagonists of Production
Staging male and female entrepreneurs, craftspeople and workers
in preindustrial Spanish and European economic tracts, literature and press (1700–1800)

6th-9th November 2019, Universität Münster

Organisers: Dr. Beatrice Schuchardt; Prof. Dr. Christian von Tschilschke
On the literary stage, business owners are primarily shown in a negative light. They seldom appear as protagonists but make particularly common antagonists. Recurrent topoi of this biased literary portrayal are the themes of 'business owners in a tight spot' and that of the 'exploitative capitalist'. From a historical perspective, the widespread belief of the crookedness of bosses, industrialists and business owners is primarily a consequence of the onset of the industrial revolution in the 19th century and of the political ideologies reacting to this development. But what form did the literary picture of business owners take before it became the subject of primarily negative assessments in the epoch of industrialisation? The planned conference focuses on this question, which has, up to now, rarely been asked, by concentrating on systematic, diachronic, and comparative research into Eighteenth century portrayals of business owners and other protagonists of the production industry presented a) in different media, like economic tracts, literature and press, and b) in different European countries, such as Spain, England, France, Italy, and Germany.

Methodically, the conference has an interdisciplinary focus. It combines cultural and literary studies with sociological and economic approaches. The main intention of the conference is to put into historical perspective the view of entrepreneurialism, which has until now been primarily negative, shaped by ideologically biased literature from the 19th century onwards – a view which has in turn been strengthened by research into this subject. This relativization will be undertaken by focussing on the epoch of the Enlightenment, its anthropological view on economic processes and its discourse of reform. The conference will therefore be able to close a current gap in research: although there is an abundance of individual studies on economic, literary and journalistic portrayals of the exploiting business owner and exploited workers from the 19th century onwards, there is as yet no systematic research into the archetypal characters of the industrialist and other 'protagonists of production' such as workers, craftspeople and farmers in literature written prior to industrialisation, that is in the protoindustrial period. However, it is precisely these figures working in production, who have as yet not been given due academic attention. This particularly applies to female characters. While the concept of the femina oeconomica has increasingly been the focus of literary study especially, the working woman still fails to be represented in academia.

The conference explicitly situates research into the multifaceted anthropological portrayals of entrepreneurship, work, craftsmanship and farming in the context of an international European Enlightenment movement. In addition to considering the similarities and differences in the positive portrayals of male and female figures working in production, we will also ask to what extent these positive portrayals serve propaganda purposes. The conference strongly encourages international exchange and the formation of connections between the different research perspectives of economists, historians and literary scholars beyond the boundaries of individual disciplines.
Programme

In Kooperation mit:

Venue

The conference will be held at the agora hotel.  Map

The keynote by Prof. McCloskey will be held at Johannisstraße 4, Lecture Hall J01 (ground floor). Map

In Kooperation mit: