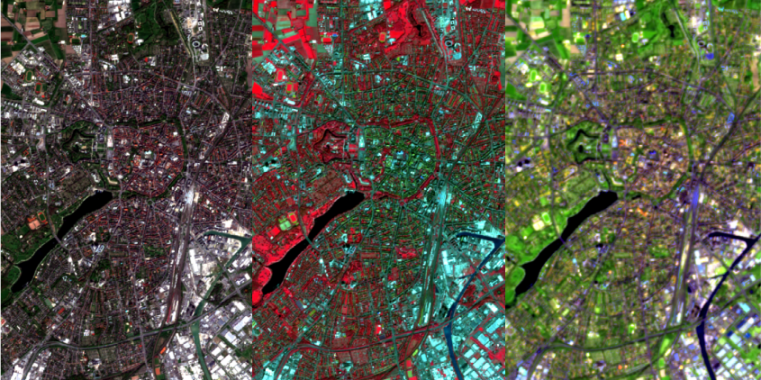 Welcome
to the Remote Sensing and Spatial Modelling Research Group
The Research Group of "Remote Sensing and Spatial Modelling" is part of the Institute of Landscape Ecology (ILÖK) of the University of Münster. We study and teach the acquisition and analysis of spatio-temporal enviromental dynamics in a board spectrum of landscape-ecological topics. We combine multi-scale remote sensing data with methods of spatial modelling in order to obtain continuous spatio-temporal information from limited ecological field samples.
The complexity of enviromental systems requires the use of modelling strategies that take complex relationships into account. For this reason, we focus on the application of machine learning methods. In addition to their application for research questions in the context of landscape ecology, we also develop new modelling strategies for spatial and spatio-temporal data. Thus, the research group is at the interface between Geoinformatics and Landscape Ecology und and has the aim to contribute to an increase in knowledge in ecosystem research via satellite data processing, modelling and simulation.
Due to the ongoing corona situation, the teaching of our AG will again take place completely online this semester. Our courses start in the week from November 2nd via zoom video connection at the indicated course time. Information about the dial-in options will be made available to you in good time via the Learnweb. Further information on specific courses is also available via the Learnweb.

If you have registered for the courses, you should already have been automatically enrolled in the Learnweb courses. If this is not the case, or if you have not yet registered for the course, please contact the course management as soon as possible!

Despite the restrictions, we are looking forward to teaching in the winter semester and hope to welcome you as a course participant.


We're looking for a Research Associate to start in April (2 years, 100%)
We are looking for a highly motivated researcher to work on "Uebersat", a joint project of our research group as well as the "Spatio-temporal modelling Lab" (Edzer Pebesma). In this project, new methods for the analysis and improvement of the spatio-temporal transferability of satellite-based AI models will be developed, with the aim to assess and increase the quality of earth observation products through the use of AI techniques. The new methods will be integrated into software packages and made available in cloud-based processing chains.

Find further information on the project here.
...And find details on the announcement here.

Two new research projects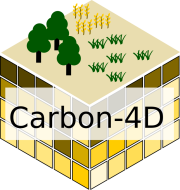 Advance announcement: Lecture by Joana N. Brockmeyer about fire diversity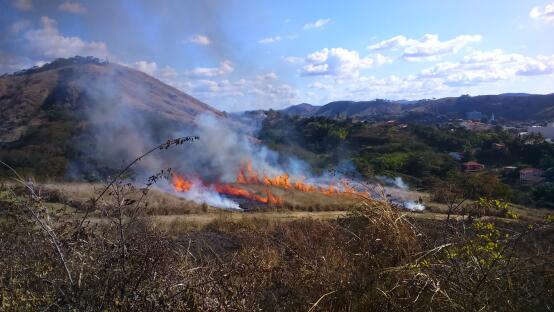 First anniversary of the working group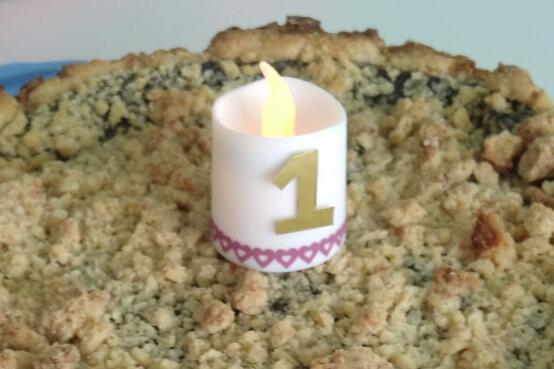 Welcome Joana in our working group
Webinar on drone use in Brazilian ecosystems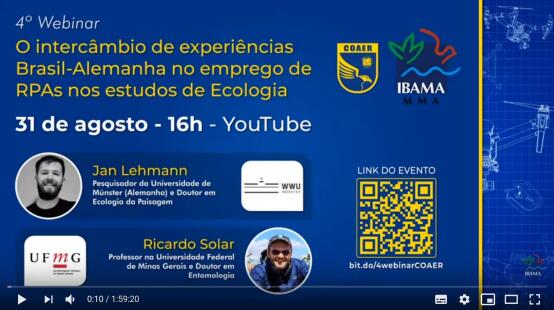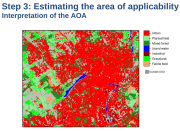 Newspaper reports about Geo1Copter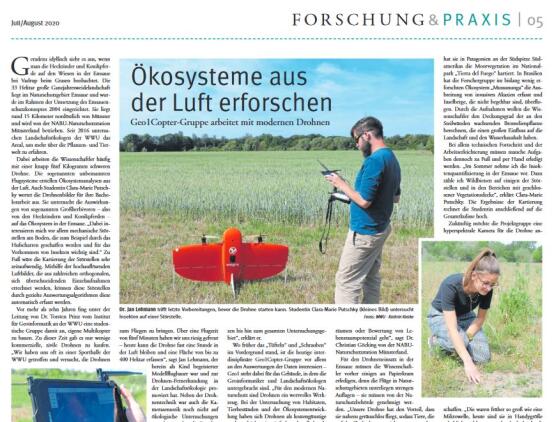 Excursion to rewetted cutover bog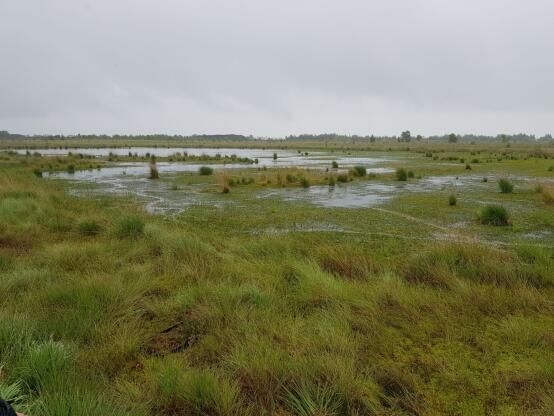 Welcome Julia and Henning
WingtraOne over the Ems riparian
Visiting scientist from Prag
UAV-M² Workshop in Münster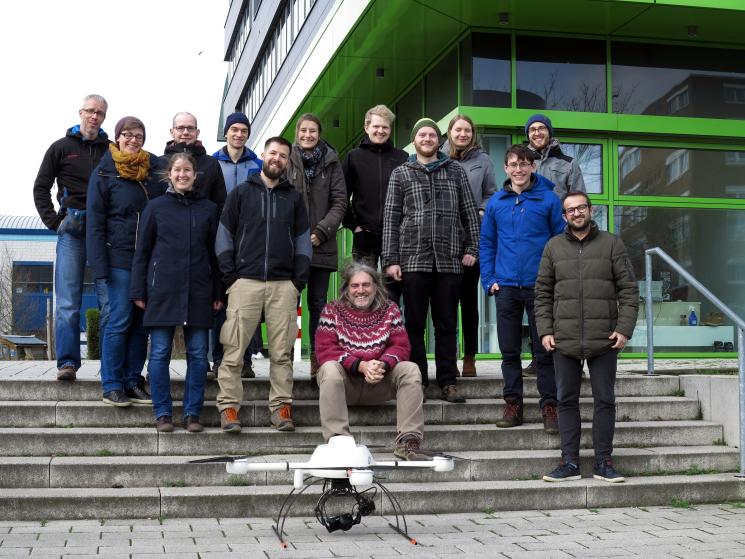 From February 27th to 28th we organized a joint workshop on UAV based remote sensing, together with the University of Marburg. The 15 participants came from the research group of Environmental Informatics in Marburg, as well as IfGI's Spatio-Temporal Modelling Lab and our working group for Remote Sensing and Spatial Modelling. During the two days we've had a lot of exchanges about application possibilities, sensors, software, different analysis methods including deep learning methods as well as teaching activities.

It was an inspiring exchange from which diverse ideas for follow-up activities emerged. Thanks to all participants and we are looking forward to the next joint event in summer!


New DJI P4 multispectral drone for teaching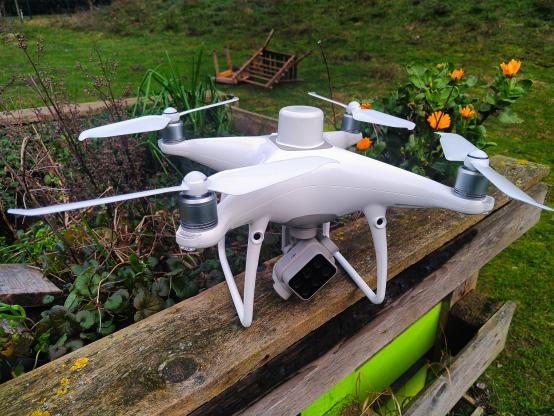 Workshop on Machine Learning in Earth system science
We participated in the Helmholtz AI Cooperation Unit (HAICU) Workshop on Machine Learning in Earth system science that has taken place from 3.-4. February at the German Climate Computing Center (Deutsches Klimarechenzentrum, DKRZ) in Hamburg. It was two days of inspiring discussions and exchange and we're now looking forward to expand our research focus on the use of AI in Earth observation with new ideas and contacts.

Special Issue on Machine Learning Methods for Environmental Monitoring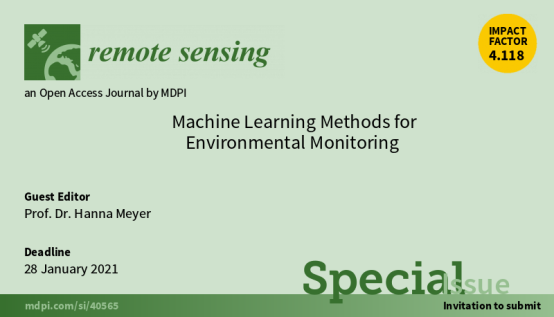 We are looking for a student assistant
We are looking for a student assistant (SHB) with 8 hours/week to support the AG in research, teaching and management.

The tasks include the processing and preparation of remote sensing data within the scope of various projects. In addition, the position offers the opportunity to participate in the development of research ideas and data analysis in the field of remote sensing. Support for student projects in B.Sc teaching is also planned. Field work, e.g. in the context of UAS surveys, is possible.

Prerequisites are basic knowledge in the field of spatial data processing and remote sensing, as well as experience with R. In addition, independent work and problem solving is required, as well as interest in contributing to the establishment of the new working group.

If you are interested, please send a short application to Hanna Meyer by 31.01.2020.
If you have any questions, please do not hesitate to contact us!

Courses in the summer term 2020
Registration for our course in the coming summer semester is now open.
An overview of the current courses can be found here.

Remote Sensing and Spatial Modelling at the ILÖK