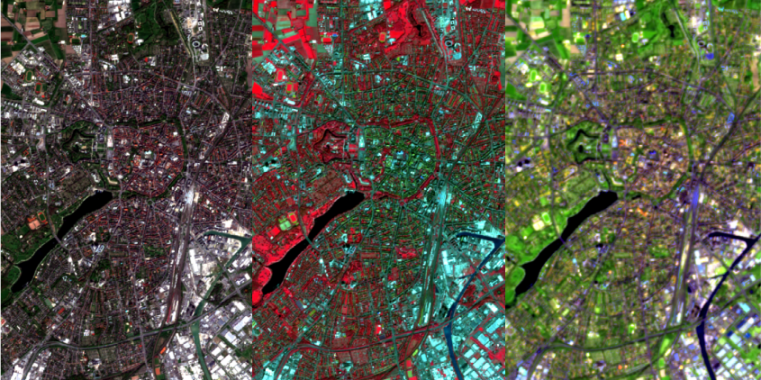 About us
The Research Group of "Remote Sensing and Spatial Modelling" is part of the Institute of Landscape Ecology (ILOEK) [en] of the University of Münster (WWU) [en]. We study and teach the acquisition and analysis of spatio-temporal environmental dynamics in a board spectrum of landscape-ecological topics. We combine multi-scale remote sensing data with methods of spatial modelling in order to obtain continuous spatio-temporal information from limited ecological field samples.
The complexity of environmental systems requires the use of modelling strategies that take complex relationships into account. For this reason, we focus on the application of machine learning methods. In addition to their application for research questions in the context of landscape ecology, we also develop new modelling strategies for spatial and spatio-temporal data. Thus, the research group is at the interface between Geoinformatics and Landscape Ecology [en] und and has the aim to contribute to an increase in knowledge in ecosystem research via satellite data processing, modelling and simulation.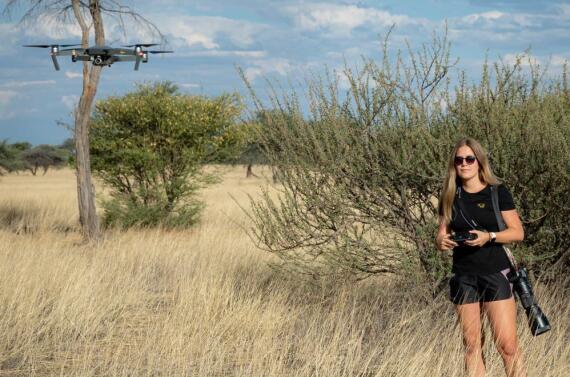 Drone mission in Namibia for vulture conservation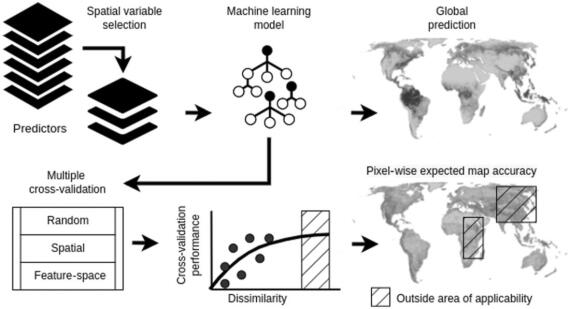 New Publication in Global Ecology and Biogeography
Fieldwork in the Carbon4D project is completed
We're looking for a new team member!

We're looking for someone working with us on our upcoming project "BEyond - Learning from the Exploratories to make prediction beyond them: AI-based mapping and explanation of grassland biodiversity and ecosystem functions for entire landscape units". The project is part of the Biodiversity Exploratories and will start 1st March 2023 or later. We're looking forward to interesting applications.  Find the full description here: https://www.uni-muenster.de/Rektorat/Stellen/ausschreibungen/st_20221111_sk21.html
Carbon-4D project meeting
Joint excursion/workshop of the Earth Observation Network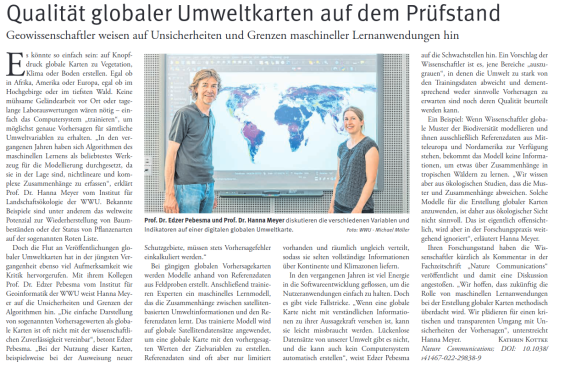 "Qualität globaler Umweltkarten auf dem Prüfstand"
Photos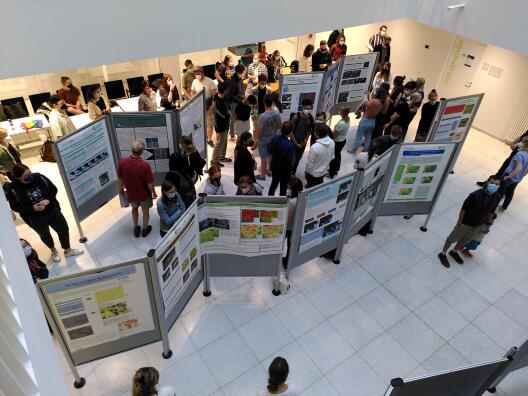 Winners of poster prizes in the bachelor course "Introduction to Remote Sensing"
As part of the course "Introduction to Remote Sensing" for landscape ecologists and geoinformaticians, the presentation of the course projects took place this week.We were impressed by the diversity and quality of the projects!
Winners of the poster award this year are:
1st place: Viktoria Mosch and Damian Stickdorn (heavy rainfall event in the Berchtesgadener Land)
2nd place: Fynn Riepe (Land use changes around the ancient city of Doliche / Dülük since 1992)
3rd place: Jessica Groß and Helena Kunkis (Destruction of peat swamp forests on Borneo in Sebangau National Park)
4th place: Robert Schmitz and Hendrik Lüning (volcanic eruption on La Palma)
5th place: Daniel Dabelstein and Florian Stegmann (impact of the Dos Bocas oil refinery, built in 2018, on the mangrove forest in the Mexican state of Tabasco)
6th place: Katharina Küpers and Ariane Rehn (Black Summer in New South Wales - vegetation loss due to 2019/2020 fires).
Photos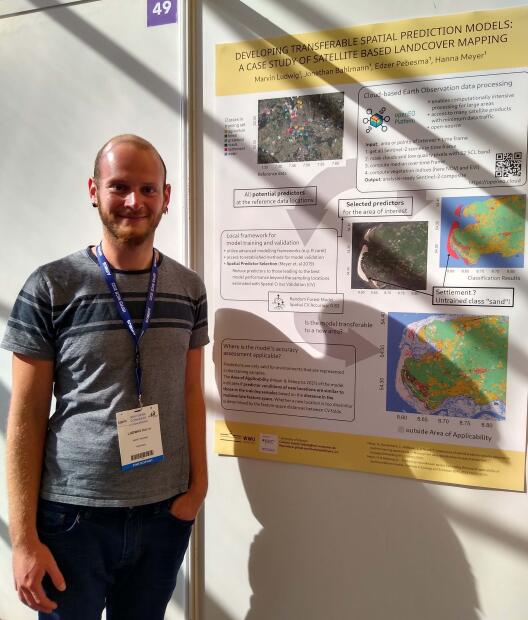 After two years of remote conferences, this year we were happy to finally participate in person again. We had inspiring sessions and meetings at the ESA Living Planet Symposium in Bonn along with great discussion at our poster contributions from the Carbon4D and Uebersat Projects. Model transferability, along with utilizing cloud computing in openEO, was also part of a poster at the International Symposium of Remote Sensing and Photogrammetry in Nice.
New publication in Nature Communications
The recent wave of published global maps of ecological variables has caused as much excitement as it has received criticism. In our new publication "Machine learning-based global maps of ecological variables and the challenge of assessing them", we look into the data and methods mostly used for creating these maps, and discuss whether the quality of predicted values can be assessed, globally and locally.

Meyer H, Pebesma E. 2022. 'Machine learning-based global maps of ecological variables and the challenge of assessing them.' Nature Communications 13.
Link to the paper
New publication in Methods in Ecology & Evolution
In a new publication "Nearest neighbour distance matching Leave-One-Out Cross-Validation for map validation" led by our former master student Carles Mila, we propose a new cross-validation method that considers the geographical prediction space of spatial prediction models to obtain better accuracy estimates.

Mila C, Mateu J, Pebesma E, Meyer H. 2022. 'Nearest neighbour distance matching leave-one-out cross-validation for map validation.' Methods in Ecology and Evolution n/a.
Link to the paper [en]
Study project Amtsvenn - The UAS-field season 2022 has been successfully started
Fieldwork in the snowy Fichtelgebirge
Measurements in the Carbon4D project are in full swing and will continue until the end of 2022. Every week, the team from the University of Bayreuth takes 3 cores in the study area to quantify the mineralization of soil organic carbon. Each month, the team from the University of Münster relocates all profile probes to measure soil temperature and moisture. In the picture gallery you can see some impressions of the field work in the snowy Fichtelgebirge. More information can be found on the project page [en].
Photos
New Publication in the project Antarctic Science Platform
More News...
Older news can be found in the archive [en] of the Remote Sensing and Spatial Modelling Research Group.