Due to current circumstances we offer advice over the phone and online only.
Für die Koordination der European Doctoral Summer School
Liebe Leser*innen,

wir suchen jemanden, der uns bei der Koordination der European Doctoral Summer School acht Stunden pro Woche im Zeitraum vom 01.04.2022 bis 30.06.2022 zuverlässig unterstützt. Die Sommerschule findet 20.–23.06.2022 statt. Wir bieten eine Honorarvereinbarung in Anlehnung an die aktuelle SHB-Vergütung. Info zu den Aufgaben, Bewerbungsunterlagen, usw. hier.

Wir freuen uns auf Eure Bewerbungen bis zum 13.02.2022!
Welcome to the WWU GC!
We are the central point of contact for current and future doctoral candidates and postdocs at the University of Münster. Offering a wide range of support services, the WWU Graduate Centre provides individualised advice, training in career advancement and planning, networking opportunities, and information on research funding and stipends. We also support researchers who supervise junior researchers, as well as those who wish to initiate new programmes for junior researchers.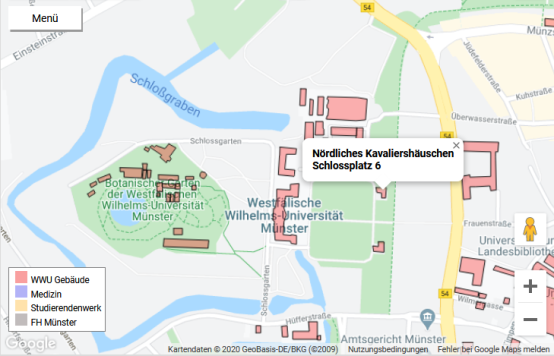 Our location
Are you interested in our advice service? Have you registered for one of our workshops? Click on the map to see where you can find us. We are at the so-called "northern Kavaliershäuschen" – it is one of the two buildings in front of the Schloss right beside the promenade. Our offices and the small seminar room are upstairs. We normally run our seminars and workshops in the big seminar room on the ground floor (R001).
We look forward to seeing you!
The WWU Graduate Centre is supported by Santander Universities.