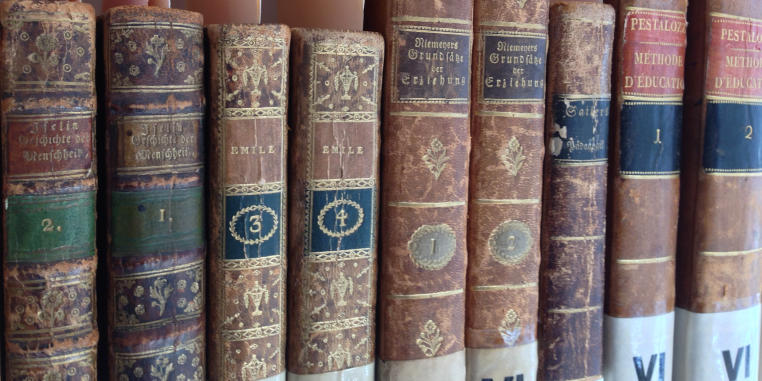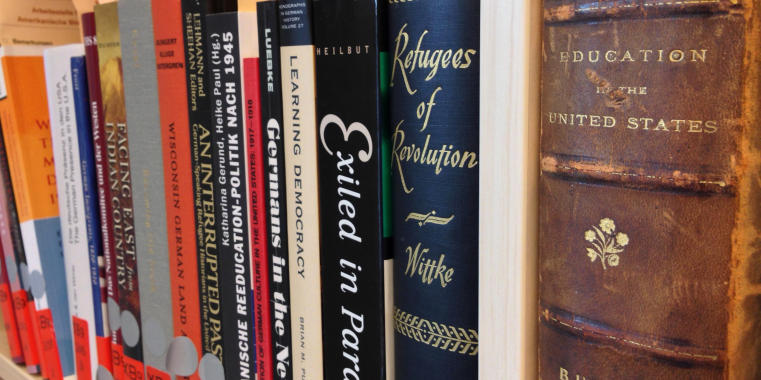 Library
The Center houses a large and comprehensive collection of books and documents related to German-American educational history. The Library is open to scholars and the general public alike, with advance registration requested. Most books can be taken out on loan.

The library provides the opportunity for a more in depth study of German-American educational history by the rapid deployment of the pertinent literature on the topic. In addition, however, the Center serves as an important contact point for the exchange of information concerning current research projects and planned publications on German-American educational history. Anyone genuinely interested in German-American educational history is very welcome to visit and use the library during opening hours.
Please note: The library is a reference library, extramural loan is not possible.
Rare Books Collection
The library also holds several ancient and rare books from the 17th to 19th centuries relating to the German History of Education. We would like to ask you to announce your visit and the desired medium, if possible, several days in advance so that we can make the appropriate preparations. Further, please check if the book was already digitized by the local library (OPAC)or another institution. Borrowing for use outside the reading room or copying is not possible. Here, the rules and terms of use are the same as in the manuscript reading room of the University and State Library Münster.
 Contact Information and Opening Hours
The Center's regular opening hours will be on tuesdays, 2 to 4 p.m., on fridays, 10 to 12 a.m. and during the office hours of the director and his deputies. During the non-lecture periods between the semesters the opening hours are limited to few days!
Nicholas K. Johnson: tuesdays, 2-4 p.m.
Andreas Oberdorf: fridays, 10-12 a.m.
Address:  Georgskommende 26, room D 104 (Map)