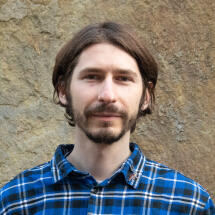 Vita

since 2021
University of Münster
Junior Fellow at the Käte Hamburger Kolleg "Legal Unity and Pluralism"
2020 – 2021
University of Leipzig
Teaching and Research Assistant
2018 – 2021
Universität Leipzig
Master of Arts in Anthropology
2014 – 2018
University of Aberdeen
Master of Arts (undergraduate) in Psychology with German

Research Project

Global Rights, Local Applications: Negotiating Rights to (Mental) Health in Bulgaria

Taking an anthropological perspective, this project examines the tensions involved in the local application of global rights to health in postsocialist Bulgaria. To do that the research traces how a plurality of legal and media discourses, socio-cultural practices, health activism, and personal experiences of healthcare in Bulgaria intertwine in a strive for unity.

To trace these tensions the project foregrounds mental health and the newly emerging activism related to it. It first traces the entanglements between past and present legal discourses and care practices. To do so the study combines archival research with interviews and observations to trace how socialist legal norms and care practices entangle with present day, postsocialist, legal norms, care practices and media discourses pertinent to (mental) health. It then provides a closer examination of present legal and medical discourses and practices related to compulsory treatment and how they relate to activist discourses. In addition, interviews on the personal experiences of people living with a chronic (mental) illness in Bulgaria will also be included to illustrate how the tensions in unifying a plurality of discourses and practices relates to people's lived experience.

Main Areas of Research

Socialist and post-socialist legal and healthcare practices in Bulgaria

Global health and its local applications

Care

Affect theory

Phenomenology

Gender Studies

Publications

Karavasilev, Kostadin, How to Display a Family? The Role of Aesthetics in Perceiving Same-Sex Families with Children, in: Parusheva D./Antonov, S. (Hg.), The Human and Her/His Surroundings, 2020, 21-35. [Original title: Как се представя семейство?: Ролята на естетиката за възприемането на семействата на еднополови двойки с деца.].
Link to the Document [in Bulgarian]

Karavasilev, Kostadin/Swainson, R./Prosser, L./Romanczuk, A., The effect of performing versus preparing a task on the subsequent switch cost, in: Psychological Research (2019), 1-20.