Welcome at the Institute for Pharmaceutical Biology and Phytochemistry
The Wolfgang-Kubelka-Award of the Austrian Society for Phytotherapy is announced every third year for scientific work with a highly relevant and innovative impact on phytotherapy. The 2019 award will be given to Prof. Dr. Andreas Hensel, Institute of Pharmaceutical Biology and Phytochemistry, University of Münster, Germany.

The prize is awarded with 3.000 € and honours the phytochemical and functional work for development of natural products from plants, directed against specific virulence factors of pathogenic bacteria. The award will be handed over within a scientific symposium at University of Vienna, Austria at November 13th 2019.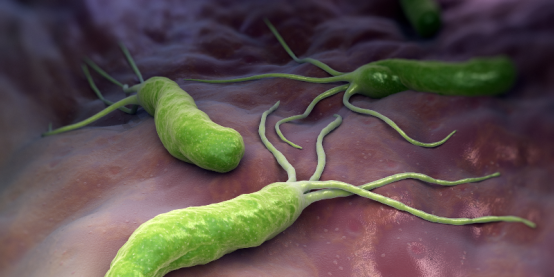 "Scientists have uncovered a novel antibiotic-free approach that could help prevent and treat one of the most widespread bacterial pathogens, using nanocapsules made of natural ingredients."
read more ["Health News" University of Leeds]

The paper Low-molecular-weight dextran sulfate nanocapsules inhibit the adhesion of Helicobacter pylori to gastric cells is published in ACS Applied Bio Materials on 17 October 2019 (DOI: https://pubs.acs.org/doi/abs/10.1021/acsabm.9b00523) Full list of authors: Bianca Menchicchi, Eleni Savvaidou, Christian Thöle, Andreas Hensel, Francisco M. Goycoolea
please klick to enlarge picture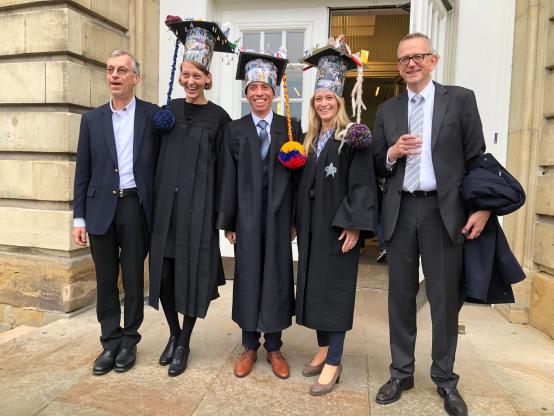 Doctoral awards ceremony in main auditorium (11. Oktober 2019) at Münster's castle.
Three new graduates (Dr. rer. nat.) from our groups: (from left to right): Dr. Maren Gottesmann, Dr. Freddy Bernal, Dr. Elena Jimenez-Negro,
with doctoral supervisors Prof. Dr. A. Hensel (left) and Prof. Dr. T. Schmidt


Kongress der Gesellschaft für Phytotherapie
19.-21. September 2019
In bewährtem Ambiente und unter der Leitung von Frau Prof. Dr. Karin Kraft und Herrn Prof. Dr. Hensel fand der Jahreskongress der Gesellschaft für Phytotherapie in den Räumen des PharmaCampus der Westfälischen Wilhelms-Universität statt. "Aktive Vielfalt" – das war das Thema 2019 in Münster...

[lesen Sie bitte weiter...]
German Research Council (DFG) supports African-German Research Network: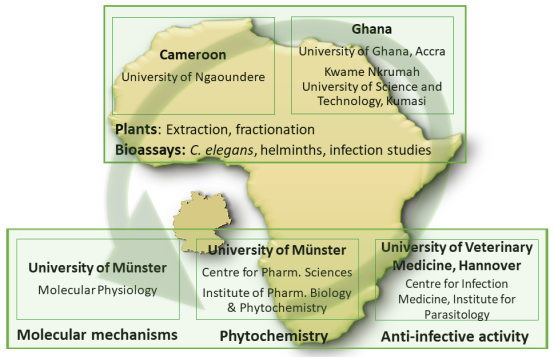 "New insights into molecular mechanisms of anthelmintic proanthocyanidins"