"I became a scientist by chance"
A Lab Visit to Prof. Klaus Schäfers / interview series by the Cells in Motion Cluster of Excellence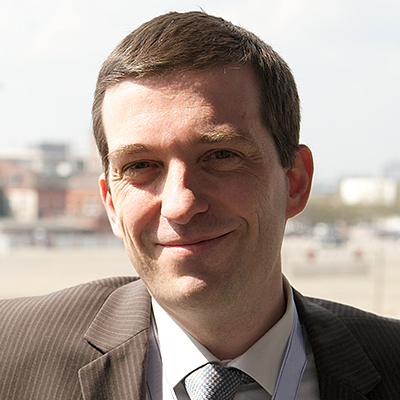 Prof. Schäfers, what scientific topic are you working on right now?
My research group and I want to improve medical imaging and we're developing processes to make the images sharper. In other words, we're working on improving technologies in clinical use such as positron emission tomography (PET) or magnetic resonance tomography (MRT). True, the equipment is working well enough today – but you can always find enough ideas for how it might deliver even better images. After all, when a clinical image is made there are often smears on it just due to the patient's breathing movements, or because his heart is beating. It's something we've all experienced with blurred holiday photos. We're trying to manage such technical problems better by using additional sensors, optimized settings and algorithms. So in our research we're dealing with so-called motion correction. Some of the approaches we have are still highly experimental. We also use technologies from the world of computer games, such as the Microsoft Kinect camera, to record patients' movements. Specially developed algorithms process such movements in order to make real patient images produced in the clinic sharper.
What characterizes you personally as a scientist?
I became a scientist more or less by chance. After studying electrical engineering I did my civilian service in the Department of Nuclear Medicine at Münster University Hospital and I was fascinated by the technology of positron emission tomography. Shortly afterwards I got an opportunity to spend a year doing research in London at the Cyclotron Unit at Hammersmith Hospital, which was one of the first scientific institutes worldwide to have a particle accelerator and several PET scanners. The technology continued to fascinate me so much that I stuck with research.
What's your favourite "toy" for research – and what can it do?
As I said, even today I still get a kick from positron emission tomography. The technology it involves is so fascinating and it opens up opportunities for medical imaging that would be inconceivable without it. You can pick up extremely small quantities of radioactive molecules in the picomolar range and produce images of them. That makes it possible to produce better diagnoses for patients. Such a degree of sensitivity is unique in the field of molecular imaging.
And what was your biggest frustration?
Frustrating moments happen every day. As a scientist you must always be able to reject ideas, approaches or possible solutions. Coping with that is not always easy, but it's something you have to learn. In particular, I always think it's a shame when one of my students breaks off their work, even if they have good reasons for doing so. When someone has invested so much and then in the end they can't finish their project, that's really frustrating.
How much artistry, creativity and craftsmanship is there in your scientific work?
You can find a bit of artistry in our research. Our aim is that our solutions should always be aesthetic and appealing. That's something we care about. Our solutions are definitely creative – it's something that innovative research entails anyway. And a lot of projects start with an element of craftsmanship. We often work experimentally, build up technologies, use special measuring processes and optimize parameters. That always has a lot to do with craftsmen's skills.