Open call of the CAPES Brazil Chair at the WWU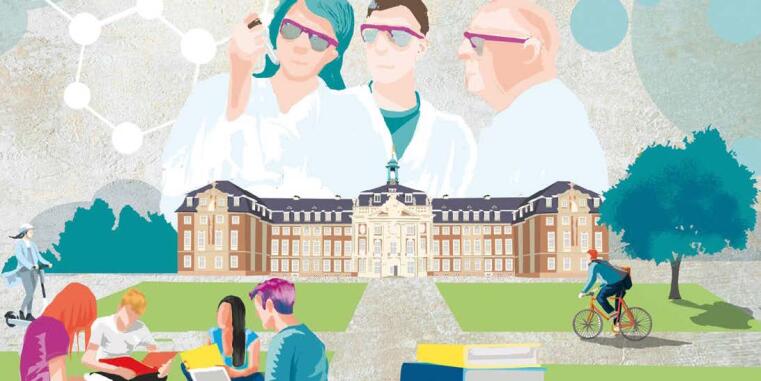 On 22 December 2022, CAPES (Coordenação de Aperfeiçoamento de Pessoal de Nível Superior) published an amendment of the call Nº 39/2022 for two Brazil Chairs on different topics at the University of Münster. The changes concern the topic of the first Chair, which is now broader, and the deadlines for both Chairs.
The Brazil Chair comprises a visiting professorship of up to 18 months for outstanding researchers from Brazil at the University of Münster, which can be divided into three parts. Besides, CAPES also funds 6 to 12-month research stays of one postdoctoral researcher and one doctoral researcher per chair, who will be indicated by the respective visiting professors.
First Chair
Topic: "Studying host and immune responses to breast cancer or to highly virulent viral and bacterial pathogens"
Deadline:  28 February 2023 at 5 pm (BRT)/ 9 pm (CET)
This Chair could be hosted at the following institutes at University of Münster:
Institute of Physiological Chemistry and Pathobiochemistry (Host: Prof. Dr. Johannes Eble)
Department of Obstetrics and Gynecology (Host: Prof. Dr. Martin Götte)
Institute of Molecular Virology (Host: Prof. Dr. Stephan Ludwig)
Institute of Hygiene (Hosts: Prof. Dr. Ulrich Dobrindt or Prof. Dr. Alexander Mellmann)
Second Chair
"Smart Cities and Political Online Participation"
Deadline:  28 February 2023 at 5 pm (BRT)/ 9 pm (CET)
The Chair will be hosted by Prof. Dr. Nobert Kersting from the Institute of Political Science.
The Brazil Chair at the WWU aims to intensify scientific and academic cooperation between the University of Münster and Brazilian universities and research institutions, as well as to promote the establishment and expansion of scientific contacts and networks in the above-mentioned subject areas. In addition, the Brazil Chair is intended to create greater visibility for outstanding Brazilian academics in Germany.
Important links:
Amendment of the call (in Portuguese)
If you have any questions about the Brazil Chair, please contact the Brazil Centre.