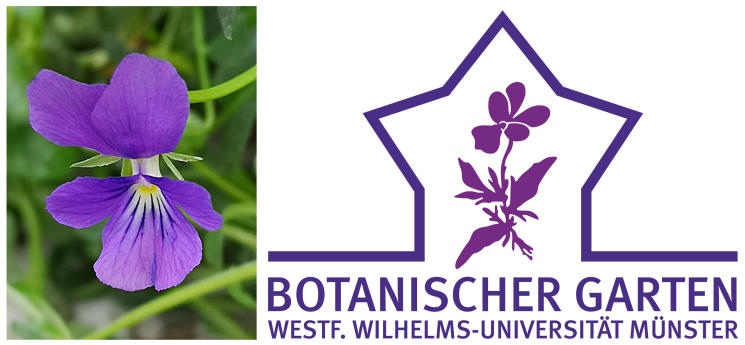 Information about sponsorships in the Botanical Garden Münster
You can find a summary of the most important information about plant sponsorships in our flyer.
Download flyer (the flyer is only available in German language)

How do I become a sponsor?
You select your favourite plant from the list of plants and click on "Become a sponsor". Then a form will open and you can complete the sponsorship registration online. If you do not wish to conclude the sponsorship agreement online, please contact us.

How do I choose a suitable plant?
You will find a selection of plants with short descriptions in the plant overview. Please understand that not all of the 8,000 plant species in the garden are listed there. The list is continually expanded. If you have a special request that has not yet been considered, please send an email to patenschaften@uni-muenster.de. We will be happy to make you an individual offer.

Can I give a sponsorship as a gift?
You can give a sponsorship as a gift or dedicate it to a person you would like to remember. We have compiled all the information you need under the heading "Gift sponsorships".

How long does a sponsorship last?
You determine the duration of the sponsorship. The donation amount indicates how much you wish to donate in one year. If you would like to continue supporting us beyond that, choose "yearly" for the duration. The sponsorship can be cancelled at any time after one year.

Can I deduct the sponsorship contribution from my taxes?
The sponsorship contribution is a donation to the Botanical Garden and is therefore tax-deductible. We send you a donation receipt for your tax return by the beginning of the following year at the latest. Please note that this information refers to taxpayers in Germany.

What do I get as a sponsor?
By becoming a sponsor, you help the Botanical Garden enormously. It is important to us, therefore, to thank you appropriately. The ways we show our appreciation can be found in the section "Our thanks to you". Please note that the plant is still in the possession of the Botanical Garden and that you are not allowed to remove fruits, seeds, cuttings, etc. from it unless a member of our staff has given you the permission.

How are the donations handled?
The donations are used for the care of the plants. They benefit the entire garden and not just a single plant. It is our goal to use the donations to preserve the garden, to carry out necessary renovation and repair work, to make it continuously more beautiful and even more attractive for visitors.

Who can I contact if I have any questions?
If you have any questions, please contact our staff member responsible for sponsorships or send an email to patenschaften@uni-muenster.de.
Liebe Patinnen und Paten,
folgende Pflanzen waren während der kalten Jahreszeit aufgrund gärtnerischer Kulturmaßnahmen im Winterquartier:
Australischer Teebaum, Melaleuca alternifolia
Bougainvillea oder Drillingsblume, Bougainvillea glabra
Folterblume, Araujia sericifera
Fuchsie Prinz von Preußen, Fuchsia Cultivar
Granatapfel, Punica granatum
Grasbaum, Xanthorrhoea quadrangulata
Gummibärchenpflanze, Helenium aromaticum
Japanischer Sagopalmfarn, Cycas revoluta
Kompakte Zwergpalme, Chamaerops humilis
Korkeiche, Quercus suber
Liebesblume, Agapanthus africanus
Lorbeerbaum, Laurus nobilis
Mimose, Mimosa pudica
Myrtenblättrige Orange, Citrus myrtifolia
Pampelmuse, Citrus maxima
Prinzessinnenblume, Tibouchina urvilleana
Schokoladenblume, Cosmos atrosanguineus und Berlandiera lyrata
Schusspflanze, Stylidium graminifolium
Wollemie, Wollemia nobilis
Zitrone, Citrus limon
Kaffeestrauch, Coffea arabica
Olivenbaum, Olea europaea
Johannisbrotbaum, Ceratonia siliqua
Rosenduft-, Efeu- und Stadt Pelargonie, Pelargonium diverse
Herbst Kamelie, Camelia sasanqua
Wunderbaum, Ricinus communis
Indische Azalee, Rhododendron simsii
Baumfuchsie, Fuchsia arborecens
Salbeisammlung, Salvia diverse
Taro Jack's Giant (Elefantenohr), Colocasia esculenta 'Jack's Gigant'
Seit dem Frühjahr sind diese Pflanzen wieder im Garten ausgestellt.
Vielen Dank für Ihr Verständnis.