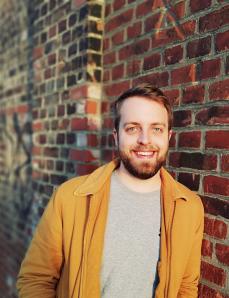 Julian Wacker, M.Ed.
E-mail: juwacker@wwu.de

Julian Wacker taught at the Chair of English, Postcolonial and Media Studies at the University of Münster from 04/2017 until 10/2021. Prior to his work as a research assistant and postgraduate student at the English Deparment, he read English and History (M.Ed.) at WWU Münster and St.Norbert College, Wisconsin/USA. He is currently completing his teacher training in English language education and History (Referendariat für das Lehramt an Gymnasien/Gesamtschulen Sek. II) at Harkenberg Gesamtschule Hörstel.
A former recipient of a Friedrich-Ebert-Foundation scholarship, Julian was as an elected member of the special advisory board (Beirat) of GAPS (German Association for Anglophone Postcolonial Studies) from 2019 until 2021, and he served as Chair of the independent postgraduate forum Postcolonial Narrations in 2019.  He is a member of the PIN – Postcolonial Intellectuals and their European Publics research network and also was project manager to the first Cambridge History of Black and Asian British Writing (2020), edited by Susheila Nasta and Mark U. Stein. Between 10/2020 and 10/2021, he was Student Advisor for the M.A. National and Transnational Studies program at WWU Münster. 
He is co-editor of the volume Black Neo-Victoriana (Brill Rodopi, 2021; w/Felipe Espinoza Garrido and Marlena Tronicke) and he has published essays and book chapters on Black British popular writing and film, grime poetry, Black music video, queer Nigerian fiction, and afropolitan affiliations in Teju Cole's ouevre. Julian is currently working on his first monograph, which examines spatial configurations in contemporary Black British music video culture (see PhD project below).
PhD project

Black British Music Video since 2000: Producing the Ends across the Neoliberal City

Julian's PhD thesis, which he submitted in August 2021, is the first book-length project on contemporary Black British music video culture. Encompassing an array of genres such as grime, grime punk, UK drill, neosoul, and trap metal, the project identifies across several music videos a shared imaginary of the neoliberal city, characterized, for instance, through the privatization, securitization, and policing of (public) inner-city space. The select audiovisual texts, the thesis argues, make patterns of spatialized and infrastructural violence amidst the on-going transformation of urban space in the UK visible and they create spatial, audiovisual configurations in their own right which undercut and subvert these hegemonic spatial formations. In so doing, the music videos assembled in this project also recalibrate the concept of 'the ends', often understood as territorialized, disenfranchised inner-city enclaves, and urge us to conceive of the ends as a mobile, deterritorializing signifier routed along the streams of the Black Atlantic instead. The project provides new insights into how audiovisual articulations have shaped Black British imaginaries and cultural production since the turn of the millennium and how music video have provided an audiovisual infrastructure to resist spatial exclusion in the UK. 

Research interests

Black and Asian British writing and film
Grime music and culture
Neo-Victorian studies
Decolonial teaching theories and practices
Teaching Nigeria in the EFL classroom
Queer African writing (with special emphasis on Nigeria)
Edwardian fiction

Publications & talks

Edited volumes

Espinoza Garrido, Felipe, Marlena Tronicke, and Julian Wacker (Eds.): 2021. Black Neo-Victoriana. Amsterdam, Boston, New York: Brill. [In Press]

Book chapters and journal articles

Wacker, Julian. 2021. 'Naija Beats: Nigerian Music Video and the EFL Classroom.' In Reading Nigeria: Learning with Nigerian Literature in the EFL Classroom, edited by Matz, Frauke, Mark U. Stein, and Klaus Stierstorfer. ###–###. Tübingen: Narr Francke Attempto. [In Press]
Wacker, Julian, and Felipe Espinoza Garrido. . 'Frontline Fictions: Popular Forms from Crime to Grime.' In The Cambridge History of Black and Asian British Writing, edited by Susheila Nasta and Mark U Stein. 598–619. Cambridge: Cambridge UP.
Wacker, Julian. 2020. '"Something Covered But Not Hidden": Obscurity in Teju Cole's Ouevre as an Afropolitan Way of Worlding.' In Afropolitan Literature as World Literature, edited by James Hodapp. 185–202. London: Bloomsbury Academic.
Wacker, Julian, and Philipp Siepmann. 2020. 'Naija beats: Analysing Tiwa Savage's music video clip 49-99.' In Abi-Box Englisch: Voices from the African Continent: Focus on Nigeria. Schülerarbeitsbuch (mit digitaler Lehrermappe), edited by Philipp Siepmann and Frauke Matz. Hannover: Brinkmann.Meyhöfer, 2020.
Wacker, Julian. 2019. 'Grime Poetry: Black British Rap Lyric(s) in the Twenty-First Century.' In Poem Unlimited: New Perspectives on Poetry and Genre, edited by David Kerler and Timo Müller. 255–69. Berlin/Bosten: DeGruyter.
Wacker, Julian. 'A Novel of Transformation: Transcultural and Transgender Crossroads in Olumide Popoola's When We Speak of Nothing.' Kairos: A Journal of Critical Symposium 4.1 (2019): 107–123.

Reviews, review essays, and interviews

Wacker, Julian.  'Density/Amplitude: Space and Music in Contemporary Estate Fiction – Review Essay.' Wasafiri 97 (2019): 72–74.
Wacker, Julian. 'Outside the Boxes – An Interview with Kerry Young.' Wasafiri 92 (2017): 23–27.
Wacker, Julian. 'Review: Yaa Gyasi's Homegoing and Yewande Omotoso's The Woman Next Door.' Wasafiri 91 (2017): 102–104. 


Conference papers, panels, workshops, and invited guest lectures:

2019

"Framing the Ends: Estate Spaces and the Male Black Body in Audiovisual Grime Culture." Metropolitan Masculinites: Narratives of Gender and Urban Space, Ruhr-Universität Bochum, November 29-30, 2019. [accepted]
"Fringes of an Empire: Notes on the Black Presence in Neo-Victorian Gothic Television." Invited Guest Lecture. University of Augsburg, July 17, 2019.
"Media and Film I". Panel Chair. Postcolonial Oceans: Contraditions and Heterogeneities in the Epistemes of Salt Water. GAPS Annual Conference. University of Bremen, May 31, 2019.

2018

"'I Need Space': The Black Unruly Body in Scarlxrd's Audiovisual Art." Lecture Series 'Hotspots in Literary/Cultural Studies and Linguistics', WWU Münster,

.
"When Silences Travel: Space and Quareness in Olumide Popoola's When We Speak of Nothing." Postgraduate Forum "Postcolonial Narrations" - Moving Centers and Travelling Cultures, University of Frankfurt. October 11, 2018.
"Griming the Nation: Estates and Aesthetics in Kano's 'This is England' (2016)."  Nationalism and the Postcolonial. GAPS Annual Conference. University of Mainz, May 10-12, 2018.
"Between Pleasure and Pain: Interrogating the Nation through Aesthetics." Panel convenor with Deborah Nyangulu and Theresa Krampe. GAPS Annual Conference. Nationalism and the Postcolonial. University of Mainz, May 10-12, 2018.

2017

"'Something Covered but not Hidden': Obscurity in Teju Cole's Blind Spot." Lecture during the Hotspots lecture series. Münster. December 13, 2017.
"Outside the Boxes: Voices from Chinese-Jamaica and its Diaspora." Invited guest lecture during Markus Schmitz's lecture Literatures and Cultures of the Caribbean Diaspora.  Münster. November 28, 2017.

"Colonial Dis/continuities: Mapping a Post-9/11 Turn in Ironman III and Game of Thrones." Colonial Continuities. International Scholarship Holder Seminar. Friedrich-Ebert-Foundation, Bonn. November 20, 2017.

"Fragmented Memories, Splintered Solidarities: Teju Cole's Textual Assemblage." Postcolonial Narrations - GAPS Graduate Forum: Memory and Media - The Making of Postcolonial Histories, University of Erfurt. October 6, 2017.
"From Servant to Companion: (Im)possibilities of Black Heroines and Heroes in neo-Victorian Gothic TV." Walter White and Claire Underwood: Anti-heroism in Popular Culture. (orig. Walter White und Claire Underwood: Anti-Held*innen in der Popkultur) Scholarship Holder Seminar, Friedrich-Ebert-Foundation, Würzburg. September 16, 2017.
"Beyond Belle? The Absent Black Female in Neo-Victorian Film and TV." with Felipe Espinoza. Afroeuropeans 2017: Black Cultures and Identities in Europe - 6th Biennial Network Conference, University of Tampere. July 7, 2017.
"Re-living the Dream: Mediating Precarity and the Financial Crisis in Imbolo Mbue's Behold the Dreamers." GAPS Annual Conference. Representing Poverty and Precarity in a Postcolonial World, University of Bonn. May 25, 2017.

2016

"Re-imagining the Colonial Experience: Material Culture and Possible Subversion in Penny Dreadful." GAPS Annual Conference. The Postcolonial and the Material, University of Augsburg. May 6, 2016.
"Postcolonial Pasts: The Potential of Counterfactual Narratives in the EFL Classroom." Challenging Reading. English-Language Education with Children and Teenagers, University of Münster. March 11, 2016.

2015

"'The Cost of Living': Arundhati Roy's Anti-Hegemonic Construct of Nature in The God of Small Things." GAPS Annual Conference. Ideology in Postcolonial Texts and Contexts, University of Münster. May 16, 2015.

Teaching

Undergraduate Research Class II (summer term 2021)
Queer Nigerian Fiction (winter term 2019/2020)
Black British Sound Cultures (summer term 2020)
Folklore, Mythologies, and Contemporary Fictions from Nigeria (winter term 2019/2020)
Introduction to Literary and Cultural Studies II (summer term 2019)
Edwardian Fiction and Empire (winter term 2018/2019)
Grime fictions: Young 'urban' culture and black British writing (summer term 2018)
Detective fictions in literature and film (w/ Felipe Espinoza; winter term 2017/2018)
Academic Skills I (winter term 2017/2018)
Academic Skills II (summer term 2017)