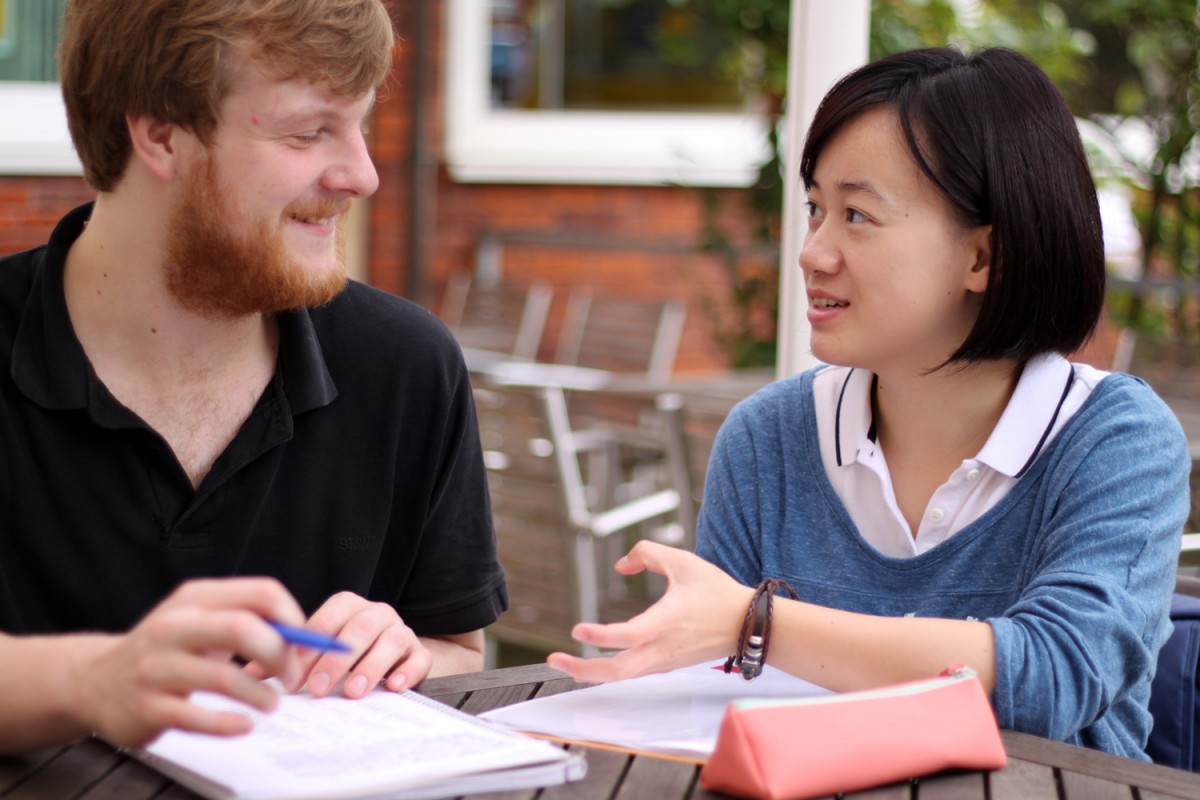 By tandem to China, Spain or Latin America
Learning together means learning better – and that goes for languages too
When Lei Guo and Tom Becker meet once a week to learn together, the result is a language mix of Chinese and German. But the two work in a very disciplined way: half the time they speak only German, so that Lei can practice the pronunciation, and the other half they talk in Chinese.

Lei and Tom, who is reading Chinese Studies and Economics, are just one of 140 such tandem couples that have got together in the winter semester of 2015/2016. The Language Centre has been offering this special type of course for German and foreign students at Münster University since the winter semester of 2007/2008. The courses are financed through quality improvements funding – formerly tuition fees.

The requirement for taking part is competence in the foreign language at advanced beginners level. "Some people do it just for fun, while others want to gain points that they can have credited for General Studies", explains Katharina Grenningloh from the Language Centre. There is one advantage that is perfectly clear to everyone: if you practice with a native speaker, you're constantly forced to speak the other language.

Grenningloh, a language-learning advisor, helps couples to define their learning aims. In a total of six workshops the participants get tips on, among other things, how to handle any mistakes they or their partner make, and which materials are the most suitable. "We help students to find solutions, but don't present any ourselves", says Grenningloh's colleague Sabine Beyer. After all, she adds, the idea is for them to learn for themselves how to organize their learning processes.

Any student who wants to get a credit with a grade not only has keep a learning diary, but also has to complete a project that matches the learning aim. Tom, for example, wanted to work at his writing skills, and he compiled a practice book for other people learning Chinese. "I wrote some short essays, with accompanying vocabulary, and created some suitable exercises to go with them", he explains. Tutors provide assistance in finding an idea and developing a project.

Nicole Hövelmeyer, a law student, has written a sort of Spanish photo comic. "Just like in a teenage magazine, but not a love story", she explains. Instead, she describes a day in the life of an ERASMUS student at a Spanish university – a day that begins with only cold water coming out of the shower. "I had to get all my friends to help with the photos", says Nicole with a laugh. After that, she enlisted some Spanish-speaking friends and added an audio track to the story.

Nicole's tandem partner Ana isn't in the photos. Nicole hasn't actually met her yet in person, but has only Skyped with her. "For such Skype tandems", explains Grenningloh, "we have partnerships with universities in Saragossa in Spain and Montevideo in Uruguay." If demand continues to exist, this is due to be expanded.

"A Skype tandem is very practical", says Jana Lange, who is studying Geography and Economics, "because you can concentrate just on speaking, with no disturbances. The only thing was that sometimes the connection wasn't good enough and we had to switch over to chats or emails." Jana also took the opportunity to use Skype to get more information on Uruguay and its people, as well as to expand her already very comprehensive vocabulary relating to the country. The result was a kind of travel guide which other students can now use as well via the Lernplattform. Other projects can also be found here in the form of videos, presentations, audio data and texts, as well as language games.

Although Tom has successfully completed his tandem project, he and Lei continue to meet regularly on a private basis. They don't always just do language-learning, but also like to do other things together. "Tom is very strict", jokes Lei. "He always wants to do homework." Lei, for example, reads a chapter of a book and tells Tom what it's about. Tom is convinced the tandem idea is a good thing: "I wish it existed for other subjects too and you could develop individual modules with someone", he says.
Further information