Guest articles on peace and conflict research
mipri award winners report on their research
The "Münster International Peace Research Initiative" (mipri) strengthens the University and the city of Münster as a location for peace and conflict research. To achieve this, the initiative supports and bundles the scientific and social potential for sustainable and peacebuilding measures. By awarding a total of four peace research prizes for an innovative project, those responsible for the project are attracting excellent international young researchers to the project. Two of them report on their research in guest articles.
Reconsider unanimity procedures
A guest article by mipri award winner Magdalena Viktoria Kuyterink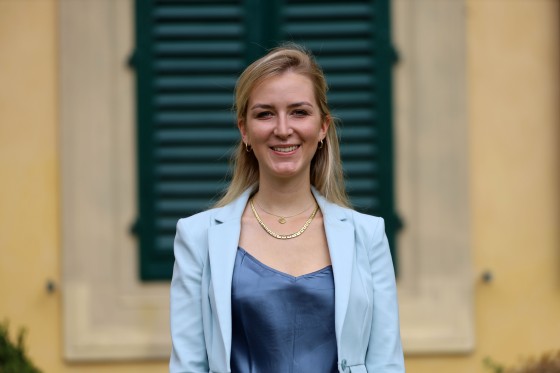 The impetus and motivation for my research is Russia's war of aggression against Ukraine. I am concerned with aspects of optimal sanction options and coalition sizes. Allies and intergovernmental organisations often face the problem of finding common ground in order to jointly develop and implement measures. This is often a difficult goal to achieve. Because the respective interests are very different. Some countries or organisations have more to lose than others – for example, because they have close trade ties or they share a common boarder with the conflict parties. The problem I am investigating deals with the question of whether more efficient and socially desirable outcomes could be achieved if the formation of so-called endogenous alliances were allowed. This means that sanctions could be decided by a subset of countries and not all of them would have to agree to them. With my research, I want to provide solid arguments to reconsider the unanimity procedure in intergovernmental alliances.
As I am a very open-minded person and always on the lookout for new research ideas, I am very happy to receive the mipri award. It allows me to think outside the box of my own research and exchange ideas with scholars at the University of Münster. mipri brings inspiring young minds together and gives us the opportunity to network with each other and with actors in Münster. In the coming months, I plan to visit Münster and the university. The focus is on an intensive exchange with my hosts Dr Lena Gerling and Prof Thomas Apolte from the Centre for Interdisciplinary Economic Research. I am particularly looking forward to the lectures I will be giving at the Department of Economics at Münster University, which will bring me into contact with students.
Together with the other mipri award winners, we have already organised a digital meeting. The connections between us and our different research topics offer a great opportunity to develop interdisciplinary solutions and measures in the field of peace and conflict research. Because that is what drives my work and me every day: Peace - for me as important as health, family and friends to be happy.
Magdalena Viktoria Kuyterink is a researcher at the Faculty of Economics at the European University Institute in Florence.
Freedom of prisoners as the basis of peace
A guest article by mipri award winner Dr Alyssa Bernstein
For the first time at the Peace of Westphalia, at least in European wars, prisoners of war were freed in a formalized exchange. Previously, each side usually executed, ransomed, or enslaved those it had captured. Prisoner releases have become a routine element in war and peace-making since.
Despite there being no foreseeable peace agreement between Palestinian and Israeli authorities, the thousands of Palestinian prisoners held in Israeli prisons is a key issue in the conflict. Palestinians expect them to be released as a prerequisite to negotiations or an outcome in any peace agreement. Surprisingly, given their importance, prisoner releases were not even mentioned in the first Oslo Agreement between Israel and the Palestinian Liberation Organization in 1993. Men and women in prison had to demand their inclusion. Following hunger strikes, 5,000 were eventually released. Prisoner releases continue to be a critical topic of negotiations today. Social support for prisoners and their families have also become a heated diplomatic and legal issue.
My interests in the societal aspects of law and conflict led me to research at how politically active Palestinians resist and organize in Israeli prisons. Now, I am interested in their role in international politics. This research focuses on the dynamics of negotiations in the context of an intractable conflict. Specifically, I am looking into Palestinian strategies to handle prisoners' symbolical and practical issues in negotiations with foreign powers. These are difficult questions, but I am hopeful that the answers will clarify the importance of prisoners' issues in this particular conflict and in peace negotiations more broadly.
mipri is an exciting new programme and it is an honour to be part of the inaugural year. The award will allow me to work with my host, Dr. Prof. Bernd Schlipphak from the Institute of Political Science at Münster University, on this research. The other awardees' research is fascinating, and I look forward to learning from their findings.
Dr Alyssa Bernstein is a researcher at the Institute of Criminology at Cambridge University.
This article first appeared in the University newspaper "wissen|leben", No. 4., 1 June 2022.
Further information