University of Münster receives a "Medical Scientists Kolleg"
Else Kröner-Fresenius Foundation to promote collaboration between basic research and clinical applications
For the first time, the Else Kröner-Fresenius Foundation (EKFS) is supporting two Kollegs for natural scientists working as so-called medical scientists in the field of medicine. A total of 30 Medical Faculties had applied for funding, but, in addition to the University of Essen, only the University of Münster was successful, with its application entitled "InFlame – Dynamics of Inflammatory Reactions". Headed by Prof. Petra Dersch from the Centre for Molecular Biology of Inflammation at Münster University, the Kolleg promotes young, talented men and women doing basic research for potential clinical applications. The project is to receive one million euros over a period of four years.
Medical research benefits from close collaboration between patient-oriented research and basic research. "For progress in this field," says Dr. Alexander Lehmann, who is responsible at EKFS for Kolleg funding lines, "it is also necessary for researchers from the fields of Biology, Chemistry, Mathematics and Computer Science to work on medical issues." What is often lacking, Lehmann says, are systematic programmes of further training which provide natural scientists with a deeper understanding of medical requirements, clinical consequences and the conditions underlying doctors' work. As Münster University's Vice-Rector Prof. Monika Stoll says, "The Kolleg means that our University is extending its portfolio by an interdisciplinary programme for highly talented junior researchers. Young, creative minds working in the field of clinical research, together with diverse synergies with our profile area "Cell Dynamics and Imaging", will be a spur to excellence at the University of Münster."
Information on the "InFlame – Dynamics of Inflammatory Reactions" Kolleg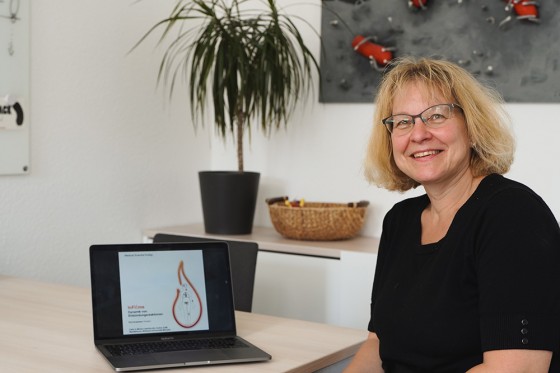 Many serious illnesses – including infections, cancer and neurological disorders – are characterised by inflammatory reactions. These contribute significantly to how serious the illness is. For many inflammatory reactions there are currently no effective treatments; all that remains is the treatment of symptoms. Researching into these processes requires a combination of scientific knowledge, expertise and modern investigative methods. "Our Kolleg aims not only to train scientists, who have a doctorate and are engaged in basic research, involved in translational research, but also to support their scientific careers, and create a basis for developing effective methods of treating inflammatory diseases," says Petra Dersch. Translational research involves the transfer of new insights from basic research from the lab into clinical application. With its medical focus on inflammations and infections, Münster's research environment offers the best conditions for this endeavour.
Besides Petra Dersch, the following people at Münster University are involved in the project: Prof. Andrea Rentmeister (Chemistry), Prof. Benjamin Risse (Computer Science), Prof. Johannes Roth (Medicine), Prof. Kerstin Steinbrink (Medicine), Prof. Michael Schäfers (Medicine), Prof. Heinz Wiendl (Medicine), Prof. Alexander Zarbock (Medicine), and associate partners Prof. Ralf Adams and Prof. Dietmar Vestweber (Max Planck Institute for Molecular Biomedicine) as well as Prof. Stephan Ludwig (Medicine-Biology).
Else Kröner-Fresenius Foundation (EKFS)
The non-profit Else Kröner-Fresenius Foundation is dedicated to promoting medical research and supports medical humanitarian projects. So far, it has provided funding for around 2,200 projects. With a current annual funding volume of over 60 million euros, it is the largest foundation in Germany promoting medical research.
Further information